Laura Dekker, 16 years and four months old, arrived at the Eastern Caribbean island of St. Martin on Saturday aboard her 38-ft Jeanneau Gin Fizz Guppy to become the youngest person to complete a solo circumnavigation. Dekker had wanted to start her adventure at age 13, but youth protection authorities in The Netherlands began a 10-month legal battle that delayed the start of her trip and forced her to acquire a larger and better-equipped boat. Still bitter about the government's action, Dekker says she'll perhaps move to New Zealand, where she was born aboard a boat to parents who split up long ago.
Jessica Watson of Australia had previously set the mark for the youngest solo circumnavigator with the S&S 34 Ella's Pink Lady, having gone around just a few months short of her 17th birthday. The Watson and Dekker circumnavigations are apples and oranges. Watson sailed nonstop via the much rougher Southern Ocean, and completed the trip in 210 days. Dekker never did a longer passage than three weeks, stopped frequently, sailed a less arduous course, and took 361 days to finish (518 days, if you count the time it took to make her way from The Netherlands to St. Martin). This is not to denigrate what Dekker has accomplished, but simply to note that Watson faced a much greater challenge. Nevertheless, neither Dekker nor Watson will find their names in the World Speed Sailing Record Council roster or the Guinness Book of World Records. Both record-keeping organizations are declining to maintain age-based records for sailing.
Authorities in The Netherlands were quick to commend Dekker on her bravery, skill and perseverance, but insisted they had been correct to intervene. "If Laura had drowned, we would be accused of not having done enough to protect her," said an official from the Bureau of Youth. She added that it's possible that Dekker made it around because they required her to sail a larger, more robust and better-equipped boat.
Just as we like to think that we can walk and chew gum at the same time, we like to think that we can both salute Dekker's accomplishment, but still object to age-based records based on principle. The history of people reaching personal peaks and gaining fame at a young age has been checkered at best. We wish Miss Dekker every happiness in the world.
If you're at all interested in seeing the 34th America's Cup sailed on San Francisco Bay, AC Outreach Manager Ariel Ungerleider is urging you to attend tomorrow's Board of Supervisors meeting to show support for the event. "We are urging the Board to deny the appeals to the AC34 Environmental Impact Report and allow the project to move forward," Ungerleider said. "They need to hear from our community partners and allies about the critical need for the type of economic impact and job creation that this event will bring to San Francisco and what a positive impact this world-class sporting event will have on our City. They need to hear from America's Cup fans, sailing enthusiasts and non-sailors too, about what America's Cup event means for the future of our City. Perhaps most importantly, City Hall needs to hear from neighborhood residents and small business owners that they support the America's Cup and are looking forward to seeing it succeed."
The meeting is tomorrow, January 24, at 4 p.m. in City Hall Room 250. Please RSVP to Ungerleider if you intend to testify. If you can't make the meeting, you can still send each Supe a letter urging them to deny the appeal of the EIR. If you're a resident of San Francisco — in other words, a constituent — be sure to note that in the letter. Contact them through www.sfbos.org.
Until we learned that the construction cost of the recently-grounded Costa Concordia cruise ship was roughly $580 million USD, we thought plans for a new tall ship for the Queen of England were lavish. But by comparison, the 515-ft square-rigger's proposed cost of $93 to $124 million USD seems like a relative bargain.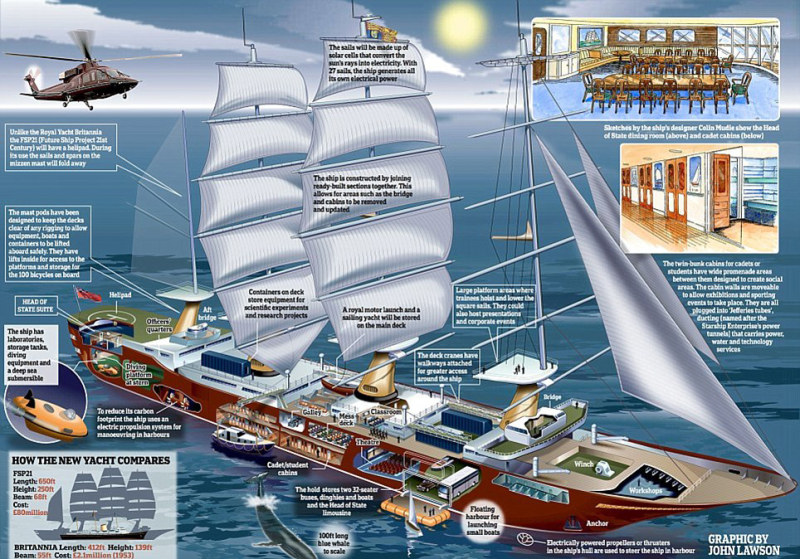 Yeah, we know, this is a little off our usual beat, but hey, it's a sailboat — and a very special one indeed. The reason such a plan is even being discussed in such dire economic times, is that Queen Elizabeth II will celebrate the 60th anniversary of her accession to the throne — her Diamond Jubilee — this year.
With the ship's construction funded by private donations, she will serve as a platform for special ceremonies, goodwill tours, trade exhibitions and a hands-on learning vehicle for sail training cadets. The ship will replace the current Royal Yacht Britannia (a 412-ft motoryacht), which traveled more than a million sea miles since her launch in the early 1950s. She was decommissioned in '97, however, and has served as a dock-bound tourist attraction in Edinburgh, Scotland ever since.
We see no reason why the Queen shouldn't have a royal yacht of this caliber, especially since it will be privately funded, and we can't wait to see her. One unfortunate footnote, however, is that the ship will not be able to visit San Francisco Bay, as her 250-ft masts won't quite fit beneath the Golden Gate's 220-ft-high span.
Receive emails when 'Lectronic Latitude is updated.
SUBSCRIBE