You just never know what kind of experience you're going to have when you're out sailing on San Francisco Bay. Val and Greg Gillen enjoyed a very memorable one aboard their Cal 39 Grimsby on Friday, when they were buzzed by a couple of cats. "We were sailing with our friends Jack and Maria Caffey on a gloriously warm day with 10-12 knots of breeze," they said. "As we sailed between Alcatraz and Angel Island, we noticed the AC 45s being towed, and we got some great pictures when they started sailing. Then, as we were reaching across the Bay toward the Cityfront, they came up behind us on the same point of sail. They blasted by close on either side of us but I was too excited to take any pictures! We could hear the whine and hum of their rigs, and Greg and one of the helmsmen exchanged salutes. We added that to our stash of golden moments of sailing!"
The Gillens aren't the only ones to have had close encounters with AC 45s this month as Oracle Racing has been conducting a testing program in advance of the next America's Cup World Series Event in San Diego on November 12-20. There's no word yet on the team's winter plans following that, but it would be great to see them come out for the Three Bridge Fiasco. Granted, if it not for the generous BAMA ratings, they might have to start the following day, but it would still be pretty cool!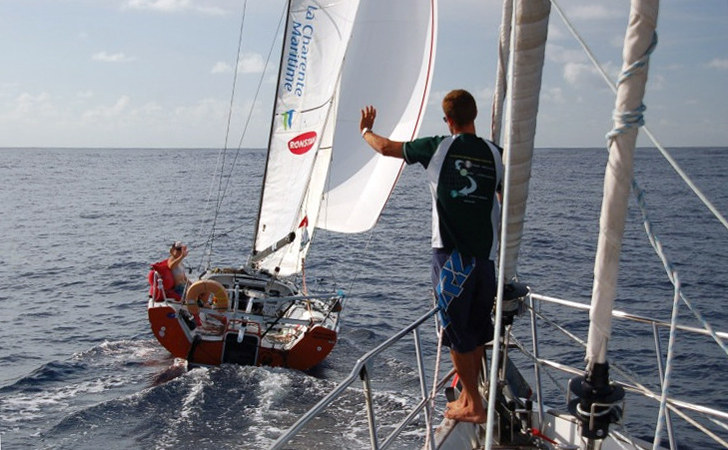 Following the tracker for the Charente-Maritime/Bahia Transat 6.50 left us a little puzzled when it seemed that the Bay's Emma Creighton inexplicably got smothered by the ITCZ while the boats near her seemed to still be making progress. It turns out the reason was a very good one indeed: Creighton stopped to stand by for Aussie Scott Cavanough when he was forced to abandon his boat. Following a collision with a tanker that left his bow severely damaged and his rig in the down position on Monday night, Cavanough set off the distress button on his Argos beacon. Although there were no details, a report from race organizers indicated that Creighton stopped to stand by with Cavanough all through that night until one of the race's seven escort vessels arrived to retrieve the latter on Tuesday morning. The stop seems to have cost Creighton dearly, as the Pot au Noir pushed south during that time. We'd be surprised if she doesn't get some kind of redress for rendering assistance, but we won't be surprised if she reaps heaps of good karma the rest of the way to Salvador de Bahia, Brazil.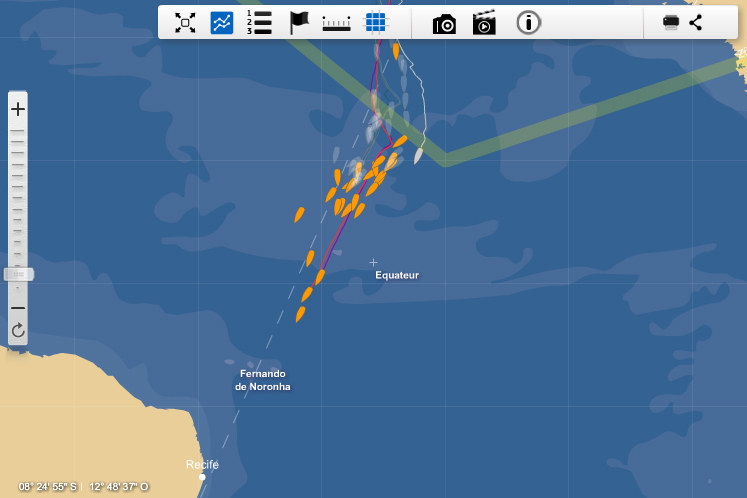 Meanwhile, the leaders are into the southeast trades and legging out over the rest of the fleet as they aim for Fernando de Noronha. Leader David Raison and his crazy scow Teamwork Evolution are across the equator, with a 50-mile lead some 850 miles from the finish. His lead on overall elapsed time is much greater though, and it looks as if it will take a ctastrophe to stop him.
The conditions couldn't be any more perfect for the fleet of the Baja Ha-Ha 18, says the Grand Poobah. The crew of the mothership, Profligate, called in via sat phone this morning to let us know that — despite an anomaly in their Spot track that shows they sailed a couple miles inland on Cedros Island before gybing — they're on their approach to Turtle Bay, the first stop of the 700-mile rally that started from San Diego Monday morning.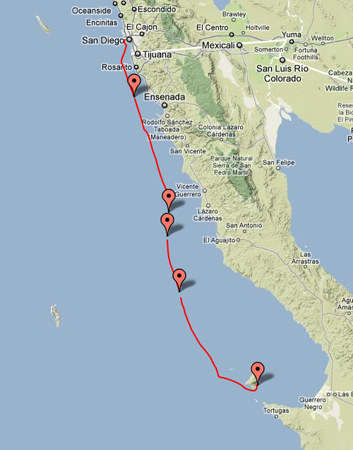 "We had overcast skies and no wind on Monday so we actually instituted a rolling start," said Assistant Poobah Andy Turpin. "That allowed participants to motor down the course until the wind filled in and the committee called the start." With conditions calm throughout the night, that didn't happen until 7 a.m. yesterday morning. "The wind started to fill in just a little in the wee hours," said Turpin. "It remained light through the day and we had a very calm sea state. It was the perfect introduction to light air sailing for nervous newbies."
"The first day was the lightest day ever in Ha-Ha history," added the Grand Poobah. "But the second day and night were the best ever in terms of pleasant sailing conditions." The breeze built to 12-15 knots and the warm, arid conditions helped Ha-Ha'ers dry out after a damp start. Along with beautiful sailing, boats started catching fish as well, the biggest reportedly being a 40-lb tuna. Profligate even got in on the action, landing four yellowfin.
As for mechanical or medical issues, Dave Satterwhite and Stephanie Esposito on the San Francisco-based C&C Landfall 39 Camanoe reported having to return to port just after the start due to a broken prop shaft. Lars Hassler, who sailed from Japan to participate in the rally aboard his Sweden-based Beneteau Oceanis 500 Jennifer, also returned to San Diego after the start to take care of some electrical issues but has since restarted. Rich and Sheri Crowe aboard the Newport Beach-based Farr 44 Tabu have been under sail since the Coronados, and Tony Haworth's Alameda-based Kaufman 47 Knot Tide Down has been sailing since the start, thanks to a cranky engine. "One boat reported this morning that they had a minor medical issue," noted Turpin. "They said their smiling muscles were sore from having such perfect conditions."
The bulk of the fleet should reach Turtle Bay by tomorrow, just in time for a party tomorrow night at the Vera Cruz Restaurant. The predicted 20-knot winds should push the stragglers in by Thursday, giving them plenty of time to get ashore for the legendary all-day beach party. Leg 2 will start on Saturday and take the fleet to Bahia Santa Maria by Halloween.
You can follow Profligate's Spot track at the link above. There is also a link to the track on the Baja Ha-Ha homepage, and if you've 'liked' us on Facebook, you'll get daily (or so) notices in your newsfeed when they've checked in.
Receive emails when 'Lectronic Latitude is updated.
SUBSCRIBE