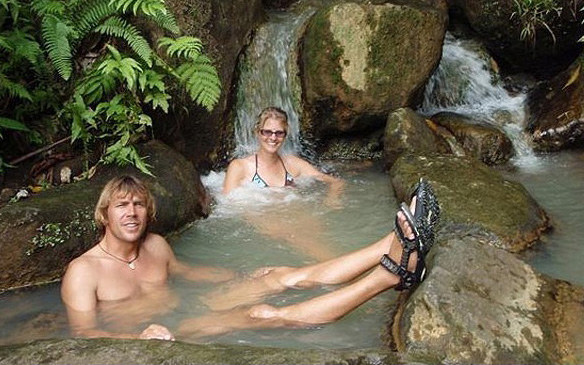 We know this sounds too ridiculous and horrific to be true, but the mainstream media is reporting that Stefan Ramin, 40, a German cruiser and uber waterspsorts athlete from Hamburg, was murdered recently, and may have been eaten by a cannibal or cannibals on the Marquesan island of Nuku Hiva. According to sources in Papeete, however, local citizens and police are not even entertaining the cannibalism theory, which was apparently started by a sensationalist German tabloid.
In any case, for more than a week now a squad of 22 police officers on the island, backed by French military and the family of the suspected attacker, have been searching for Henri Haiti, a young local guide who took Ramin on a traditional goat hunt October 9 in the rugged mountains of Nuku Hiva. After setting off on the hunt, Haiti returned to tell Ramin's girlfriend, Heike Dorsch, 37, that there had been an accident, and that Ramin had been injured. But Dorsch says that when she and Haiti went to help Ramin, Haiti chained her to a tree, sexually assaulted her, then fled. She was able to free herself, after which she returned to the boat and alerted police.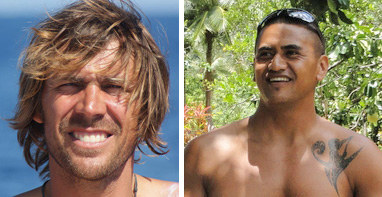 After nearly a week of searching, authorities found charred human remains, clothes, and what are believed to be melted dental fillings near a campfire site in a remote valley on the very rugged island. It's not clear what evidence the authorities have, but they believe that Ramin was "hacked into pieces and burned." The remains are being tested in Paris to determine if they are indeed that of Ramin.
According to various news reports, the couple arrived in the Marquesas on their Easton 46 aluminium catamaran named Bayu on September 16, planning to spend several months adventuring in French Polynesia. That the athletic Ramin — who listed his favorite activities on his Facebook page as "travelling, blue-water sailing, kiting, kitesurfing, surfing, diving" — would go on a goat hunt is completely in character.
Deborah Kimitete, the deputy mayor of Nuku Hiva, told the local news website Les Nouvelles that the whole country is shocked and can't believe that it happened. "This has never happened here before; this is the first time; it's horrible," she said, apparently refering to the suspected murder, not to the notion of canibalism. Actually, eating 'long pig' was practiced in the days of Herman Melville on Nuku Hiva, but the idea seems absolutely ridiculous in this day and age.
While Nuku Hiva, which has a population of about 3,000, is "wild and remote," it is certainly not wild and remote in the way that tribal areas of New Guinea are. Indeed, Nuku Hiva is not only the largest island in the Marquesas, it's one of two ports of entry where all cruisers must stop after crossing over from the west coast of the Americas. As such, it's not at all unusual for 30 or more cruising boats to be anchored there during the season. Relations between cruisers and locals have always been extremely good. And thanks to French subsidies, the locals live with modern amenities and infrastructure.
If you were planning on doing the Pacific Puddle Jump and are now worried about personal safety in Nuku Hiva, our opinion is that this murder falls in the ranks of incredible aberrations. In fact, it reminds us of the case earlier this year when a young French woman on ultra-safe St. Barth inexplicably stabbed a harmless 57-year-old Haitian housekeeper to death on the main road into town on a Sunday evening. Apparently even the most serene and peaceful places are not immune to occasional mayhem.
Ask a dozen sailors about any subject within the realm of sailing and you're likely to get a dozen different opinions — even about something as seemingly straightforward as clearance regulations.
We mention this because cruisers who are gathering in San Diego for the October 24 start of the Baja Ha-Ha rally, have been getting some conflicting advice about Mexican liability insurance. To set the record straight, we checked with both longtime Cabo San Lucas yacht agent Victor Barreda and Bob Hoyt of Mag Bay Outfitters, who is facilitating clearance procedures for Ha-Ha fleet members at Bahia Santa Maria.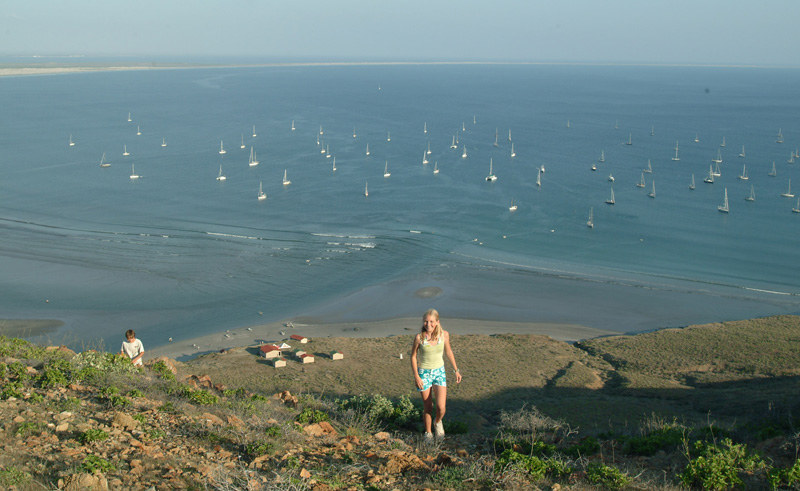 According to both Victor and Bob, all that is required to clear in is the original boat documentation papers, a passport from every member of the crew, and four copies of your crew list. (Download this PDF to expedite that process.) Mexican liability insurance is not asked for in order to clear in at either Cabo or San Carlos (the home office of agents who will perform special clearances for this year's Ha-Ha fleet at Bahia Santa Maria).
Many, if not most, Mexican marinas do require liability insurance, but our understanding is that if your normal U.S., Canadian, or European policy contains international liability coverage, additional Mexican coverage is not required.
We should further clarify that the special arrangements at Bahia Santa Maria this year — a first in the Ha-Ha's 18-year history — are being offered to the fleet simply as a goodwill gesture on the part of Hoyt (who operates a sportsfishing operation nearby) and San Carlos authorities. Using that service is strictly optional for fleet members. There is no requirement to clear in at Bahia Santa Maria or Turtle Bay (the two R&R stops on the Ha-Ha), because neither is an official port of entry.
Also, if you're planning an extended visit to Mexico, you'll need to get a Temporary Import Permit (which can be arranged long after original clearance), but only if you're going to leave your boat in Mexican waters and fly home. According to Hoyt, if you stay with your boat while in Mexico, this permit is not required.
Readers may remember that Latitude contributors Ed and Sue Kelly of the Iowa-based Catalac 37 Angel Louise were on hand when Hemisphere, the humungous new 145-ft by 54-ft catamaran designed by Marc Van Peteghem & Vincent Lauriot-Prevost which was started at the Derektor yard in the Northeast and was completed at Pendennis in England, had her private launching party in Plymouth, England a while back. Last month she was introduced to the world at the Monaco Boat Show. Spacious and luxurious are the two words that seem to capture what she's about.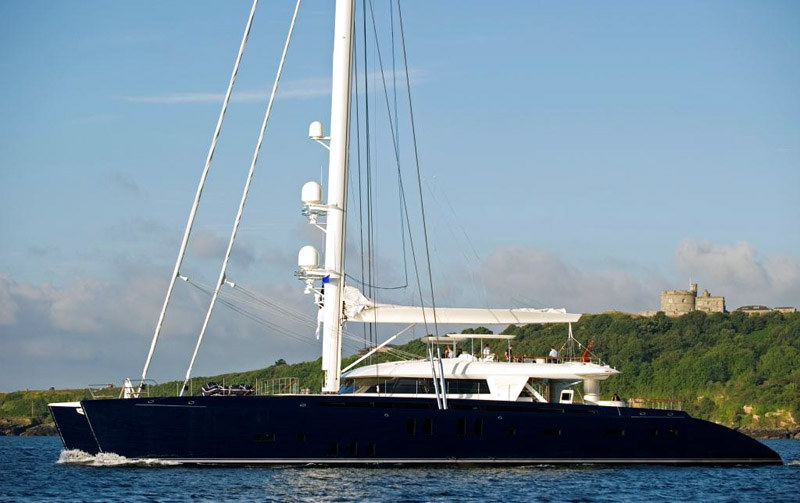 There are some who say that, because she's a sailboat rather than a motoryacht, she might have extra appeal to 'green' charterers. Green charterers with $250,000 a week to spend. And some hope that she'll be successful enough to convert those who currently own big fossil fuel-chugging motoryachts to sailing yachts. Hello, Jimmy Buffett! Only time will tell.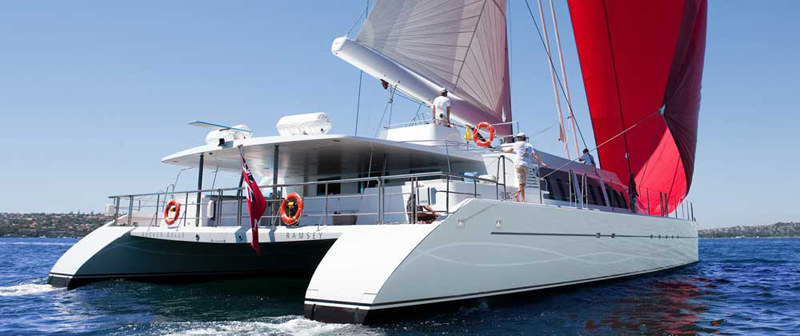 One popular opinion maker who has already gone over to the dark (green) side is billionaire Richard Branson, founder of all things Virgin. While in the Caribbean last winter, we saw his 102-ft catamaran Necker Belle — which he reportedly 'raced' in some regatta in the Virgins. Belle was actually born as the somewhat plain Lady Babarette about 10 years ago. But after purchasing her, Branson had her undergo a total luxury rebuild in Australia, enough so that she now commands $100,000 a week in base charter fees. We imagine that one-time daredevil Branson feels a little better for having gone over to the dark side after the 100-ft Rambler, which he'd chartered when named Speedboat for a crack at the TransAtlantlic sailing record, lost her keel and flipped in the last Fastnet Race. No more of that for him!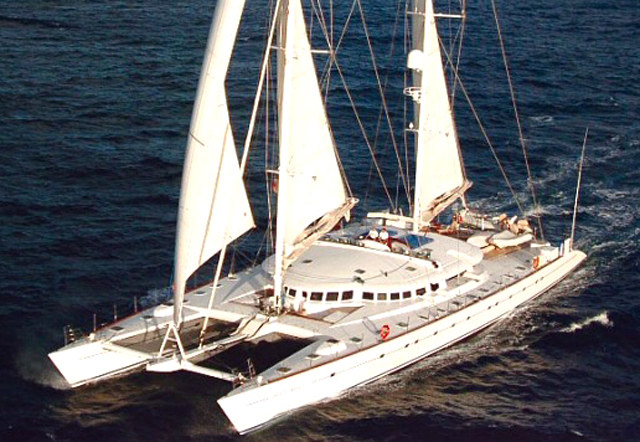 In all the hubbub about Hemisphere and the celebrity-owned Necker Belle, one shouldn't forget Douce France, which at 138-ft was the original 'really big cat', built in the late '90s. Indeed, if they extended her bowsprit eight feet, she'd still be the biggest cat of them all. Unusual for a cat, she's ketch rigged. No matter, she's still going strong, currently chartering out of the South Pacific.
Receive emails when 'Lectronic Latitude is updated.
SUBSCRIBE