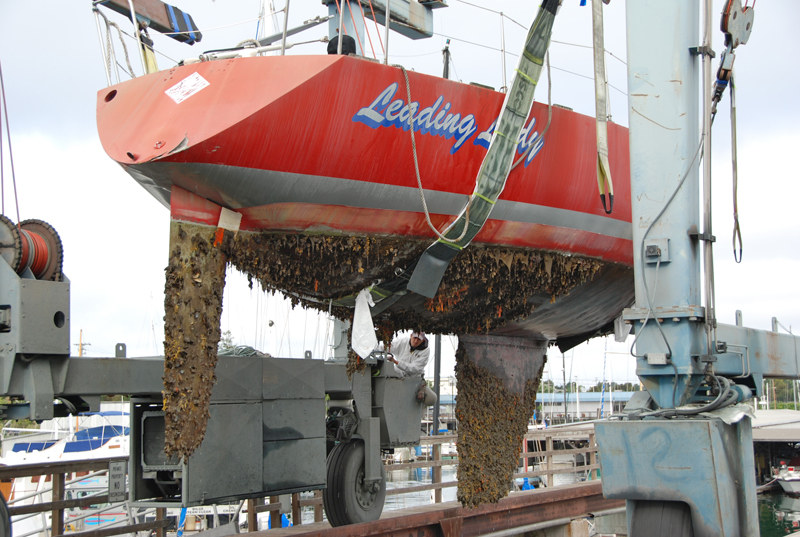 Back in mid-August, Leading Lady, the old Peterson 40 that Bob Klein owned in the early '80s, gave her last performance. Neil Weinberg from the Boat Yard at Grand Marina reported that the current owner had passed away and, since he had no family, the county was "disposing of the assets." A salvage company took possession of the aluminum boat and, just after this photo was taken, hauled her away to be dismantled for scrap.
"It's sad to see her go," noted Paul Kamen, who sailed aboard the Lady many times under Klein's ownership, "but it was a design from the dark years of the IOR. In this market I can understand why she's not worth trying to save as a cruising boat." Nevertheless, Kamen recalled two vivid memories of his time aboard:

"Leading Lady had an all-aluminum hull and deck, which made it very noisy downstairs when things were happening above your bunk. On our first Vallejo Race to Coyote Point — back when the fleet was so big they had to split it up into two different destinations — we were racing in the same IOR division as Chris Corlett, who I think was sailing the Serendipity 43 Scarlet O'Hara that year. We were all aboard and in our pipe berths at around midnight, and two minutes after the last cabin light was turned off, we hear a group of sailors marching down the dock to the end tie where we were berthed. Corlett's voice was chanting 'Hup-Two-Three-Four . . . .' Corlett's crew climbed on board and did a full military close order drill, stomping on the aluminum deck for five minutes, then marched back up the dock!
"Another time, during Big Boat Series, we still had some of the crew from the previous campaigns. There was some friction between Bob, who always ran a very competitive but very friendly family program, and the self-styled pros. On the way back from one race that went badly, Bob confided in me: 'Paul, never go racing with people you wouldn't also go cruising with.' Words to live by!"
Do you have fond or fun memories from Leading Lady? We'd love to hear your stories — photos are always welcome! — so we can include them in the November issue of Latitude.
Several readers felt we downplayed the effects of hurricane Jova on Mexico's Gold Coast in our 'Lectronic report on Wednesday. They passed along the accompanying photos of Barra de Navidad to support their opinion.
If we seemed insensitive, we apologize. Maybe we've become a little callous from reporting on hurricanes for so long, but the damage seen in the photos seems consistent with what was forecast and what we expected from a Category 2 hurricane making landfall.
According to Dr. Tim Doggett of AIR Worldwide, which does catastrope modeling, "Because Jova was a small, and weakened to tropical storm strength within 12 hours of landfall; damage from wind was limited. In summary, the storm hit a relatively sparsely populated region of the coast, and strongest winds from the storm were highly confined. Furthermore, rainfall accumulations were moderate, but not extreme, in the more populated regions of Jalisco where there are higher concentrations of exposure."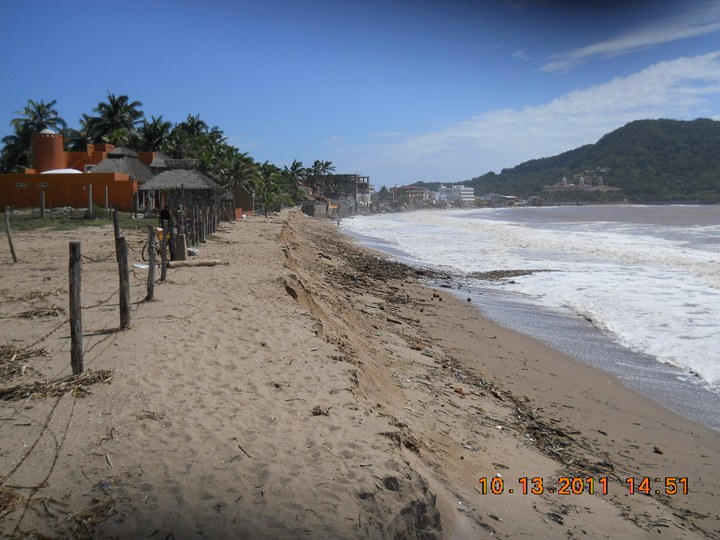 To better understand our reporting, Latitude is 'sailboat centric', meaning our hurricane coverage focuses on the effects on sailing interests rather than the general population. Because nobody cruises the Gold Coast during the summer, and because there are many more boats and marinas in Banderas Bay, we concentrated our coverage on Jova's threat to that area — which fortunately escaped with relatively minor flooding. Indeed, the 28-country Pan American Games are to begin tomorrow, including sailing out of the Vallarta YC and volleyball competition on the beach in downtown Puerto Vallarta.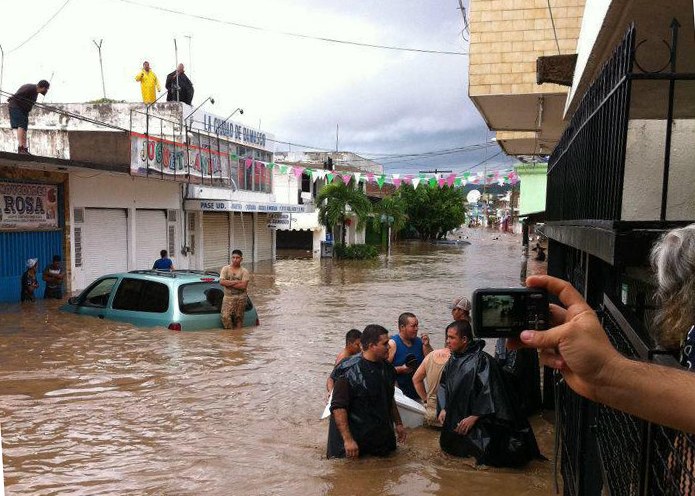 As is not uncommon with hurricanes making landfall on the Pacific Coast of Mexico, the biggest danger and biggest damage came from flooding and mudslides — not wind. For example, if you look at the accompanying photos, you'll see that there are still leaves on the trees and other vegetation. And that thatched roofs weren't blown away. If a very powerful hurricane hits an area, vegetation is denuded and many trees are simply blown over. Thatched roofs land a couple of miles away. Jova was unusual in that her eye was thankfully only about 15 miles in diameter, which is quite small.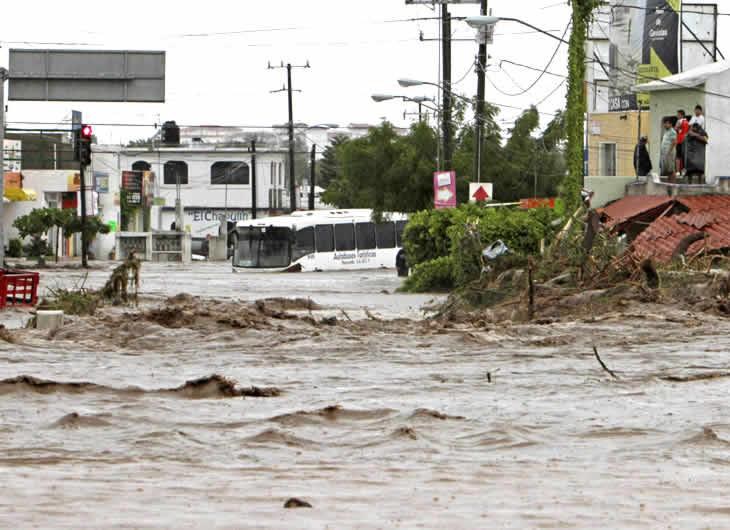 We're told that 11 inches of rain fell in the Barra and Manzanillo areas, and the tremendous damage caused by flooding and mudflows is obvious from the photos. But to put things in perspective, two years ago some 24 inches of rain fell in the Puerto Vallarta area in 24 hours, bringing down huge hillsides, filling in valleys, and toppling the bridge for the main road into Puerto Vallarta. Nonetheless, it was just a matter of days before traffic was rerouted, and in weeks most of the mud was removed. When the sunny tourism season started less than two months later, visitors were none the wiser.
As for the marinas, they only suffered minor damage from Jova. We've been unable to reach the marina at Barra, but would be willing to bet that they are in good shape despite Jova, and will be ready to receive visitors in just a few weeks.
PHOTO
Again, we don't want to underplay the damage done by Jova. Our hearts go out to everyone who suffered. The effects of flooding and mud can be devastating, and they may have been even worse at Chemela and Careyes, closer to where the eye of Jova is reported to have come ashore. However, the visit by Jova is certainly not going to interfere with our plans to cruise the Gold Coast in January, and we hope it won't interfere with yours. We're confident that the Gold Coast is going to be as good, if not better, than ever, and the wonderful folks who live along the coast will certainly need the business.
Wednesday's Photo Contest of the Day showed a burn hole in a vinyl cockpit cushion and we asked readers what unusual source they thought caused it. Dozens of people came so close we would have given it to them had Matt Satterlee of National City not guessed the exact answer: "I'm going to guess the burn mark came from a light source passing through a bottle of water and then onto the surface. This also happened in my moms car. She had a bottle of water in the console between the seats and it burned a hole in a couple of places in the passenger seat." For his insight, Matt won a Latitude 38 hat.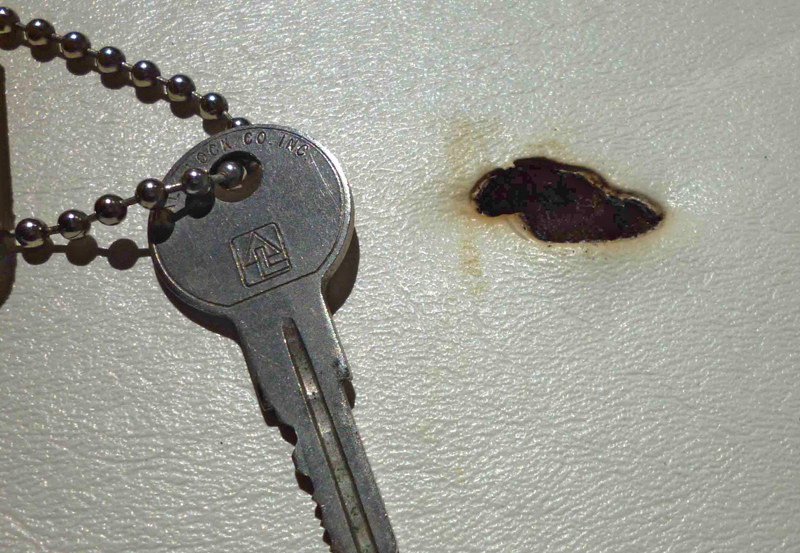 You could have knocked us over with an empty Evian bottle when we read the email from Aussie cruiser Joe Roggeveen that explained the series of photos. He sails aboard the Westerly Conway 35 Dream Catcher. "As friends and marina neighbors Pam Lau and Ted Berry of the San Diego-based Catalina 400 Shuang Yu were loading their newly purchased provisions in Apia, Samoa, they placed two six-liter plastic bottles of drinking water on their beautiful vinyl-covered cockpit cushions," Joe wrote. "The bottles sat there for most of the beautiful sunny afternoon. When Pam moved the bottles to the galley late in the day, she noticed two charred burn holes, through the vinyl and well into the foam rubber inside. The holes were a mystery as neither Ted nor Pam smoke.
"Later in the evening, while Pam, Ted and I were enjoying a coffee in the saloon, our attention was drawn to an intense pool of light adjacent to a water bottle on the galley floor. The source of the light was quickly identified as an LED light over the galley stove shining through the water bottle. Discussion soon turned to 'What if it was the sun?' No, surely not!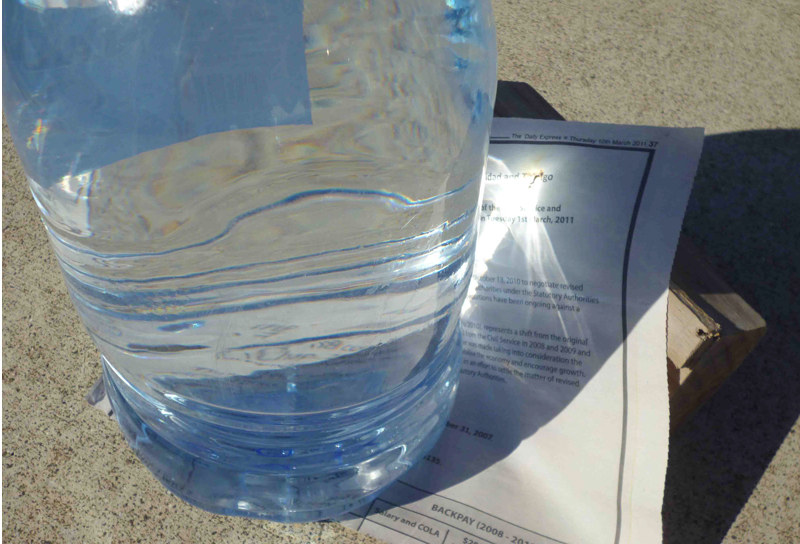 "Early the following morning, with the sun still quite low in the sky, we sat one of the full water bottles on a piece of newsprint on the dock. The pool of intense light on the side away from the sun was obvious. By lifting the paper's edge and adjusting for a pool of maximum light intensity (around 1 cm diameter), it took just a few minutes to burn a hole through the newsprint. As it was still quite cool and there was a small breeze, we did not get a flame, only smoke, but in the right conditions, a full-fledged fire would have resulted. The possible consequences are frightening, especially on a boat."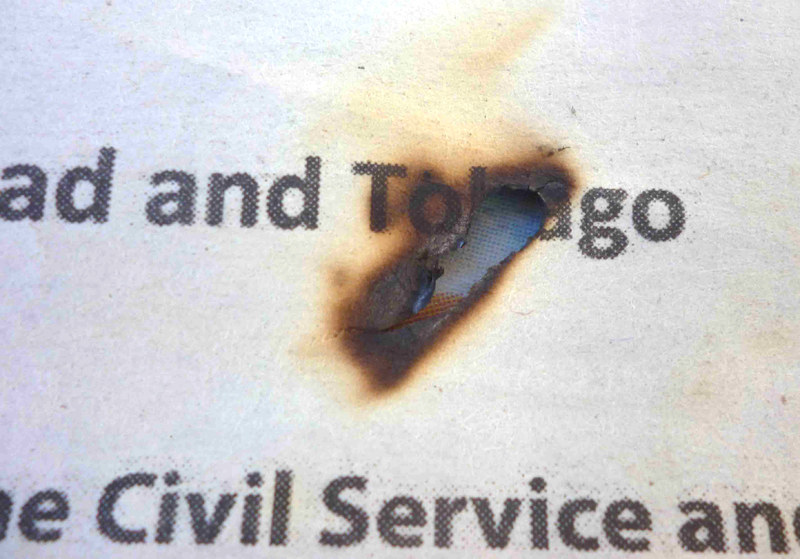 As many of the answers we received to the quiz demonstrated, there's more than one way to burn a boat. Sabine Faulhaber echoed the most popular guess: "Someone's reading glasses forgotten on the seat." Susan Leaf of the Endeavour 32 Soteria wasn't the only one to suggest "Sun magnified through the isinglass in a dodger." A couple people even guessed a more nefarious source: "I've seen plenty of melted cushions via those darned burning seeds that seem to leap from joints at the least opportune moments," said one anonymous sailor.
But Tom Patterson of the Wyliecat 30 Dazzler shared a story that perfectly illustrates how sailors need to always be vigilant about fire safety aboard: "For eight years I owned Seraffyn (yes, that Seraffyn) and, as most know, she's a pretty simple boat. To brush my hair in the morning, I had one of those portable mirrors that has a flat side and a magnifying side. So as not to look too much like a liveaboard, I would drape my towel inside under the deck for drying. One sunny weekend morning, I was sitting below with the hatches open and was startled to smell smoke. My quick investigation revealed that a hole was being burnt in my towel as a result of the sun reflecting off the magnifying mirror lying on the quarter berth. It was a coincidence that the mirror had perfectly focused the sun's energy on the towel. It was a lesson learned on where not to leave that mirror!"
Receive emails when 'Lectronic Latitude is updated.
SUBSCRIBE