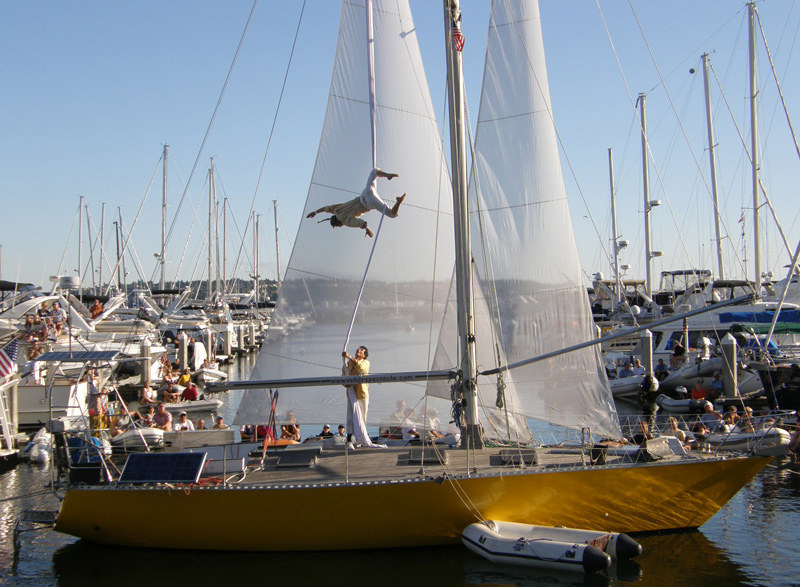 As reported earlier, a unique troupe of sailing acrobats will arrive in San Francisco Bay any day now, and will perform their amazing aerial acts — suspended from their rigging of their 40-ft sloop — in a variety of Bay locations. If you missed our previous report, let us explain that in 35 years of reporting on all aspects of the local and international sailing scene, we've never met anyone quite like French sailors Delphine Lechifflart and Franck Rabilier. For the past several years they've been financing their around the world cruise aboard La Loupiote (with their two beautiful daughters, Ondja, Loéva, along as crew) by passing the hat after performing 'high-wire' acts at marinas, yacht clubs and various public venues.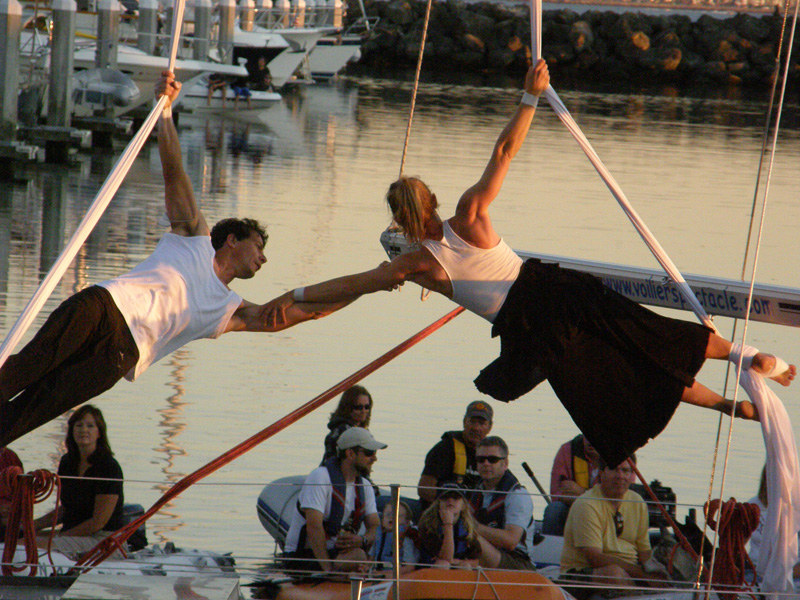 Their shows are not only unique, but sensational, drawing rave reviews wherever they go. As Northwest sailor Derek du Nann said after seeing them perform recenty at Seattle's Elliot Bay Marina, "They are absolutely terrific. . . They are not to be missed!"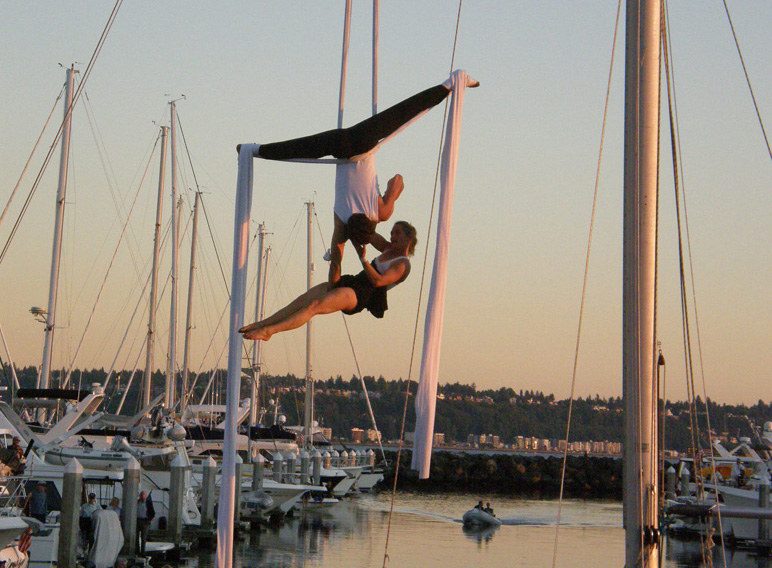 Franck and Delphine are eager to perform often while here. Their bookings so far are:
– September 24 & 25, KKMI Boat Yard, Sausalito: 2 p.m. & 4 p.m., free
– October 1 & 2, Encinal Yacht Club, Alameda: time TBA
– October 8 & 9, Treasure Island Yacht Club: time TBA
– October 14, 15 & 16: South Beach Yacht Club; times TBA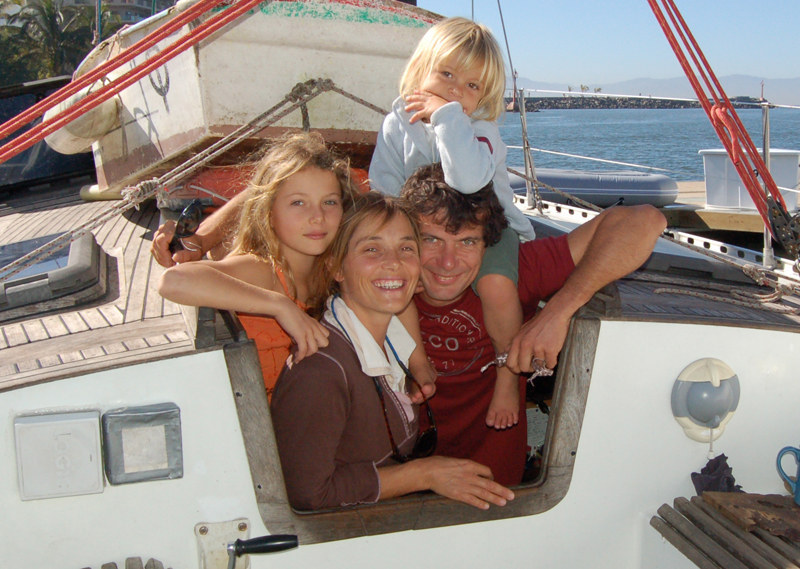 You can see sample videos of their performances at their site, and they can be reached by email for additional bookings. When we met this warm, bright-eyed family in Mexico last winter, we instantly became big fans, and we're sure you will too. Don't miss them!
It's been a very rough year for the cruising community in the Puerto Escondido area of Baja. For one thing, personality and other conflicts tore the community apart. With the two main combatants now gone, one to Cuernavaca and the other to San Diego, things began to simmer down. Then the new manager of the Fonatur facility, who replaced the much-loved Constanza Noreiga, began to implement what were seen as all kinds of petty rules and fees for things that had been free in the past. Most recently, a widely distributed letter recapping one person's version of the 'Troubles', is said to have infuriated a lot of members of the community who have stayed behind, ripping open wounds that had finally started to heal. If that wasn't bad enough, Fonatur headquarters announced that the pricing at all their facilities, including Puerto Escondido, was going up dramatically. Members of the cruising community are wondering what they've done to deserve all that has befallen them and if their troubles will ever end. Indeed, some folks have announced they are giving up by closing down their businesses.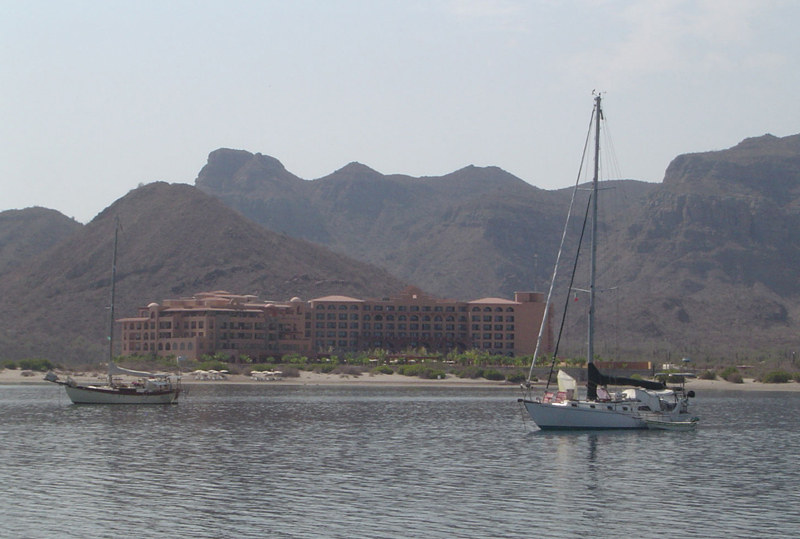 But there is a ray of good news in the area, although not right in troubled Puerto Escondido. It's called the Villa del Palmar at the Islands of Loreto Resort, seven miles to the south, where the management has been knocking themselves out to make cruisers anchored out front in Ensenada Blanca feel welcome. Gordon Alexander and Kate Angier of the Westsail 32 Miskatonic report:
"We were surprised one morning by a knock on the hull and a shy, "Good morning, good morning, hello?" A fellow named Mauricio from the resort staff had stealth-kayaked out with fresh, warm breakfast pastries and coffee, and an invitation to attend any resort event we wanted during the coming week. We thought, "What a nice gesture?" and made plans to see the open-air movie with Bernard Slabek of the the San Francisco-based Freedom 33 Simple Pleasures, the only other sailboat anchored off the resort at the time.
"The next morning there was another knock. It was the lovely Victoria — hostess, folkloric dancer and all-around cheerleader — in the kayak this time. Actually she crashed into our hull, muttering 'Oh, I don't know what I'm doing with this thing!' But she got dry breakfast and delicious coffee onto our boat, thanked us for coming to the movie, and hoped we'd be able to get back to the resort soon.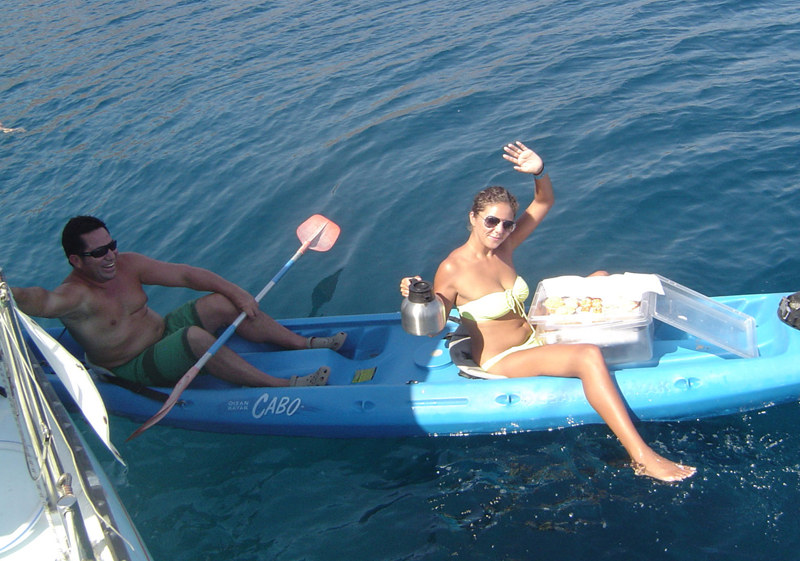 "Almost every morning since then, one of a revolving cast of staff has made the trip to all the anchored boats, and most of us have spent at least an evening or two a week enjoying happy hour, Mexican Night, a fine dinner, or other diversions at this laid-back, out-of-the-way resort. We thought surely this can't last, but it's been going on for over two months now! People come and go, but the number of boats in the bay has steadily been increasing. There have been as many as nine at one time. And they're not all single-hander guys hoping to help Victoria steady her kayak. Actually, she's gotten pretty good at it herself.
"We plan to hang out here for the rest of hurricane season. Prices have apparently risen steeply at the Fonatur marina in Puerto Escondido seven miles to the north, enough so that we'll only be pulling in there for a serious storm or to buy diesel. In the town of Ensenada Blanca, which is at the north end of the anchorage here, you can find drinking water, groceries, gasoline, and laundry services — pretty much everything the marina at Puerto Escondido offers, with only slightly more effort. We also get great Internet here, both WiFi signal from Ensenada Blanca and a strong Banda Ancha from our line-of-sight on Loreto.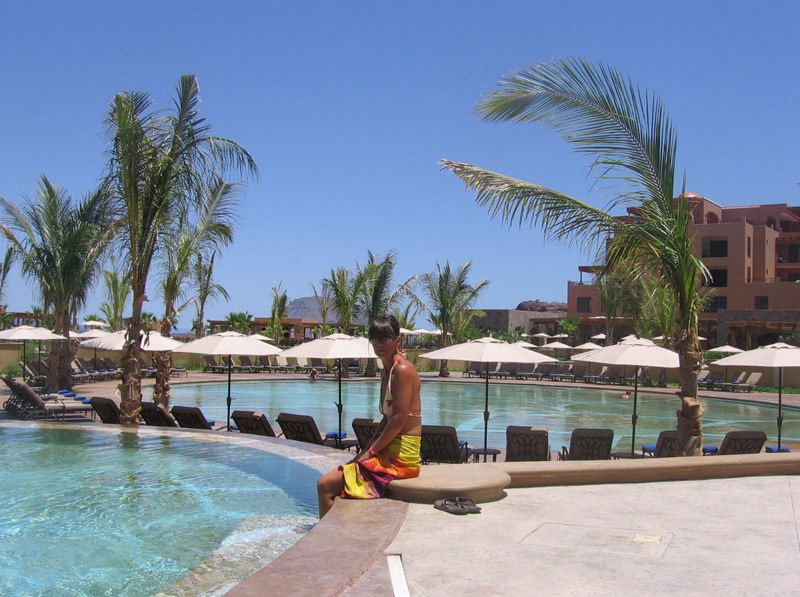 "In addition to that good news, a bunch of the folks from Puerto Escondido — 'in the spirit of making things better around here and lightening things up' — have decided to throw an International Talk Like a Pirate Day party on Monday, September 19 — at Ensenada Blanca in front of the Villa del Palmar Resort. They have contacted the very helpful resort management, which has agreed to let them use their beach facilities.
"There will be various games, beach volleyball, lounge chairs to lay on — and a potluck, so bring your best pirate dish, plate and utensils. Cocktails and cerveza will be available for purchase. An award for the best costume and the Pirate King and Queen will be voted on and announced. It should be a blast! ARRRRHHH Matey!!! For further information, contact Diana, who writes, 'the hotel is welcoming us with open arms, including coffee and donuts delivered to our boats, happy hour from 4-6 p.m., and specials each night. It is a fabulous spot to anchor, with a soft sand bottom and pristine clear water. Friends have said the snorkeling and diving are fabulous.'"
On such short notice and in the middle of hurricane season, this event isn't going to draw a large crowd. But it's at a great venue, with very welcoming hosts, and perhaps presents yet another chance start to bring the cruising community of the Puerto Escondido region back together again.

Regular readers will remember the story of Doug Merrell and Trish Kelsoe of the Buccaneer 30 Ka-Em-Te. At the end of June, the couple, along with Doug's sons as crew, were sailing the clipper route from Mexico, where they'd lived aboard and cruised for three years, back to Oregon so Doug could have better access to cancer treatment. Ka-Em-Te's steering failed after hitting a submerged object, and the boat was taking on water slowly, so Doug and Trish made the tough decision to abandon their boat and board a Chinese freighter that delivered them to Hawaii. Trish said her biggest regret was forgetting to cut a water line so the boat would sink quickly. "I hate to think she may have been a hazard to navigation even for a short time," Trish said at the time.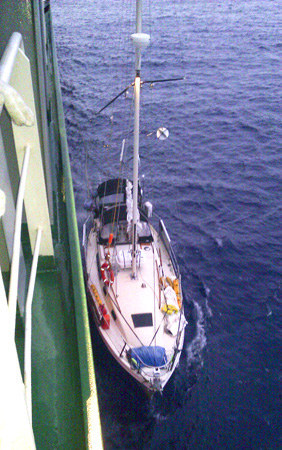 Maybe providence had other things in mind for the little boat — or as Doug and Trish call her, "The Little Boat That Would Not Die." Last week we got an email from the couple reporting that Ka-Em-Te had been found 800 miles off Hawaii and had been towed to port. She was dismasted and has water over the floorboards but is relatively intact.
"We really don't know any more yet but we'll be flying to Honolulu soon to get our stuff," explained Doug. "The marine salvor is going to let us stay on his boat while we pack up our personal gear and, due to my condition, is even going to have one of his crew help us. He's going to store the boxes in his warehouse until we can arrange shipping for it all. He just wants to help a fellow boater and help keep our cost down."
We hope to have a full report of what Doug and Trish found on Ka-Em-Te in the October issue of Latitude 38.
Receive emails when 'Lectronic Latitude is updated.
SUBSCRIBE