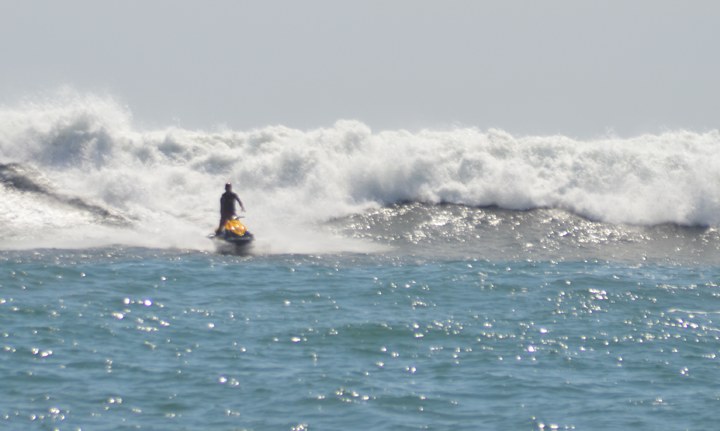 A "closed port?" Not really, not anymore than Profligate is, as was also reported by CBS channel 8 KFMB San Diego, a "trimaran." At least the news folks were correct when they reported that we "carefully timed" our exit.
The deal is that we did an overnight in Oceanside on our way to Catalina from San Diego to meet the folks who are going to be putting on the 'Oceanside YC Pre-Ha-Ha Rendezvous', a non-official event to be held September 30-October 2. We hadn't bothered to check the size of the swell when we left San Diego, but as we approached the Oceanside Pier, it was obvious there was a very large swell running. This was confirmed by the fact there was a lifeguard boat and a lifeguard on a Jet Ski patrolling the entrance to the sometimes-dangerous harbor entrance. We're old time surfers, so we took our sweet-ass time evaluating the situation. Sure, we had a commitment to see folks in Oceanside, but there are things more important than social commitments, so if it looked too dicey, we were going to continue to Catalina. But it wasn't too bad, so after finding a nice lull, we put the pedal to the medal on our 56-hp Yanmars and cruised on in without a problem. We were a bit surprised, however, by the size of the waves that nipped at our heels on the way in. But no big deal.
We met all kinds of wonderful folks at the Oceanside YC, including vets of the Ha-Ha, and it's obvious they are knocking themselves out in putting together a three-day weekend for Ha-Ha folks. The club offers a great view of the harbor entrance, and there was a lot of oohing and aahing as the sets — coming all the way from Antarctica — rolled in. More than a couple of times there were close-out waves across the entire entrance — despite the fact it is dredged to more than 20 feet. Lots of people said they'd never seen close-outs like that before. Which is why that evening's racing program was cancelled.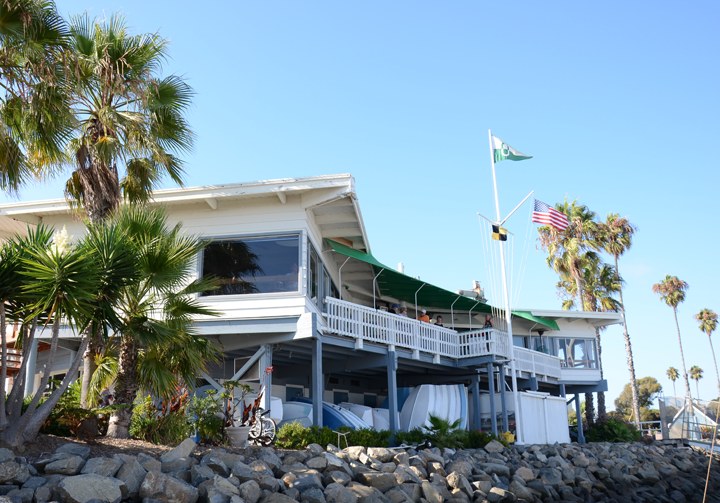 One of the folks at the club said the surf was actually going to be much larger the following day, which is when we and our three crew planned on setting out for Catalina. This was Harbor Patrolman Jonathan Hoover, and it quickly became apparent to us that he really knew his stuff. He said he'd swing by Profligate the next morning and would give us his thoughts on the conditions.
We were on the breakwater the next morning to check things out. The surf was much bigger, with the entrance repeatedly being closed out by some tremendous waves. Indeed, the daring were tow-in surfing out of sight at the far western end of the breakwater at Camp Pendleton. But there were also long lulls. We figured that we'd take Profligate out to the staging area just before high tide and give it a look. It wasn't going to be a big deal if we couldn't get out, because we could walk to the Oceanside train station, catch the Surfrider train — a nice but heavily subsidized ride — to downtown L.A. to see our kids.
Just before leaving, Hoover pulled alongside in his patrol boat. He and another patrolmen had been going in and out of the harbor, and riding the surf, honing their rough-water boathandling skills. They were good, both in their judgment and execution. He advised us that while the surf was indeed huge, there were also some pretty good lulls. He told us that the port had not been closed, although they were advising all mariners to not go out. He also said that because of liability issues, he couldn't recommend whether we should leave or not. We thanked him for his info and insight, and acknowledged that the decision to stay or go, and the responsibility for the health and safety of the three aboard our cat, was entirely our responsibility.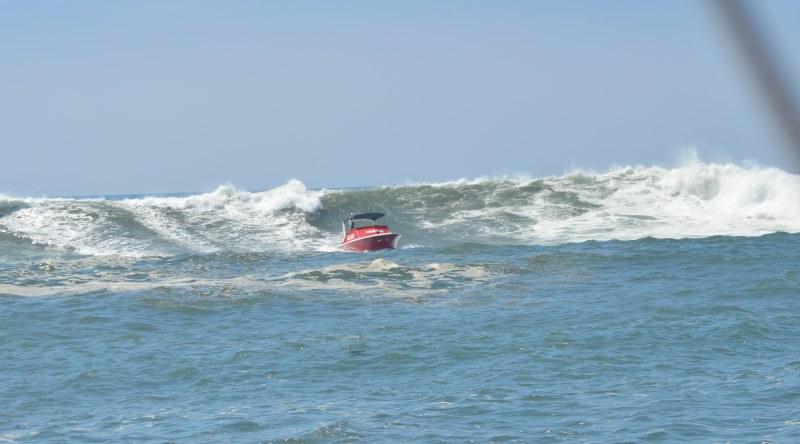 When we got to the staging area just inside of the two breakwaters, we were treated to a very impressive surf show. Not only were these some of the biggest waves we've ever seen in California, they just kept coming. We'd never seen such a lull-less period of big waves. Some were so huge we were tempted to head right back to the berth. But we decided to be patient. After holding in position for more than half an hour without seeing even a slight chance to get out of the harbor, our thoughts were turning to the great shabu-shabu dinner we'd have with our kids that night. But then there was a lull. It looked safe, with no dangerous-looking indicator waves to the south, and with a good margin of error. So we went for it.
We got a little over 10 knots of boat speed out of Profligate's two pretty small diesels. Everything looked good until we got about halfway out, when a couple of swells with more west in them than the others appeared from behind the western breakwater. These weren't the biggest of swells, but if they broke on Profligate, it could have been trouble that could have led to more trouble. The trick was to go fast enough so the wave didn't break on us — or Rachel, who had a firm grip while lying on the tramp up forward — yet slow enough so we didn't launch the whole boat off the back of the wave. Thanks to having done the time and speed calculation tens of thousands of times before when surfing, we found the perfect — at least in our humble opinion — balance. So after a brief elevation and plunge, and the same with a second wave, we were free.
Unbeknownst to us until we got to Catalina, a television crew had been filming our departure, and that we'd made the later part of their 'Surf Too Big For Surfers' segment. We all thought it was pretty funny.
Although we got out safely, we want to encourage all mariners to be extremely cautious when making the decision on whether or not leave a port when there is huge surf. It really is a life and death situation. Always err on the side of caution. On Profligate, we had some advantages most sailboats don't have. She can motor at over 10 knots, and her bottom had just been painted and was smooth as a baby's butt. And if we had to turn tail and surf big whitewater back in the harbor, she would almost surely have ridden it out well, as opposed to a monohull, which would surely have end up broaching. Then, too, we've nearly a lifetime of experience of judging and timing waves.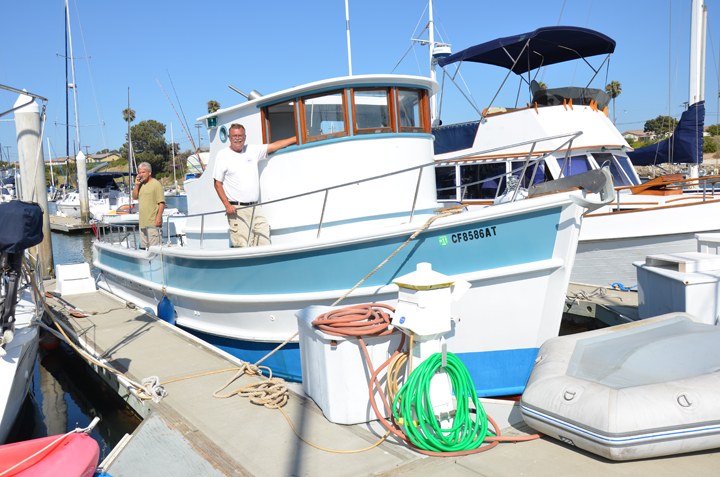 Had someone been on a seven-knot boat and/or not known how to time the waves, it could have ended up in disaster and death. In fact, our good friend Bob Hoyt from Mag Bay Outfitters, who provides every kind of service you can imagine at Bahia Santa Maria including fuel to your boat and crew clearances, was about to have a couple of friends leave the harbor and take his new-to-him fishing boat down to BSM. Alas, the boat — which had been built nearly 70 years ago but had only touched water for the first time less than a month ago — only does about six to seven knots. We discussed the harbor entrance situation with Bob and his crew a number of times. Bob wisely made the decision that they would stay in port until the entrance conditions improved.
The bottom line is be very, very careful in extreme weather conditions. We're now anchored at Two Harbors, on the east side of Catalina, where there is total protection from the swell.
In case you forgot that yesterday was September 1, we'd like to remind you to head on over to your nearest Latitude 38 distribution point before you head out for the long Labor Day weekend. The September cover is hard to miss: a couple of kids loving life during last month's Delta Doo Dah 3D. Inside you'll find a recap of the event, along with one for the Pacific Puddle Jump. We also take you on a Zen journey through the Richmond Riviera (the second of four Zen circuits on San Francisco Bay) and introduce you to the first batch of 'Barely Legal' entrants in the Baja Ha-Ha XVIII (there's still time to sign up!). Find out about John Guzzwell's latest work of art, see how Owl Harbor Marina has changed, meet a couple of local heroes, and learn the essentials about SSB radio communication. At 180 pages, there's more packed into this issue than you can probably digest over three full days of reading!
What are your plans for the long weekend? We'd love to hear how you used your boat, so send your weekend stories to us — photos required! — by Tuesday afternoon and you may be featured in Wednesday's 'Lectronic Latitude. But please remember that law enforcement will be out in droves so boat safely — we really don't want any photos of someone getting arrested for BUI!
Since its inception 18 years ago, sailors from greatly varied backgrounds have participated in our annual Baja Ha-Ha rally from San Diego to Cabo San Lucas. Some are lifelong sailors with vast offshore experience, while others are relative newcomers who've only recently tested offshore waters. Some sail aboard million-dollar yachts, while others sail on bargain-priced fixer-uppers. Many hail from California ports, while others come from Oregon, Washington, Canada and Alaska. And a few, like Jackie and Leif Watson of the Alberta-based Condor 37 Dodger Too, take a wildly circuitous route to reach the starting line.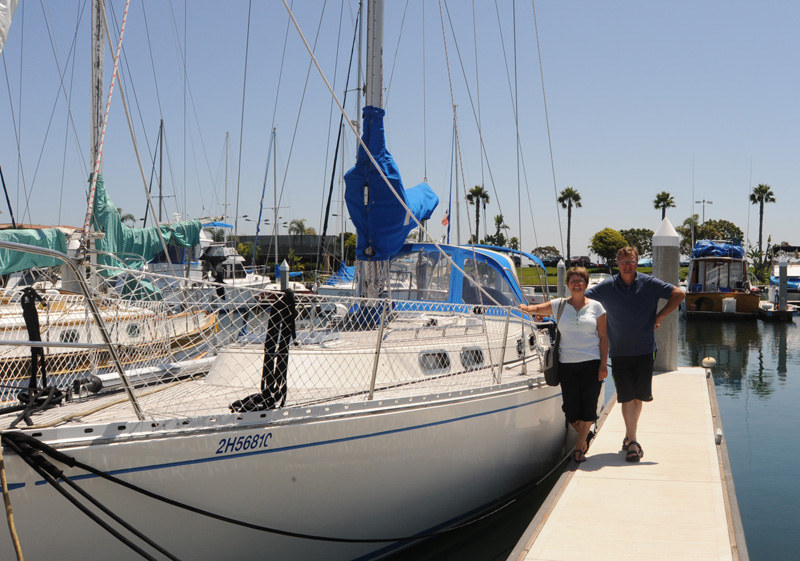 "We had the boat built for us in England in 1983," explain the Watsons, "allowing us to make our own mistakes. Within seven days of launching we sailed her from England to Gibraltar as a shakedown cruise. After that it was two summers and one winter in the Med, with much of that time spent in the Greek Islands and Turkey. We then sailed to Madeira and the Canaries prior to crossing to Grenada, taking in carnival in Trinidad, and visiting most of the islands on the way to the U.S. and British Virgins. A quick jump to Puerto Rico and Haiti, then it was off to the Bahamas, and finally into the Intracoastal Waterway at West Palm Beach.
"We made our way up to Urbanna on the Chesapeake and then cheated by shipping our boat on the I-90 to Bellingham, Washington. Since then we have spent many summers in the San Juans and Puget Sound, happily gunkholing. We left Bellingham in July to sail to San Diego (a cold and foggy trip with either too much or too little wind) for the Baja Ha-Ha and hopefully some Mexican warmth."
PHOTO
We think we can guarantee them plenty of warm Mexican sunshine as they travel south, as well as good times in the company of like-minded sailors. You can read mini-profiles of all entrants in the first of our three-part preview of this year's event, found in the September (available now), October and November editions of Latitude 38. We wish them all the best of luck in their upcoming adventures!
Receive emails when 'Lectronic Latitude is updated.
SUBSCRIBE