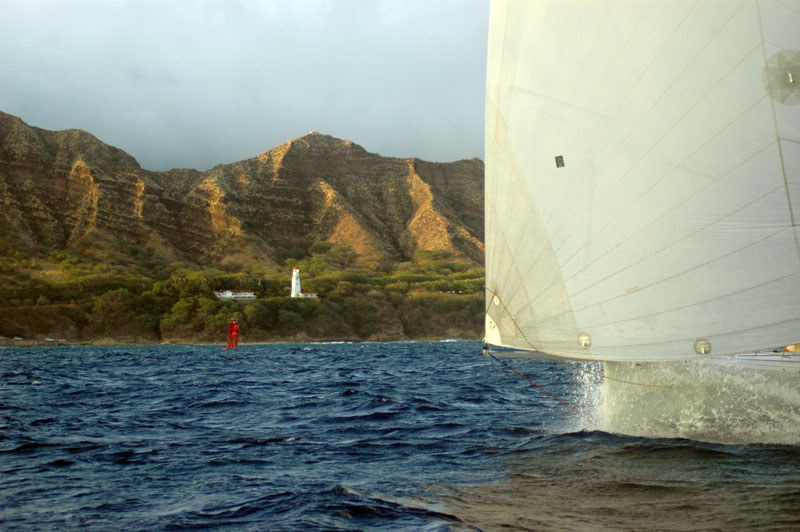 The 46th TransPac gets underway on Monday, when Division 6, the Aloha Division, and the race's lone multihull entry set sail from Long Beach's Rainbow Harbor. After starting off Pt. Fermin, they'll work at clawing their way off the coast and down the 2,225-mile course. On July 8 the rest of the fleet will do likewise. The highly irregular weather we've had is making for a less-than-clear routing picture, and at this point the '11 race could just as easily be along the lines of the drift fest of '79 as it could be the record-breaking slide of '97. But some of the crews we've polled are projecting paces somewhere in between. The forecast for the first 100 miles or so for Monday's starters looks promising, and making a clean break from the California coast is propitious for a good race. At this point it's too early to say how Friday's starters will fare, but the new two start-day format means that among boats close in speed potential, the weather lottery will already have been decided — winning one's day will carry a lot more weight.
While not huge, this year's fleet is high-quality, with some tightly-grouped divisions of quick boats. The Aloha Division — for the cruisier boats — has a big rating spread with everything from a pair of Catalina 38s to a Jeanneau Sun Odyssey 52. Division 6 also has a significant range, and the Bay's Alex and Vivian Farell and their 1D35 Alpha Puppy are right smack in the middle of it. With an experienced crew including Brian Caldwell, Sean Doyle, Ronnie Simpson and Sherry Smith, the Farells figure to be in the hunt.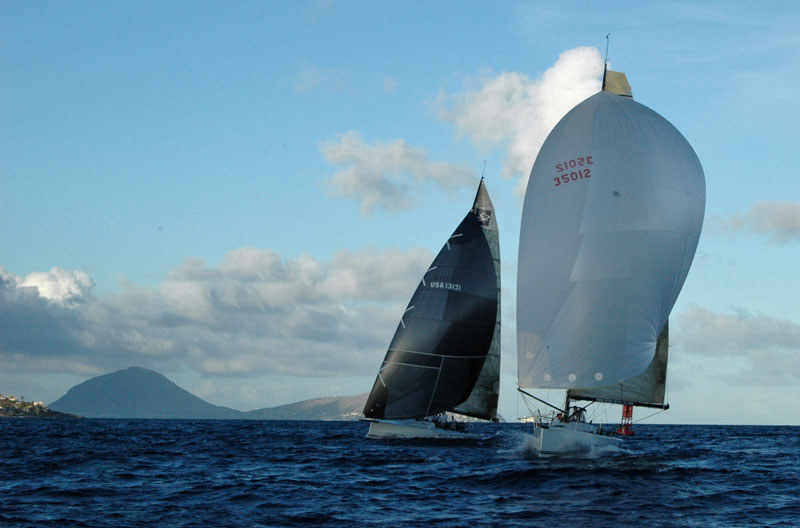 Six SC 50s in varying trims will be duking it out for the honors in Division 5, with Jack Taylor's Dana Point-based Horizon the favorite on just about anyone but their competition's scratch sheet. Division 4 is kind of a hodgepodge of boat types, with everything from a pair of J/125s — one is Andy Costello's Pt. Richmond-based Double Trouble — to a pair of SC 52s and a DK 46. Costello is our pick to win the division, in part because the J/125 is one of the better TransPac boats ever, and in large part because he's tapped Trevor Baylis to be his navigator and rounded up a solid crew of Pat Whitmarsh, Mark Breen and Gilles Combrisson.
Division 3 is the 'Sled' grouping with seven ULDB 70s in various trims vying for the honors. This is a tight one to call, with some really strong efforts present, so we're going to punt and say it will be a close battle between Philippe Kahn's Santa Cruz-based Andrews 68 Pegasus MotionX, Per Peterson's Andrews 68 Alchemy, Brack Duker's SC 70 Holua with Piedmont's Bill Erkelens aboard, and James McDowell's SC 70 Grand Illusion with Pt. Richmond's Will Paxton aboard.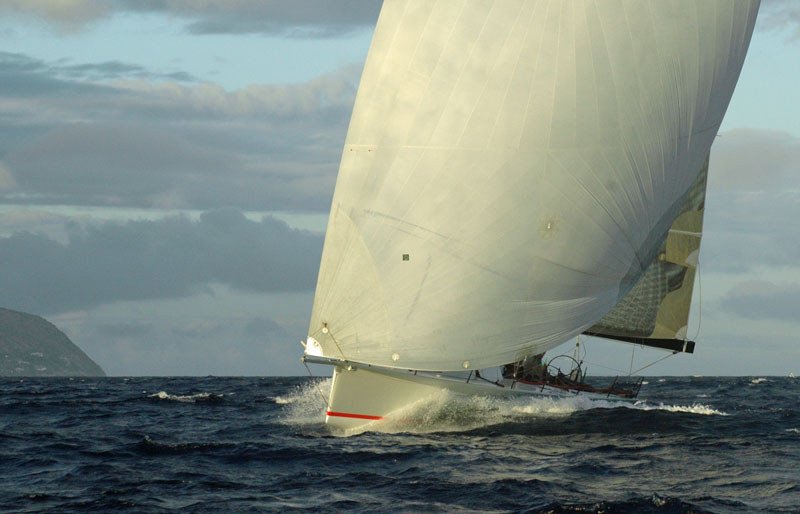 Division 2 is a group of ultra-modern race boats and will most likely be a hard-fought win. This is another extremely difficult division to call. Marin's Skip McCormack will be sailing aboard Jorge Ripstein's strong Acapulco-based R/P TP 52 Patches. Ricardo Brockman's R/P 52 Vincitore has always been a strong boat downwind. But for our money, this one will come down to a battle between Chip Megeath's Tiburon-based R/P 45 Criminal Mischief, and Laura Schlessinger's Santa Barbara-based Kernan 47 Katana. The Criminals have been running game on just about anyone for the last 3.5 years, and rumor has it that Schlessinger comissioned her new boat with the express intent of beating them. She has a rockstar crew in navigator Eric Bohman, Kevin Miller, Kit Will, Paul Wolthausen, Dave Young and Sam Solhaug, but unless someone got left off the crew list, we have to think it's going to be a challenge to sail the boat — with its TP 52-sized rig — with only seven people aboard. One thing's for sure, Schlessinger is going to have to put in some time on the pumps! The Criminals are back with their usual complement of some of Northern California's best including navigator Jeff Thorpe, Watch Captains Robin Jeffers and Campbell Rivers, Jay Crum, Andy McCormick, Morgan Gutenkunst, and Dan Malpas. A Criminal tradition has been to bring in a young and motivated first-time Hawaii racer on these races and this year it's Santa Cruz's Mike Radziejowski.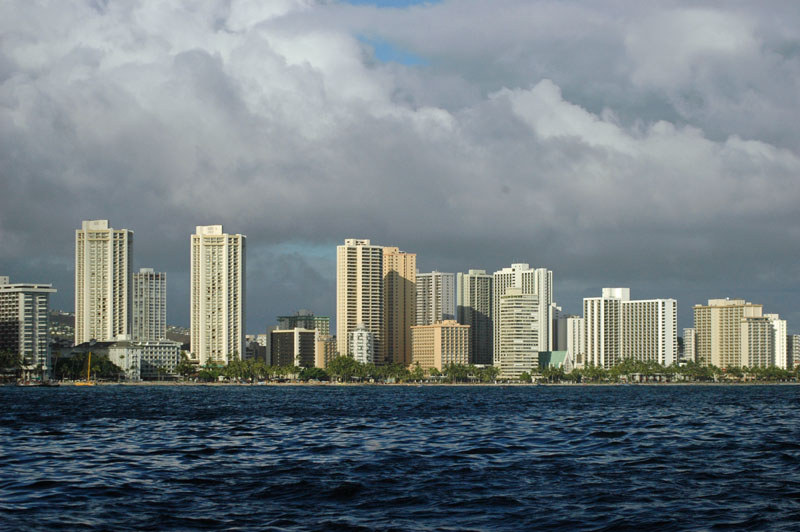 In the really big boats, Richard Clarke's powered-up, but sticky Open 60 O Canada is the scratch boat, but unless it really nukes, it probably won't be in the hunt for elapsed time honors. The winner of the Barn Door — now dedicated to conventionally-ballasted boats with manual sail handling systems — will probably also be the outright elapsed-time winner, and right now it's down to the New York YC's Hap Fauth and his R/P 74 Bella Mente and Southern California's Doug Baker and his well-traveled Andrews 80 Magnitude 80, which has been converted to a fixed keel.
PHOTO
The division assignments for the 53 boats are already on the race's website as is the tracker, which will be subject to a very long six-hour delay this year to promote strategy over tactics for the navigators. The Bay's own Kimball Livingston is being way underpaid to produce some awesome stories about the race that you'll find on the website, and we can only imagine that he'll be running at full chat until well after the race is over.
The parties, and his desire not to miss a single one, are of course the reason that current TransPacific YC Commodore Bill Lee designed the record-breaking Merlin for the '77 race. So maybe it's no coincidence that there's an additional party this year! In addition to the normal slate of fesitivities that include the supremely popular Mount Gay Party, the host committee has instituted a new one in between rehabbing the TransPac Shack behind the Hawaii YC and otherwise getting ready for the arrival of the fleet. The Aloha After Party will kick off on July 22, immediately following the Awards Ceremony at the Waikiki Shell. The Waikiki YC is inviting all the participants, family, friends and volunteers to celebrate the race. There will be food stations with Korean, Chinese, Thai and Hawaiian Style eats, a band for dancing and, of course, liquid refreshments plus a fireworks show. And speaking of fireworks, you don't need to wait until July 22! The Aloha send-off party at Gladstone's Restaurant in Rainbow Harbor coincides with the city's Independence Day celebration.
Receive emails when 'Lectronic Latitude is updated.
SUBSCRIBE