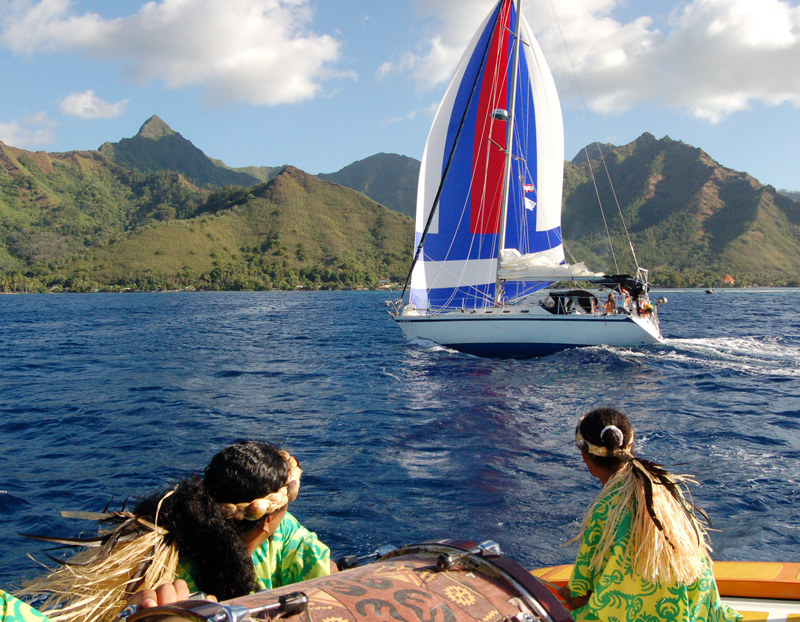 For some participants in last weekend's Tahiti-Moorea Sailing Rendezvous the highlight was the outrigger canoe races. For others it was the Polynesian music and dance shows both Saturday and Sunday at the water's edge. And for many others it was simply having an opportunity to get together with fellow cruisers to swap tales about their 3,000-mile crossings from the west coast of the Americas — the passage we like to call the Pacific Puddle Jump.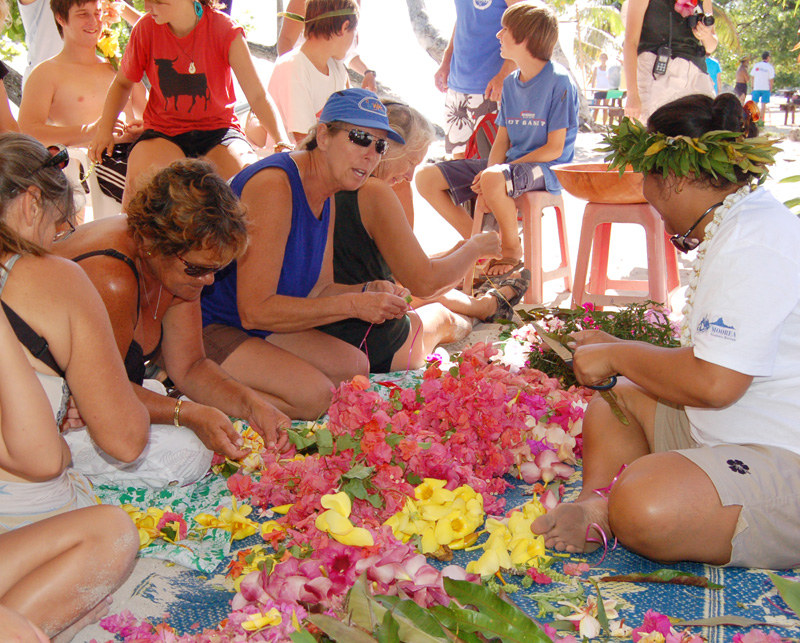 Now in its sixth year, the annual Rendezvous serves the dual purpose of providing a forum for celebrating the fleet's safe arrival, and introducing its members to traditional Polynesian cultural arts, including music, dance, handicrafts and sports.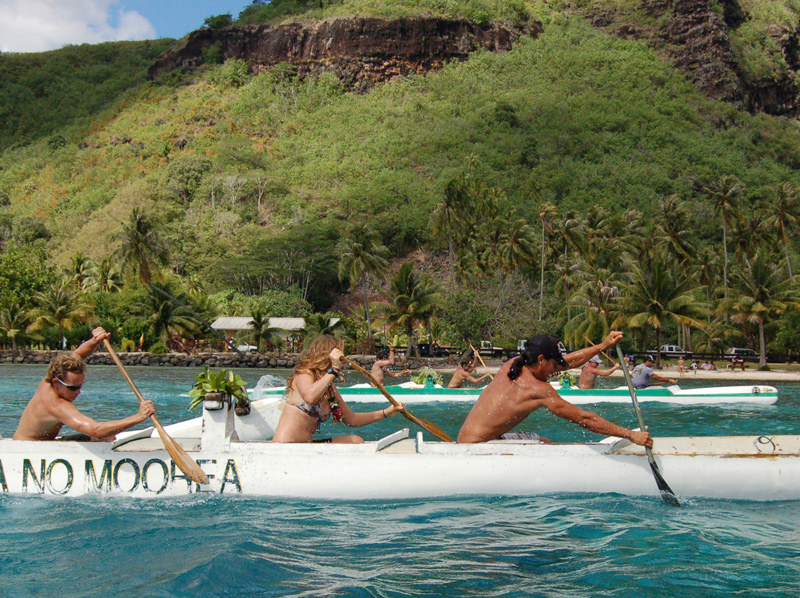 As you can read in our full report in the August edition of Latitude 38 (downloadable free from our site), the international crews from nearly 50 boats took part in a wide variety of activities, including opening ceremonies at Papeete's Town Hall, a sailing rally from Tahiti to Moorea's spectacular Opunohu Bay, a variety of traditional Polynesian sports competitions — and many cruisers even attempted to perform classic Tahitian dances alongside local experts.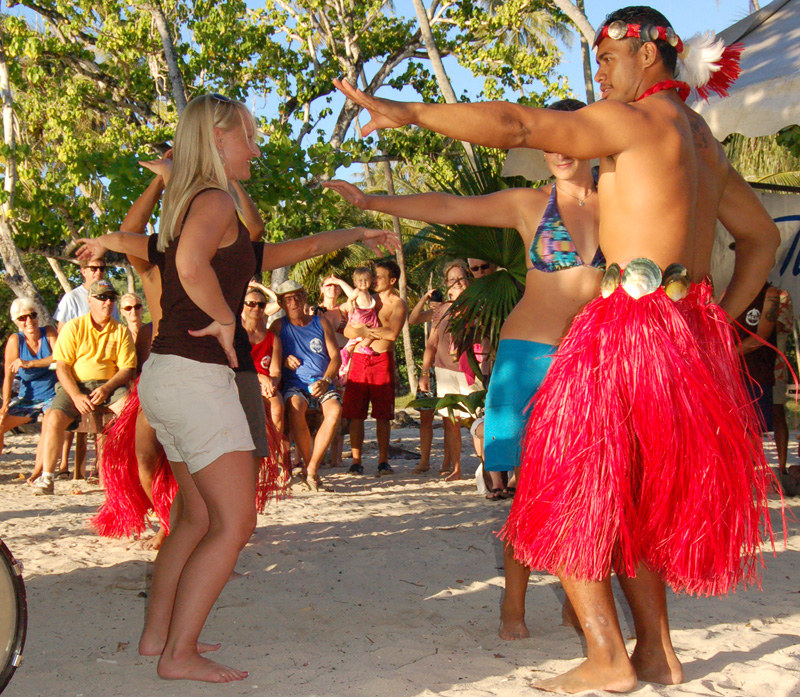 Needless to say, it was all great fun, and the event provided each participant with an exceedingly warm welcome to these fabled isles.
While the boats in this year's TransPac are clawing away from the California Coast, the Pacific Cup YC will be hosting the first installment of its biennial seminar schedule — the "Pacific Offshore Academy" — with a revamped, more user-friendly format.
"We have expanded our seminars to include any and all offshore sailors," said the race's Pat Lowther. "We think that the series offers a tremendous opportunity for anyone interested in sailing offshore to gain knowledge from some of the best in the industry."
Planning on doing the Pacific Cup someday? How about the Baja Ha-Ha? Coastal ocean racing? Then be at the Berkeley YC on July 10 for the Pacific Offshore Academy. This year marks a shift from the traditional eight-hour format to a more attendee-friendly half-day schedule. The race's really useful website has a complete explanation of the changes to the schedule, not to mention an archive of previous topics free for downloading. In yet another progressive step, if you're not in the area, the club is willing to consider setting up a webinar for you. It's obvious that the Pacific Cup volunteers are putting a lot of effort into making this worthwhile, so take them up on it!
We'll have a preview of the TransPac — the first starters leave the dock on July 4 — including a heads-up on the race's new after-party, on Friday.
As happens with any haulout, the current one with Profligate has hit a couple of snags. First of all, there is the matter of the collar zinc on the Yanmar saildrives. Either we needed a small spacer for the shafts or we'd have to go with the new split collar zincs, the ones that are split to make it possible to replace the collar zincs in the water without having to remove the props. The problem with the new split zincs is that we still had two of the old style, and the new ones, with the necessary new plates, cost over $200 each here in Mexico. So no, that didn't seem like the best option to us.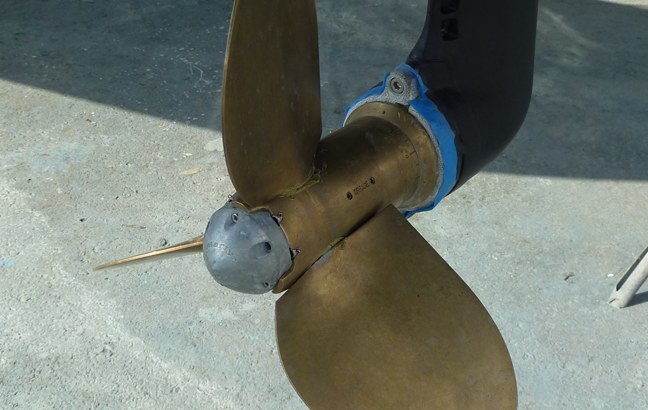 So we were directed to Turnos machine shop in nearby Mezcales. "It's on the main road just past the stoplight, the pedestrian bridge and the feedstore," is how they give directions in this part of the world. After a couple of false starts, we eventually found it, and entered an establishment that was the essence of semi-ordered chaos. There was a pit bull, a number of ancient but high-quality machines scattered around, tools both neatly arranged and scattered about, and men working on a variety of projects from painting a Caterpillar backhoe, to welding a fuel tank, to machining parts, to watching television. In other words, a real Mexican machine shop.
Jose, the man we worked with, didn't speak English. After a few minutes of our Spanglish and pantomime, a nice guy who seemed to be one of the audience in the shop provided excellent translation. Nodding his head, Jose started looking all around the shop for some stainless to machine. We just about lost all hope when he started digging around in a yellow bucket. But son of a gun, he came up with a fat chunk of stainless that, after cutting 80% of it away, would be perfect for machining.
When we returned the next afternoon, Jose had our two spacers exactly how we wanted them. The charge was $25 U.S. We don't know much about machining, but it seemed like a very reasonable price to us.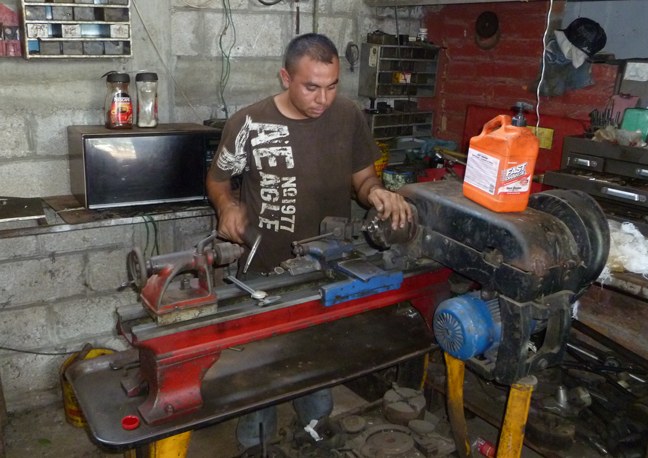 Because we'd only been able to estimate the necessary width of the spacers, we had to return later that afternoon to get them trimmed down. Jose was busy, so the nephew of the owner of the shop stepped up and said that he'd not only take care of it, he'd drop what he was working on and take care of it while we waited. So for the next half hour, we watched as he carefully trimmed the spacers down to our new specifications. Given the time he spent, we assumed that another $20 or so wouldn't be out of line. But no, the English speaking guy said there was no charge. We said that wasn't right, that we'd just watched him work hard for half an hour. No, he insisted there was no charge. Further, he said if we needed the spacers trimmed some more, he'd be happy to do it immediately. Short of getting into a fistfight, the best we could do was force him to take $10 so he could buy a beer for everyone in the shop. He liked that idea.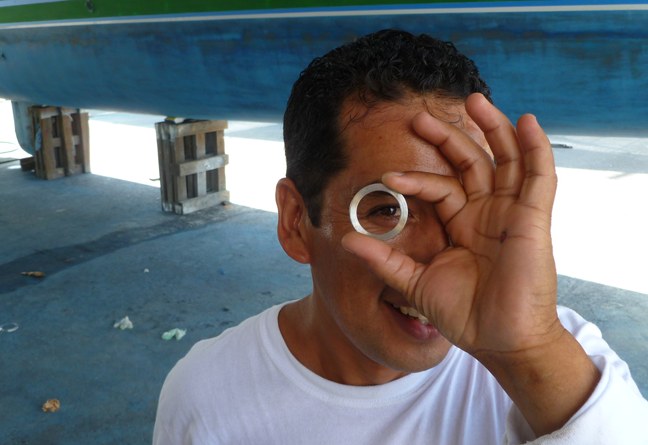 So if you're in the La Cruz area of Banderas Bay and you need some machining done, you know who we would recommend.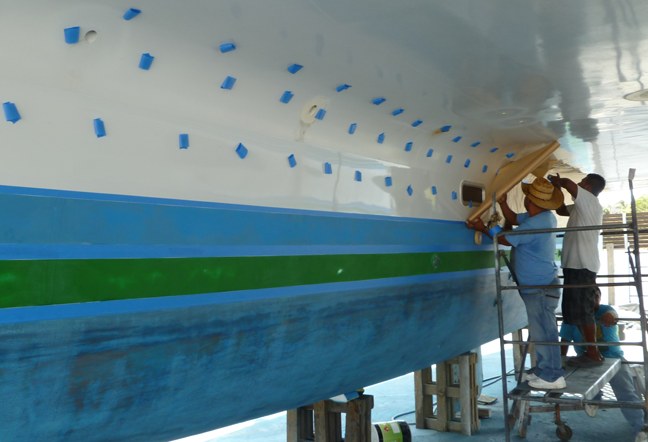 Yesterday Profligate was painstakingly taped off so the bootstripes could be painted today. The deal about summer in Puerto Vallarta is that it can rain — and rain very hard — at any time. So about six hours after the crew got done taping under blue skies and went home for the night, the skies opened up with warm torrential rain. And lightning like you can't believe. Those of you who have never been in Puerto Vallarta in the summer probably won't believe us, but for a couple of hours last night there were an average of about 20 lightning bolts a minute. Yep, it was like a rock concert with strobes at the Fillmore Auditorium in the late '60s.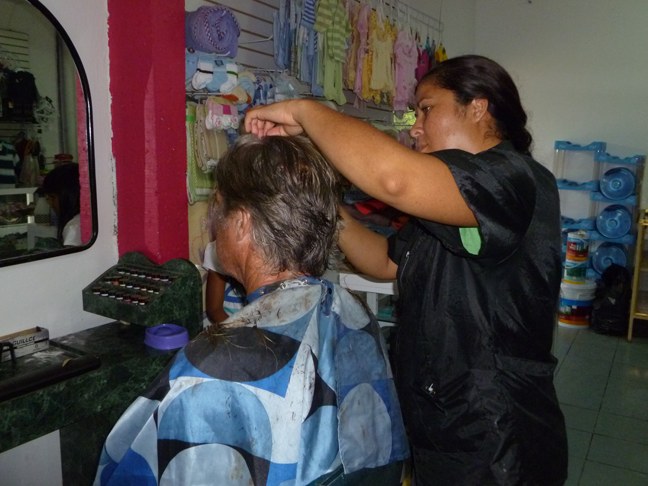 So what's the prognosis for our boat getting painted today? Not very good. Which is why we just stopped by Saraye's place to get our semi-annual haircut. At just $4, it cost 1/100th of what indicted former presidential candidate and longtime scoundrel John Edwards used to pay, and de Mallorca says our haircut looks better. Later on, we'll celebrate with two 80-cent tacos for lunch.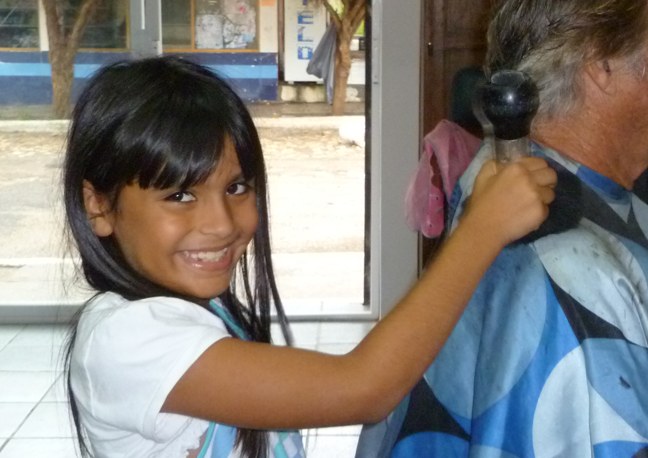 PHOTO
People who haven't cruised Mexico might get the impression that everybody likes it so much because it can be so inexpensive. But that would be wrong. The real charm of Mexico is that the people are so nice, so light-hearted, and so quick to smile. ¡Viva Mexico!
Corrections: In our last 'Lectronic from Mexico, we mistakenly wrote that Philo Hayward sold his music studio and bar in La Cruz about five years ago. We meant to write that he sold his Cal 36 cruising boat Cherokee about five years ago in New Caledonia.
Receive emails when 'Lectronic Latitude is updated.
SUBSCRIBE