It's not uncommon for sailors to come down to their boat after a prolonged absence only to find a bird's nest tucked into the main — usually after raising the sail. But imagine being greeted by several thousand bees. That's just what happened last week at Vallejo YC when Dave Nadolne's Newport 30 Windsome Winch became the new royal digs for her majesty, Queen Bee.
When a swarm of bees attached itself to Nadolne's main last Wednesday, member Mary Kraybill knew just who to call to take care of the situation: her sister and amateur apiarist Deborah Morrison. "I'm an avid gardener and already had two hives," says Morrison. "Now I have three!"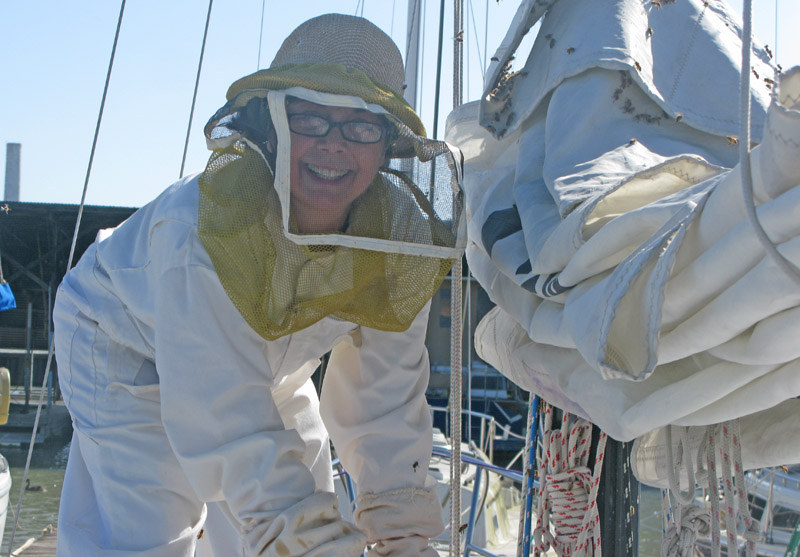 On Friday, Morrison and Kraybill suited up and began the gentle process of gathering the swarm. "First, I sprayed them down with sugar water," explained Morrison. "They'd been there for a few days without eating because they were guarding their queen, so they were hungry — plus the sticky water weighs down their wings." When that was done, the sisters carefully swept the bees into a "Christmas ornament tub."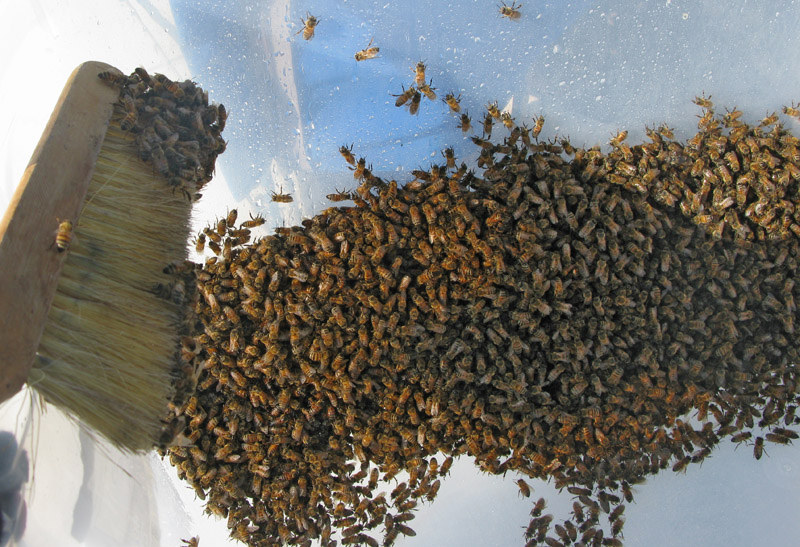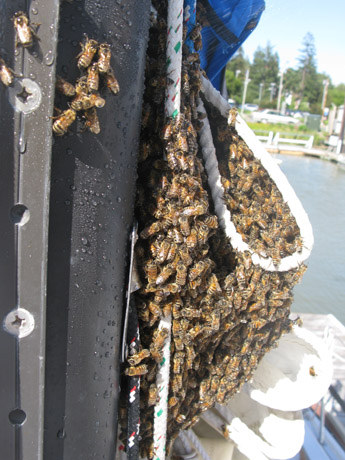 As Kraybill slowly unzipped the mainsail cover, Morrison realized that this job was going to be tricky. "I'm so lucky to have had a sailor to help me," she laughed. "I have no idea what I would have done because thousands of bees were glommed into each fold of the sail." Kraybill slowly raised the main as Morrison continued to sweep up the bees. There were so many, in fact, that they had to find another lidded container to collect them all. In the end, Morrison, who practices her hobby in Benicia, believes that the queen, who is only a little bigger than all the other bees and very difficult to spot, was among the 10,000 or so bees she collected. How does she know? "Because all the bees are still here," she said.
Morrison says the spring and early summer is when a new queen will go on a "mating flight." Her subjects follow her on the flight and wherever she decides to call home, they surround her for protection and start building the combs into which she'll lay her eggs. But why on earth did she choose such a seemingly unlikely spot as a boat's mainsail cover? "Bees are attracted to the color blue — think lavender, asters, etc." Morrison said. "I think she saw the color blue and found the safest little place in the folds of the sail."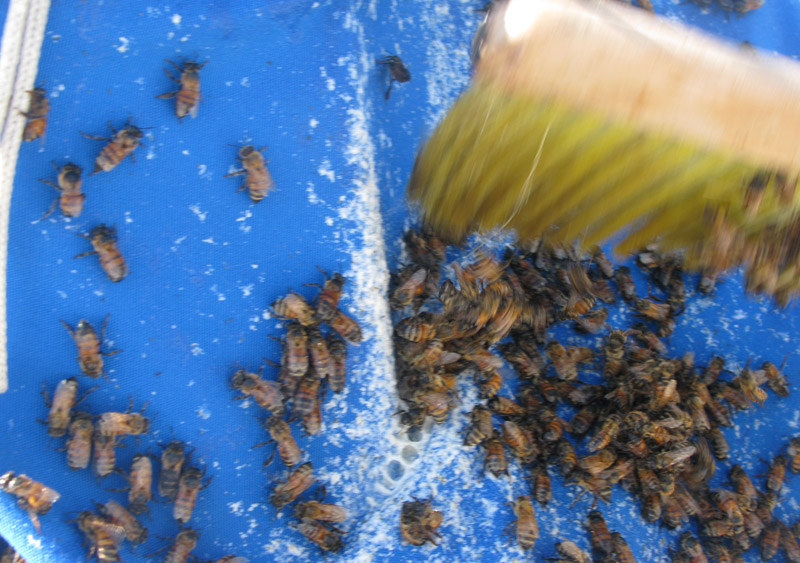 If you find your boat's main covered in bees in the spring or summer, you're most likely looking at the honey variety, as opposed to the Africanized 'killer' variety. Morrison suggests calling your local animal control office to see if they know of an apiarist that will come collect them. Not only has the honey bee population been declining worldwide, but those bees will be none too happy to leave their queen unprotected. "Even though they were very unaggressive at this point and we were in protective gear," Morrison pointed out, "my sister and I each got stung."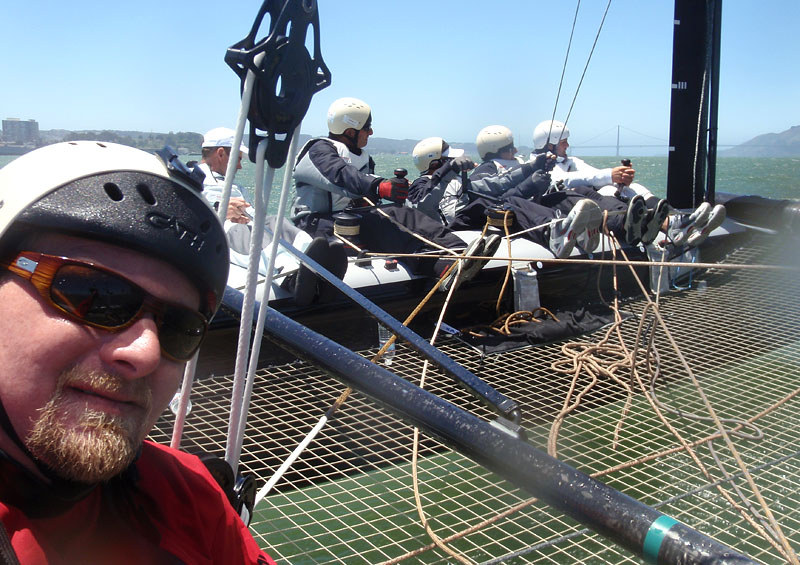 After a week of non-stop media and VIP outreach, Oracle Racing turned its attention to race practice for the first AC World Series in August. Latitude 38 Associate Publisher John Arndt and this editor were invited out to experience the AC45 yesterday. Although this mini heatwave we've been having left us wondering whether there'd be any breeze, by the time we were driving over the Golden Gate Bridge on the way to the team's base at Pier 80, The Slot was already starting to breathe.
We got to the base in time to see Oracle 4 and Oracle 5 wheeled out of the shed, wings raised and in the water, ready to go, in what couldn't have been more than 20 minutes per boat. Rows of shipping containers, Jet Skis and chase boats lined the dark, massive shed, that houses the team's local operations, not to mention the wing from USA 17. If working for a Cup team is all glitz and glamour, you wouldn't know it by seeing this temporary base. The team's clothing and equipment container served as our changing room, and we managed to get out of there having resisted the temptation to nick an Oracle Racing belt or switch out all the gear in the box marked "L. Ellison" with extra-smalls of everything.
Because the team was on a tight schedule to get their practice going, we knew from the outset that our time on board would be limited. ACRM would be out there testing all the regatta systems, and you just can't keep helicopters waiting indefinitely. So, instead of jumping on from a chase boat, we were able to leave the dock on board — Arndt with the 'Facebookers' aboard James Spithill's Oracle 4, and this editor aboard Russell Coutts' Oracle 5 with the 'Flintstoners'. As we were preparing to shove off, word came down that Russell was stuck in a conference call and wouldn't be joining the boat until later. So Aussie Darren Bundock — a double Olympic silver medallist in the Tornado and three time F-18 World champion — took over as helmsman. A couple former Alinghi/Team New Zealand sailors — and winners of multiple Cups — Murray Jones and Simon Daubney, rounded out the crew on Oracle 5, along with Volvo Ocean Race and AC veterans Matt Mason and Simeon Tienpont.
Leaving the dock in the small turning basin next to the shed, the boat instantly leapt forward, attaining a low hum as Bundock bore away down the channel toward the Bay. After a tow up to about Pier 17, where we finally found the breeze, the crew got to work, settling in for a long beat. The guest spot on an AC45 is behind the aft crossbeam where there are a couple "oh shit" handles between the running backstay blocks, and we nervously inquired about the loads on the runners as this editor is generally averse to putting his head, or any part of his body, near a highly loaded running backstay block. Jones told us that there's a load pin on one end of the cable that runs from the prod to the dolphin striker and underneath the tramp back to the aft crossbeam. They're winding 11.5 tons on that cable, although the loads on the runner are much lighter.
As we matched up side-by-side, I could almost hear Bundock thinking, "Why did I get the 105-kilo guy and Spithill get the 75-kilo guy?" as this editor's contribution to (at that point, undesirable) transom immersion allowed Oracle 4 to shear off us as we trucked upwind in the low- to mid-teens in 10 to 15 knots of breeze; the boats are extremely weight-sensitive. After about four or five tacks, both boats popped out the Gate, and our short ride was over as the chase boat picked us up. When you get aboard an Oracle Racing chase boat, you're likely to see a few faces you might recognize, and in this case it was design team member, coach and multiple Cup winner Mike Drummond who was taking video of the maneuvers while Volvo Ocean Race navigator Ian Moore worked away on a laptop. After a quick blast into the Golden Gate YC, our short day on the water was over, but our lasting impression is that the AC34 is going to be one gnarly ride.
About to board our Alaskan Airlines flight yesterday morning from San Francisco to Puerto Vallarta, where we would pick up Profligate for a Baja Bash, we got the news the flight was postponed indefinitely. The reason given was thunderstorms at the extreme exterior of Hurricane Beatriz.
Although NOAA's Climate Prediction Center has forecast a below-normal hurricane season — five to eight hurricanes — in the Eastern Pacific (mostly Mexico) there have already been two in the first three weeks of the season. The first was Adrian, which built to a powerful Category 4 hurricane, but fortunately started well out to sea and continued further out before dying in the cooler waters to the northwest.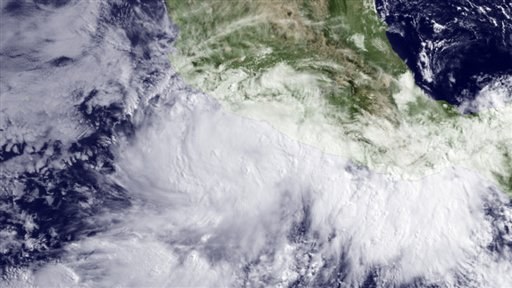 Beatriz started well offshore also, but then took a northeast turn for the coast, coming ashore near Acapulco, Zihua and the Gold Coast, and laying a path for Cabo Corrientes, which is at the south end of Banderas Bay, the bay where Puerto Vallarta is located. Fortunately, Beatriz only reached Category 1 status, although four people were killed ashore. One boy was swept into a river, and three others died when rain from the storm caused a floor to fail, resulting in a woman falling into a septic tank. Tragically, her husband and son both perished in a failed attempt to rescue her.
Beatriz's collision with land sapped her of nearly all her strength and, well south of Corrientes, she limped west away from shore. Having gotten a weather update, the folks at Alaska decided to take off on time after all. We landed in a humid Puerto Vallarta that was under cloudy skies for the first time in many days. So we're now off to the boat, the boatyard, and hopefully to start a Bash within two weeks.
By the way, it's our understanding that this has been one of the most difficuilt Bash seasons in years. Anybody have any war stories to share?
Receive emails when 'Lectronic Latitude is updated.
SUBSCRIBE