No one was more surprised than us when, 25 minutes after posting Monday's 'Lectronic Latitude, all 50 spots on the Delta Doo Dah 3D entry list were filled — that's two boats a minute, folks! To be quite honest, we felt a little like rock stars . . . until we remembered that the popularity of the Doo Dah has less to do with us and everything to do with our welcoming hosts, our generous sponsors, and above all, our fun-loving participants.
Right now, the sponsor page for the July 30-August 5 event shows only our hosts: Berkeley Marina & Berkeley YC, Vallejo YC, Owl Harbor Marina, Boyd's Harbor & The Rusty Pelican, and Stockton Sailing Club — who we can't thank enough for hosting the fleet — but, if history is any indicator, that page will soon fill up with tons of great swag and prizes for Doo Dah'ers. (If you'd like to find out more about sponsorship, contact Doodette LaDonna.)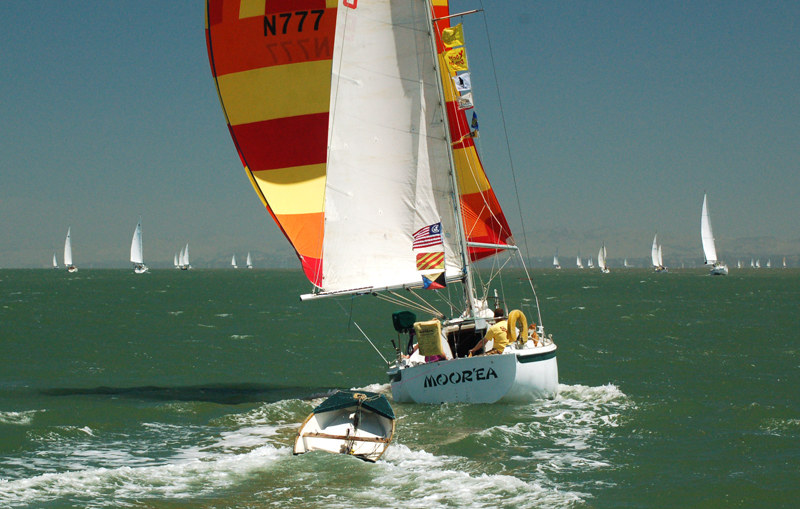 If you were one of the many people who didn't get a chance to sign up for this year's event, you can send your name, boat name, type and length, and daytime phone number to Doodette Chris to be added to our waiting list. Regardless of whether you make it into the Doo Dah, you can still plan your own grand adventure to the Delta. The www.deltadoodah.com is more than just a promotional page for the event — you'll also find several Delta cruising features from past issues of Latitude, a schedule of Delta events, and a forum filled with great advice on what to bring, where to go, and what to do when you get there. It's a great resource for any Delta-bound boat.
And this year's Doo Dah'ers are:
Annie, Sprague Cutter 33, Jeff & Annie Cook, Sacramento
Ardea, Tartan 37, Jim & Georgianne Boissier, Fremont
Astraea, Ericson 38, Lynn Christensen & Joy Brahmst, Oakland
Autumn Wind, Catalina 34, Brian Plautz & Elizabeth Kline, Reno, NV
Bravo Zulu, Downeast 33, Conrad Arnold, Sacramento
Buffalo Spirit, Brewer 46, Ruben & Robbie Gabriel, Vallejo
Bumpy, C&C 40, Rich & Shawn Wideman, Novato
Calaveras, Explorer 45, David Lyon & Angela Aragon, Woodside
Carousel, Pearson 35, Bruce Smith & Katherine Jones, Los Gatos
Chippewa, Albin Cumulus 28, Ronnie Simpson, Alameda
Dasha, Erickson 30, Franz & Margo Vandercappellan, Roseville
Deliverance, Hunter AC 41F, Dan Swett & Tom Trebelhorn, El Granada
Domino, Wilderness 30, Adam Correa & Kathe Hashimoto, Sausalito
Emerald Sea, Defever 44, Skip & Pam Wangbickler, Sonoma
Final Call, Catalina 30, Don & Cathy Mibach, San Francisc
Georgia, Van de Stadt 41, Ben & Lucie Mewes, Alameda
Gitana Vela, Mariner 31, Bruce Allen & Karen Mentzer, Sausalito
Goose, Catalina 30, Mike & Lorianna Kastrop, Redwood City
Hapa Girl, Contour 34 trimaran, Greg Mitchell & Byung Choung, Burlingame
Holiday, Cal 36, Mike & Diane Robinson, Orangevale
Hotel California, Catalina 375, Michael & Linda Stafford, Bodega Bay
'iliohale, Hanse 341, Gary & Nancy Ryan, Greenbrae
Jolin, Nonsuch 30, Joseph Helfand, Alameda
Left of Center, Cheoy Lee 30, Dan Potash, Berkeley
Liberte, Kaufman 47, Dave & Julia Rosenberg, Los Altos
Lucy!, Beneteau 343, Roy & Barbara Johnston, Santa Rosa
Mai Pen Rai, Islander 36, Noble & Barbara Brown, South Lake Tahoe
Margaux, Morgan 382, Patrick Hind-Smith, Emeryville
Odyssey, BCC 28, Wayne & Karen Edney, Cameron Park
Oli Kai, 33-ft Seawind 1000, Eduardo Camps-Romero & Mitzi Carter, Alameda
Over Budget, Yamaha 24, Frank Balch, Whittier
Pretty Penny, Mull Custom 30, Bruce Sinclair & Gail Sinclair, Vallejo
Prime Time, MacGregor 26, Edward Dietz & Elizabeth Dietz, Merced
Puff, Vancouver 25, Andy Field, penngrove
Reality Cheque, Beneteau First 35s5, Kevin & Lori Wilkinson, Woodside
Resolute, Hunter 33, Jason Kopps, Alameda
Rigel, Ranger 23, Doug Workmaster, Sausalito
Scarlett, Tartan 30, Eli Myrick & Akio Omori, Oakland
Seascape, Passport 37, Roger Smith, Vallejo
Sisu, Hans Christian 43, Christopher & Barbara Warnock, Los Altos
Sizzle, Glastron Spirit 28, Erik & Brian Jones, San Francisco
Solace, Jeanneau SO 45.2, Spencer & Laura Borg, Danville
Tazman, Ericson 32, David & Ruth Sawyer, Napa
Time & A Half, O'Day 35, John & Jeanne MacDonald, San Ramon
TNT, Aries 32, John Mann, Greenbrae
VagaRio, Catalina 22, Tom Shuster & Jan Stockon, Rio Vista
Volaré, Hunter 30, John Cassero & Alisa Cassero, Berkeley
Wiggle Room, Ericson 38, Donald & Jan Wigle, Modesto
Zorza, Islander 36, Jay Hickman & Joshua Boylan, Sausalito
The Club Cruceros de La Paz is holding their annual Bay Fest this weekend, April 7-10, and everyone is invited. There will be something for all: the Rock the Dock sailboat race, the art show, the Club Cruceros vs. Mexican Navy Volleyball Challenge, wine tasting, workshops and seminars of all types, dinghy races, Mexican Train and cribbage tournaments, music and dancing, food, food and more food. And, for the first time, a fundraiser has been added to benefit Cruz Roja and the La Paz Cancer Clinic.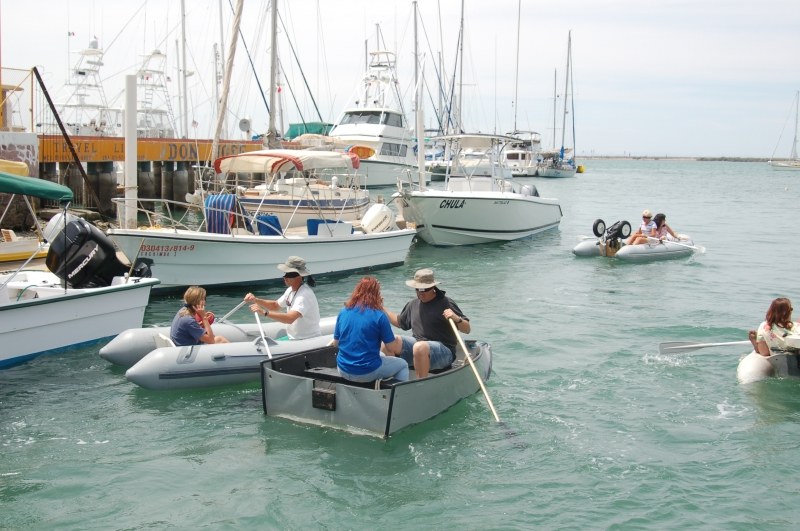 For more info, see www.clubcruceros.org/BayFest2011_news.html. We hope everyone down that way can make it to this great fundraising event!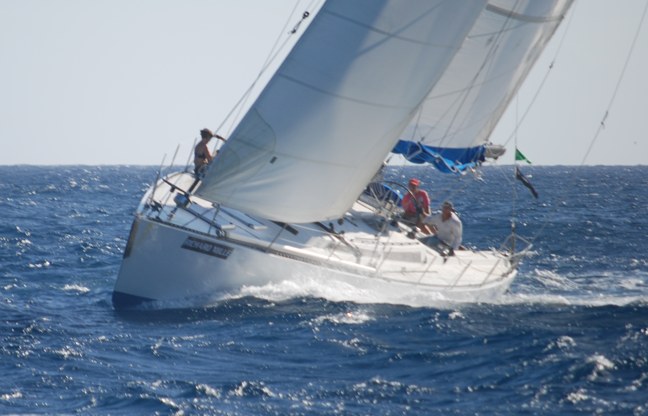 It sort of looks like . . . but it can't be . . . but yes, steaming to weather just off the west coast of St. Barth and toward a finish line is Steve Schmidt, formerly of Saratoga, aboard his highly cruise-modified SC 70 Hotel California, Too. Schmidt has been spending most of the last decade living and loving the cruising life in the Caribbean.
Just two weeks after the greatest sailing spectacle ever, the 40-mega-sailing-yacht St. Barth Bucket, to which England's Yachting World devoted a lavish 18-page preview, you'd think sailing activities would have calmed down on the 21-sq-mile French island in the Caribbean. But no. For the second year in a row, the island is holding a heavily-sponsored Voiles de St. Barth, which is sort of an upscale Antigua Sailing Week with a decided French joie de vivre.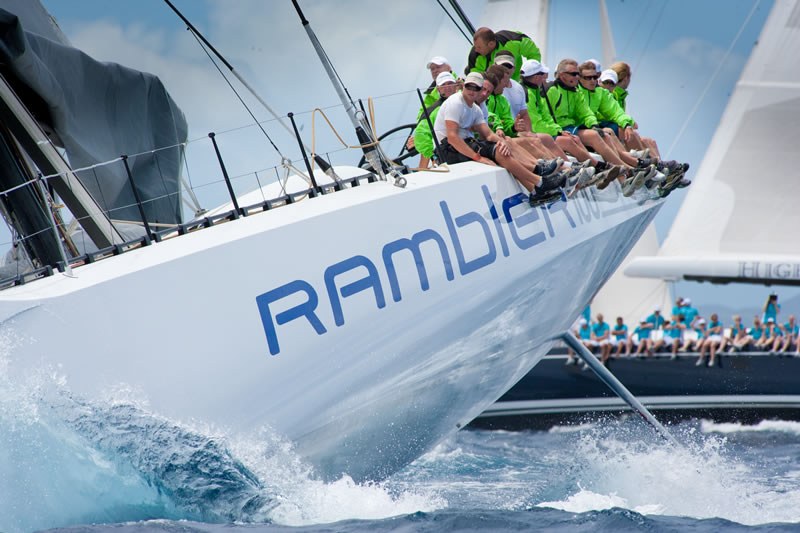 More than 50 boats have entered, more than doubling the size of the first year's fleet. Variety is what describes the fleet. You've got the big hot-rods, including Rambler 100 (ex-Speedboat), skippered by Kenny Read and his Puma around the world gang; Genuine Risk, a Dubois 97 under charter to Hugo Stenbeck of Sweden; and Vesper, Jim Swartz's no-expense spared TransPac 52 driven by Gavin Brady with Ken Keefe of KKMI at the back of the boat. There are also classics, such as Carlo Falcone's 72-year old Fife 80 yawl Mariella from Antigua, and Kate, a gaff-rigged 12 Meter that Philip Walwyn home-built on St. Kitts that has subsequently been converted to a yawl. In addition, there is a cruising fleet of over 20 that, inexplicably to us, includes everything from a J/95 to 70 footers, with two of the boats being sailed by all-women teams.
After a mostly mild two months in the St. Barth part of the Caribbean, during which time the wind rarely blew over 20 knots, crews in the first race, many of whom were suffering from overindulging at the wild opening night party, were greeted with winds to 30 knots and sloppy seas. The toll began to mount even before the first start. For example, the back end of the boom on Lloyd Thornburg's Phaedo, the lightest Gunboat 66 ever built but which had proven herself by frequently sailing in the mid-20s during the Caribbean 600, snapped right off.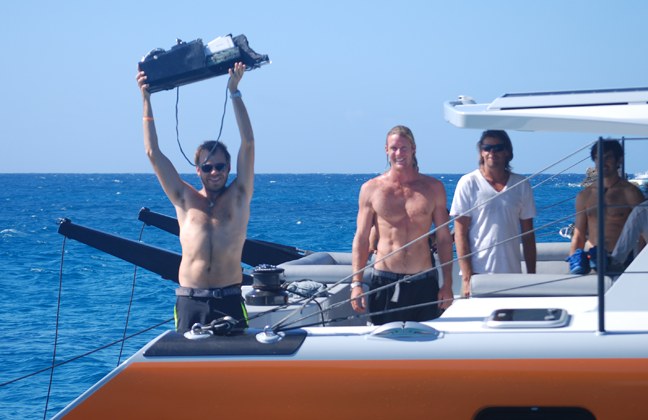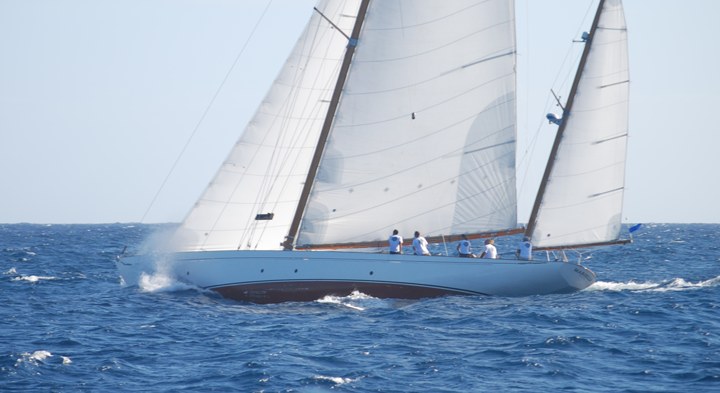 Toto, our friend the race director, would say these were just the conditions that sailors were looking for. They worked fine for hardened crews of Rambler 100 and Genuine Risk — which reported hitting 30 knots of boat speed — but many other boats were knocked out or cripped by gear failures. Even the all-pro Vesper sailed the last third of the first race under headsail only because of damage. As such, it was a very, very quiet night at the race village in Gustavia, with all but the most hard-core pros hoping for the predicted lighter weather expected for the last three days. That would include us — not the pro part, of course — as we're planning to do the last two races on Hotel California, Too, and slamming to weather in big winds and big seas is not that boat's speciality.
Receive emails when 'Lectronic Latitude is updated.
SUBSCRIBE