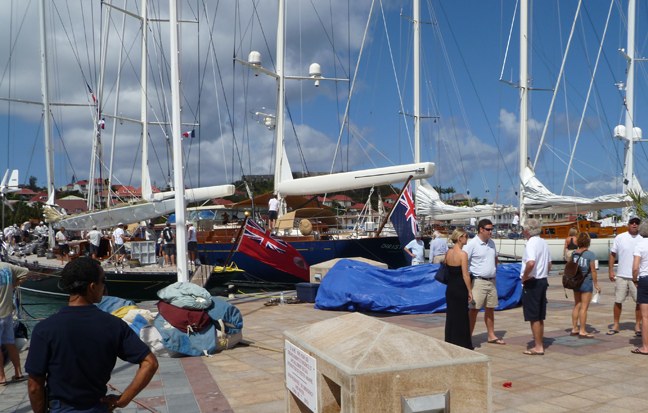 When boats have masts over about 100 feet, they are required to show red lights at the top of their mast(s). In the last couple of days, enough very large sailing yachts have arrived to make the Inner Harbor at Gustavia, as well as the Outer Harbor, look like a veritable nautical red-light district. Two big sailing events are the reason.
Starting tomorrow is the St. Barth Bucket, supposedly good-natured racing for no more than 42 boats of at least 100 feet in length — and going right up to the 289 feet of Maltese Falcon. If you add up all the mega sailing boats participating, and those who have shown up just to be on hand, it's arguably the largest collection of actively sailed large yachts in the world. If you love big yachts, it really is something special to see these boats — especially the classics or replicas of classics — under sail.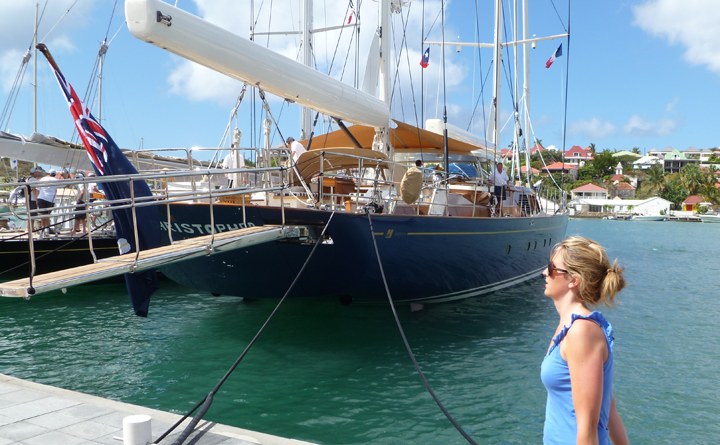 With some of the big double gaff schooners requiring 65 knowledgeable crew, and all the yachts needing at least a core of sailors used to dealing with huge boats, top flight sailors are pouring in from the West Coast, the Northeast, the Med, New Zealand, Australia, South Africa and elsewhere. It's the kind of deal where you walk by one restaurant and see Dawn Riley, then strike up a conversation with Ron Holland at the next bar. Ron, by the way, tells us he's opening up a design office in Vancouver, B.C., to be closer to his sweetheart.
Anyway, the tiny island is packed, the restaurants are jammed, the bars are overflowing and boisterous — and the three days of racing doesn't even start until Friday. Yeah, you still have time to get here and crew.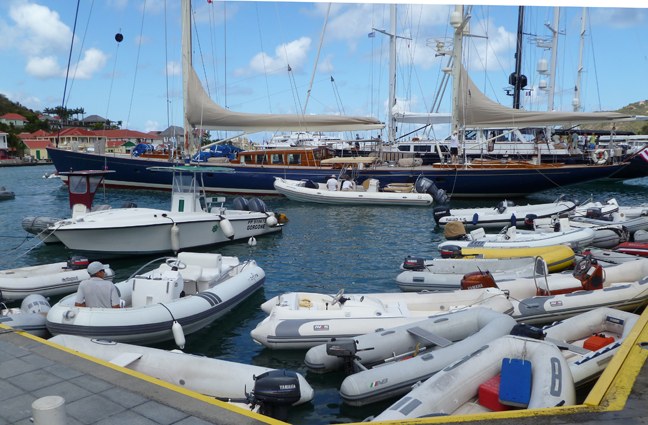 As if that weren't enough, the Voiles de St. Barth will run April 4-9. Think of Antigua Sailing Week with a decided Gaullic charm. It's open to all kinds of boats from 30 to 300 feet.
Up until about five years ago, the time for sailors to be in St. Barth was Christmas and New Year's. Not anymore. Now it's clearly the end of March and the beginning of April for the Bucket and the Voiles.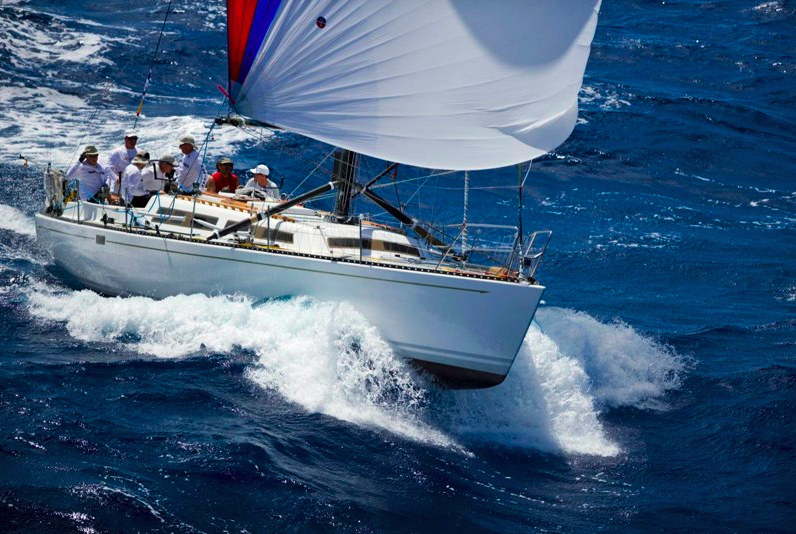 Almost the entire fleet — or what remains of it — has reached the finishe in the Newport Harbor YC's Cabo Race. Nine of the 15 boats that started on Saturday fell victim to the 30-knot southerly that presented itself, along with a Northerly swell, to Divisions 0 and 1. Only one boat from Division 0 finished, Bill Turpin and Dave Janes' Santa Cruz-based R/P 77 Akela. In Division 2, Ed McDowell's SC 70 Grand Illusion took the top honors and 'won their start day' with Bay Area sailor Will Paxton aboard, while Ashley Wolfe's Bay Area-based TP 52 Mayhem took third.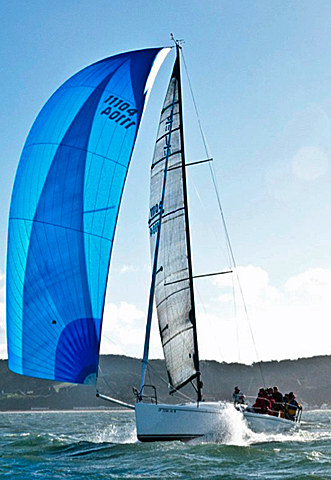 The overall winner came from Friday's more mellow start and Division 2. Not surprisingly, Jack Taylor's super-successful SC 50 Horizon was happy to take that spot. Horizon corrected out less than an hour ahead of the overall runner-up and the Division 3 winner, Charles Etienne-Devannaux's Beneteau First 40 Naos II. The crew of Frank Slootman's Bay Area-based J/111 Invisible Hand clawed their way up to second in Division 3 and third overall.
"I really want a cat," writes San Jose'sTerry Lampthan. "Not a catamaran, because I'm a monohull person. I mean a feline. I want to know if it's feasible to take a cat cruising with my partner and me.
"I've given up most of the trappings of the the high life for a basic monohull outfitted with basic cruising gear. I'm not going to lie and tell you that it's always been an easy transition, but the positives have outweighed the negatives, and it's becoming more that way all the time.
"The one thing that's been missing in my life is the aforementioned cat. My partner says it would be cool to have a cat — assuming that other cruisers say it's not a big problem on their boats. I've read about all kinds of cruisers who have cruised with all kinds of dogs — even huge ones. But I haven't read about anybody cruising with a cat. I would think that cats are more adapatable to boats than dogs, but I don't know. Can I get some feedback?"
We'll leave it to our readers: Have you cruised with a cat? Email your thoughts and suggestions to Richard, along with a photo of your feline crew.
Receive emails when 'Lectronic Latitude is updated.
SUBSCRIBE