March made like a lion last night, sending a roaring front through the Bay Area that had the halyards slapping. Hopefully you made it to your local marina, yacht club or chandlery in time to pick up the March issue of Latitude 38 — which hit the usual Bay Area spots earlier in the day — to keep your mind off the weather. If not, run between the raindrops to grab up your copy today. In it, you'll find a full report on one of the most popular races on the Bay, the Three Bridge Fiasco; the first set of profiles of cruisers getting ready for this year's Pacific Puddle Jump; the Dummy's Guide to Getting Into Racing; the story of an old woodie's restoration; and of course more than you can read in one sitting. Just don't forget your sou'wester!
Having recently opened up the Latitude 38 winter office in St. Barth, French West Indies, we were in line for a drink at Le Select the other evening with former San Francisco sailor Guillaume Touhadian when a young woman behind us struck up a conversation. It turned out to be Chelle Deloos who, in her ever-understated manner, advised us that she was one of nine sailors from the Santa Cruz area who had chartered a Moorings 50.5 for this weekend's Heineken Regatta in St. Martin.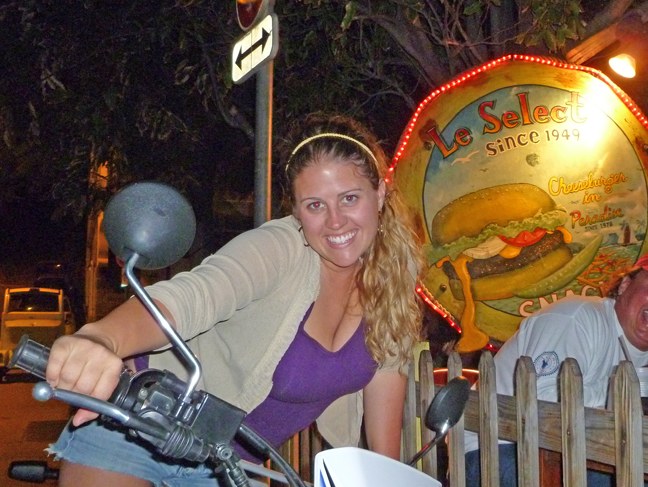 As you can imagine, in almost no time she was perched on our motorcycle and posing wildly in front of the Le Select sign. And a few moments later, we were sitting at a table with the entire team. In the accompanying photo they are, from the left, John Kim, Nancy Beekam, Gary Schwehr, Liz Kroft, Brook Callahan, Georgina Chang, Chelle Deloos, Maxfield Murray, Capt. Eric Lynch, from whom the group's 'Lynch Mob' name comes.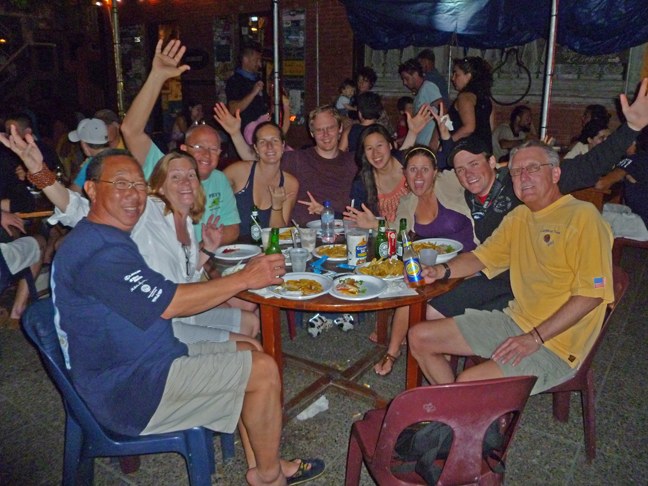 They turned out to be a great bunch of people with about as different life situations as one could imagine. Their commonality is that they all do the Santa Cruz YC's Wednesday night beer can races. We'll be following their Heinie fortunes closely, and might even do the Around the Island Race with them.
Speaking of St. Martin, the captain of the mega motoryacht Cheetah Moon is now saying that his chef, who was murdered, had not been tortured. It had been previously reported that all his teeth had been extracted, his eyes gouged out, and his nipples cut off. It's hard to know what to make of the latest report. Is the captain just trying to make the man's death less unpalatable to the family? We don't know. For the record, there have been three murders on the island of St. Martin so far this year, which percentage-wise would put it into a tropical Oakland category. It's a great place, but you want to be aware and stay in a group.
Just because Poco a Poco in Puerto Rico wasn't the right Olson 30 doesn't mean the quest for Esprit de Gamelle has ended. Oh no. In fact, the La Gamelle Syndicate now realizes that buying an Olson 30 in Puerto Rico to relocate to the French West Indies would have been just too easy.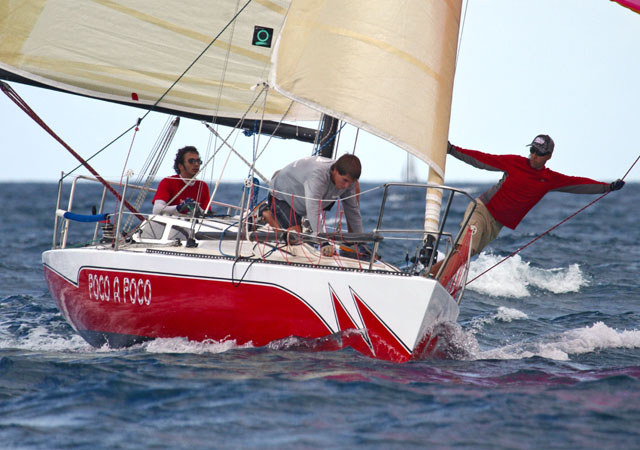 For those who missed the first installment in the adventure, the La Gamelle Syndicate is looking for an Olson 30 to bring to St. Barth in remembrance of: 1) the iconic La Gamelle bar in St. Barth and all her late night denizens; 2) the late well-hung Gustavian low-rider Gamelle who, pawing in the sand at Shell Beach, uncovered the $20,000 Rolex needed to fund the opening of La Gamelle Restaurant; and 3) certainly not least, the late George Olson, the soft-spoken but talented designer and builder of the Olson 30, as well as the entire ultralight community in Santa Cruz.
The syndicate's new hope is that the Olson 30 that will be La Gamelle can be found in Northern California, to be followed by an intensive Bay sailing circuit, a pilgrimage to the ultralight center of Santa Cruz, and stops at all California ports down to San Diego. From there she'll be loaded on a trailer for some sailing stops at a lake in Texas (suggestions welcomed), New Orleans' Lake Ponchartrain, and Biscayne Bay, before being loaded onto a ship in early '12 bound for St. Martin for entry in the Heineken Regatta. Following that, it will be 'home' to St. Barth for good, with lots of tradewind surfing off St. Barth.
As such, the La Gamelle Syndicate is now looking for an Olson 30. Since she's to be used for Zen sailing, it's important that she be clean and structurally sound. On the other hand, things like electronics, countless bags of sails, a double-spreader rig, and an eliptical rudder are not important. If you have a suitable 'big bang for the buck' Olson 30 or know somebody who does, please contact Richard, as she could become part of sailing history.
And please, no offers of other types of boats. The syndicate members are all serial owners of Olson 30s. And as Guillaume Touhadian, who has lived in Gustavia for five years but sailed out of San Francisco with a Olson 30 for nine years, points out, "an Olson 30 is THE perfect boat for daysailing off St. Barth."
Receive emails when 'Lectronic Latitude is updated.
SUBSCRIBE