What could be better after a day of great sailing on the Bay than to sail up to the dock of your favorite restaurant for a bite to eat? The Estuary has several such restaurants, Tiburon has Sam's, the City has La Mar Cebicheria Peruana at Pier 1.5, Emeryville has Trader Vic's right next to the marina, Richmond has a couple at the marina, and Sausalito even has a few — Fish at Clipper Yacht Harbor Basin 2, Le Garage at Schoonmaker Point Marina, and Horizons' private dock.
Craig Adams, Horizons' manager, let us know last week that their 84-ft dock, which had been severely damaged in one of last winter's monster storms, was finally repaired and ready to receive boats (email Craig or call the front desk at 415-331-3232 to make a reservation). As you might imagine, the dock is for customers of the restaurant and there are no amenities, but they do allow you to spend the night at the dock if you've enjoyed a few too many libations at dinner, or you plan to go up for brunch. "We try to be accommodating," Adams said. He also noted that they plan on resetting three mooring buoys just off the dock. "The fishing fleet took them out," he chuckled.
We're planning a full-featured piece on sail-in dining in a future issue of Latitude 38 and would like your input. What's your favorite boat-in restaurant on the Bay or the Delta and why? Have you ever done a boat-based wine tasting tour? Email your thoughts to LaDonna, and be sure to include your favorite story about boat-in dining, as well as any photographic evidence you may have.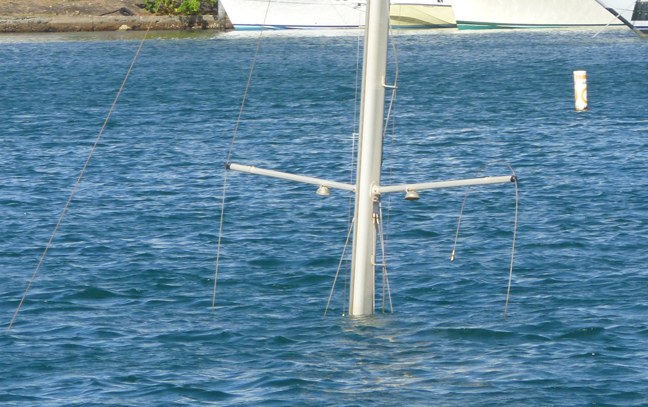 As it stands right now, the great Esprit de La Gamelle project is as sunk as this sloop anchored not far from the Club Nautico in San Juan, Puerto Rico. But it had been a great dream, one that had brought us some degree of pleasure while it lasted.
As is the case with many boat dreams in the Caribbean, this one started with some 'ti punch and other libations at Le Select Bar in St. Barth, French West Indies. One night last year while sipping with the local riff-raff — which would include the Caribbean legend D. Randy West, Dal Amex, Stevie the Car Thief, and others we can't remember — we came up with the idea of communally buying an Olson 30 for afternoon daysailing in the lee of St. Barth. The boat would be named Esprit de La Gamelle — the mess kit — in honor of the great bar at the restaurant of the same name, the dog La Gamelle who uncovered the $20,000 Rolex in the sand at Shell Beach that financed the restaurant/bar, and the late George Olson, the Santa Cruz-based designer and builder of the Olson 30s.
Tragically, all three are now gone. The restaurant went down because, in part, owner Philou wanted to give instead of sell drinks to friends. With the amount of drinking that sometimes went on there, that kind of generosity proved to be as sustainable as the California state budget. When our friend Jean-Louis, a charismatic restauranteur, bought the place two winters ago, it was unfortunately during his 'God of Love' phase, and he did the unthinkable: he 'remodeled' the tiny but iconic bar — which had played host to all the great French sailors and, in the wee hours, any number of non-movie stars, non-models, and non-Wall Streeters — into his f–king office! It was like using the Mona Lisa to cover a hole in a bathroom wall. As for the soft-spoken genius George Olson, he passed of cancer not too long ago. Over the years we've owned two Olson 30s. And 45 years ago, before George or we had gotten into sailing, we'd ridden an Olson surfboard. As a designer, builder and human being, we'd always held George in the highest regard.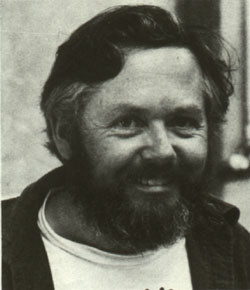 When it comes to 'big bang for the buck' boats — assuming, of course, you want that kind of boat — we've always thought the Olson 30 was near or at the top of the list. We sailed ours all over the Bay, did the Singlehanded Farallones, cruised them in Mexico twice, and even destroyed our back on one. And heck, last month there was one for sale in Alameda for an asking price of just $7,000. And several months before, two guys told us they'd bought a decent Olson 30 in Richmond for $3,000. Three thou, for god's sake! Maybe this La Gamelle dream could become reality.
The problem with getting an Esprit de Gamelle, of course, was finding an Olson 30 in the Caribbean, where they are about as rare as calm days. Shipping one from Miami costs about $12,000, assuming you already have a trailer. Thanks to our years in the Caribbean, we knew that Jol Byerly, 'the Voice of Antigua', had sold his Olson 30, which was always crewed only by women wearing nothing but thongs and sandals, to Jamie Dobbs. After kicking ass with the Olson all over the Caribbean, Dobbs told us he sold his to some guy who shipped her — imagine the expense — to Palma de Mallorca, Spain. So that one was out. Then there is Kevin Rowette's Russian Rowlette. In the Caribbean, it's common to chop off half the cabin of J/24s so it's easier on the crew to get beneath the boom during tacks. Rowlette did the same thing with his Olson 30! But he had no interest in selling his, and in any event, we'd had no interest in buying such an altered version.
After much searching of Caribbean race records, and innumerable frustrating phone calls to various people in the Caribbean, we managed to locate — thanks to a sailing photographer based out of Massachusetts — an Olson 30 in Puerto Rico. The boat, Poco a Poco, was kept at a marina on the east coast of Puerto Rico. Er, make that about a half mile off the east coast of Puerto Rico. The marina, boatyard, and two condo towers are located on Isletas Fajardo, a small island offshore. Everybody has to commute by ferry. Miss the boat, and it's another 20 minutes or so before you're going anywhere.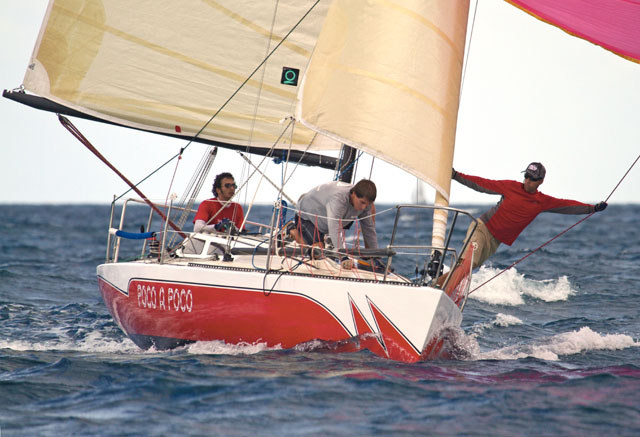 Wonder of wonders, we learned that Poco a Poco was for sale. Our heart went pitter-pat because we were sure we could work out a deal. Unfortunately, the woman who owned Poco a Poco, and who wanted to move up to a newer racing boat — spoke no English. And Miguel, her surgeon husband, knows and cares nothing about sailboats. As such, while in California, we could find out almost nothing about the Poco a Poco's condition or what gear she had. Pretty much all we had to go on was a photo of her from a regatta the year before, and she looked great. In fact, the photo was going to be used in a sailing calendar.
So instead of just flying from S.F. to Tortola, picking up our Leopard 45 cat 'ti Profligate from the yacht management company and sailing her to St. Barth, we, at considerable expense, rebooked our tickets as best we could, which ended up being S.F. to L.A., and then an L.A.-to-Puerto Rico red-eye. After buying the Olson, the fantasy went, we'd singlehanded her over to the U.S. Virgin Islands, register her there, continue on to Tortola, and from there we would tow her behind 'ti Profligate to Virgin Gorda. Exactly how we were going to get the Olson the last — and often wicked — 120 up-wind and up-current miles to St. Barth was a bridge we would cross when we got to it.
As promised, our jet-lagged being was met at the San Juan Airport by Ciro, our surveyor. A long time sailor, Ciro had a great attitude — despite having been dealt some bad hands with regard to his health. After the hour drive to Fajardo, we got on the ferry and made the trip over to Isletas Fajardo. On the way over, Ciro pointed out the Olson 40 Fast Idiots. "That boat has been sitting on that mooring for about eight years now, untouched," said Ciro. "People ask about buying her, but the owner won't sell. I don't get it."
We could see Poco a Poco from the ferry dock, and she looked pretty good. But with each step toward her, our dream took another hit. We won't go into the bloody details, but the one thing you can say about Poco a Poco is that, although she may have been one of the last Olson 30s ever built, she's probably been campaigned as much or more than all the others. And it showed. Boy, did it show. Within two minutes the Esprit de Gamelle dream died for 2011. It was a bummer to have not shot the elephant, and if the truth be told, it hadn't even been that good a safari. For those of you so inclined, this would be the time to feel sorry for us.
We suddenly had three days to kill before we could get on our cat in Tortola, so we decided to poke around Puerto Rico. Having just bought a new Lumix DMC FH20/22 at Best Buy to replace the 'point and shoot' camera we'd dropped and broken in Mexico, we headed for the ancient forts that guard the entrance to Old San Juan. We were prepared to be disappointed. Indeed, things got off to a bad start when we read a Park Service warning to "Take off sunglasses in dark tunnels." What next, a sign over the urinals reading, "Unzip pants before beginning to pee"?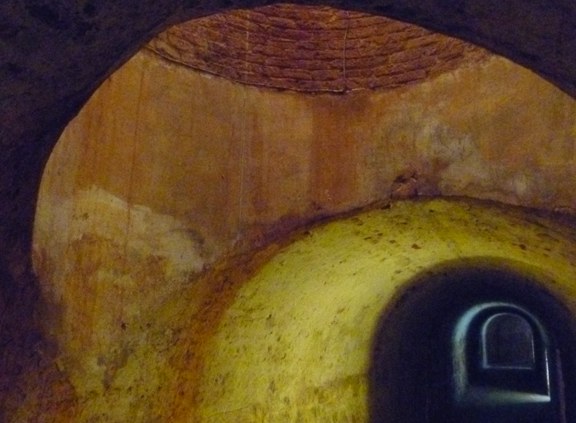 Anyway, it turns out we were pretty impressed with the forts and the reef and rock-strewn north coast of Puerto Rico. And man, does it blow there! It blows and it blows and it blows. At least in the winter.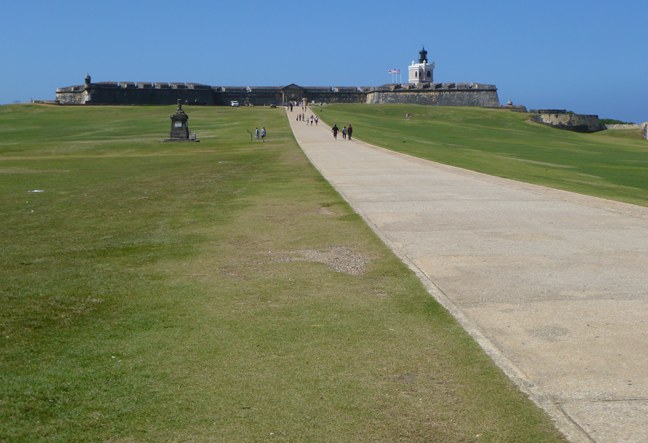 With another day to kill, we rented a car to drive out to the marina at Ponce, on the south coast, by way of Areceibo Observatory, home to the world's largest telescope. You may remember it from the James Bond flick Golden Eye. Driving is challenging in Puerto Rico, because the left lane — from all indications — is the slow lane, turn signals aren't used, and street and road signs, other than on the three freeways, are non-existent.
As if losing Esprit de Gamelle hadn't been bad enough, after the long drive to the Cornell University-run telescope at Areceibo, we were told it wasn't open on Tuesdays. No way, we were told, could we get in, and no way could we see the telescope from any other vantage point. We decided to stew in the hot sun and humidity while the man at the gate turned back disappointed visitor after disappointed visitor. Suitably drenched in sweat, we eventually decided there was no way we were going to be denied. And sure enough, not 10 minutes later a public relations guy drove down the hill to pick us up and give us a quick tour. Sorry, but journalistic ethics prevent us from revealing our methods for gaining entrance.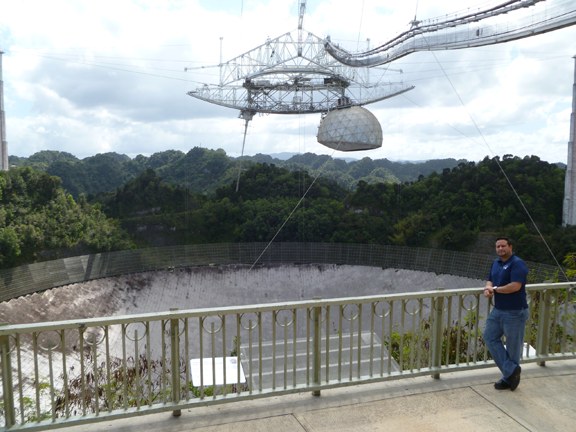 Anyway, the telescope — which is radio, not optical — was built in the '60s. The bowl at the bottom of the karst is 1,000 feet in diameter, and the whatchamahoochi in the center is 500 feet above it — or twice as high as the roadbed of the Golden Gate Bridge. The ramp to the whatchamahoochi is so high in the air that the star of Golden Eye was reportedly too chicken to run out on it, so they had to use a double. The scope was originally built to explore the ionosphere, but is now used more for astronomy. In fact, it's a big part of the project to try to find other — some? — intelligent life in the universe. And yes, they know about hurricanes in that part of the world, so the telescope was designed to withstand the worst of them. We were also told a big contingent of Chinese had recently been by to check it out. As the wealthy new owners of the United States and other countries, the Chinese are going to build a bigger and better telescope.
As the crow flies from the telescope at Areceibo, it's probably only about 50 lightly populated miles to Ponce. But if you're in a car, it's about 200 miles of winding 1.5-lane road, often through some of the most beautiful tropical scenery you can imagine. As is the case with the leeward side of most tropical islands, Ponce is not lush, but rather hot and dry. The public anchorage, marina, and common areas at Ponce were desolate and to us, at least, sad. The adjacent Ponce Fishing and Boating Club, on the other hand, looked active and prosperous. Still, as anyone will tell you, the great cruising for Puerto Ricans is on the east coast and over toward Vieques and Culebra, the so-called Spanish Virgins. Just where we'd hoped to be sailing Esprit de Gamelle today. Damn!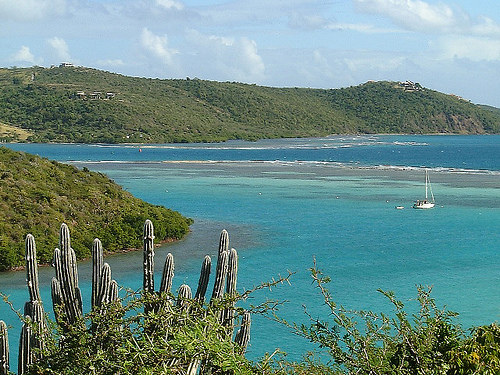 Receive emails when 'Lectronic Latitude is updated.
SUBSCRIBE