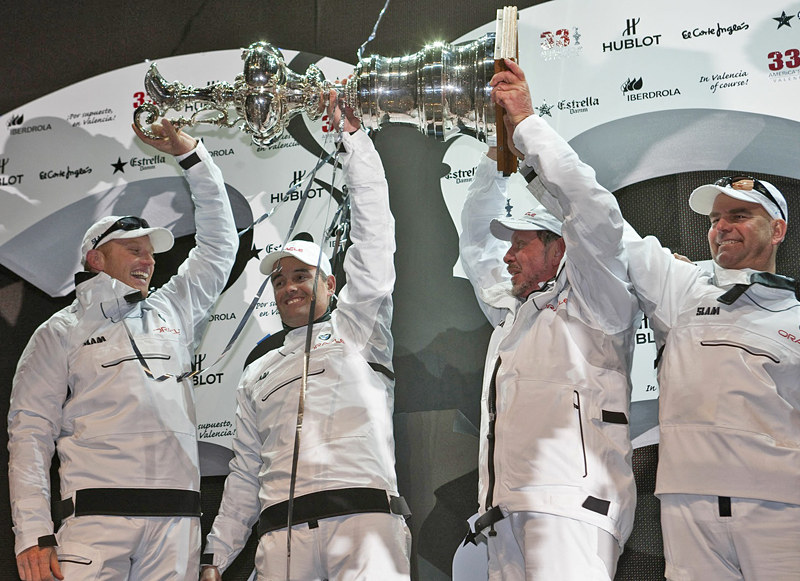 A 2-0 win in the best-of-three 33rd America's Cup yesterday means that the Golden Gate YC's BMW Oracle Racing became the first Bay Area team to successfully challenge for the America's Cup. With the 4:30 p.m. deadline for a race start looming, and a forecast for days of inclement weather to follow, the breeze finally filled in on the America's Cup race course in Valencia with just a half-hour to spare. The ISAF-appointed America's Cup 33 PRO Harold Bennett made the call to start the race. The Société Nautique Genève-appointed race committee had other ideas and went on strike, forcing Bennett to enlist BMW Oracle Racing's Tom Ehman and a Spanish peace officer assigned to the R/C boat to hoist flags!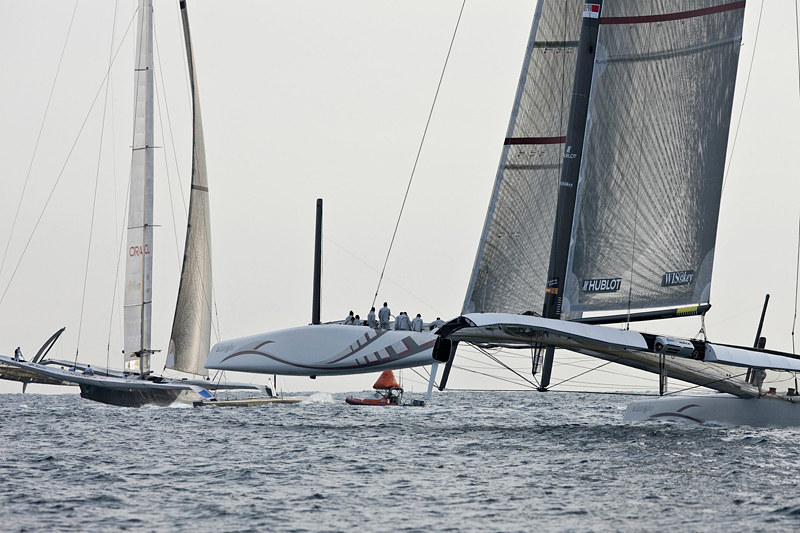 The Alinghi team — which includes a lot of people who should know better — was inexplicably inside the starting box when the sequence started, drawing a penalty right off the bat and ceding its starboard-tack advantage to James Spithill and company before the word 'go.' With Ernesto Bertarelli on the helm, the Alinghi team looked like they were in their first — and possibly last — rodeo.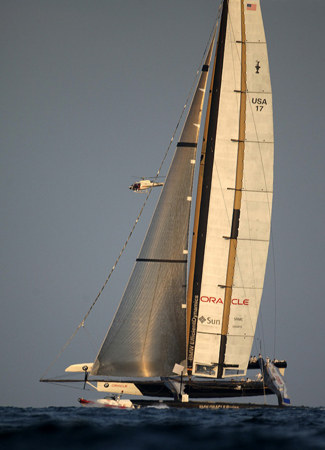 Alinghi 5 went right up the first beat as USA went left. The white catamaran hooked into a nice right shift and quickly pulled away from USA, amassing what became at one point a 550-meter lead. But USA stayed in touch, protecting the left in the process — in anticipation of a left shift which they got. Tactician John Kostecki and navigator Matteo Plazzi called a dead-nuts port-tack layline and USA was flying toward the mark. The shift had eroded Alinghi 5's lead down to 100 meters, and Loïck Peyron — who'd taken over for Bertarelli in the previous tack — couldn't safely lee-bow USA and was thus forced to cross, then tack for the weather mark. By the time they'd completed their painfully slow tack and made it to the weather mark, Alinghi 5 was 28 seconds behind USA.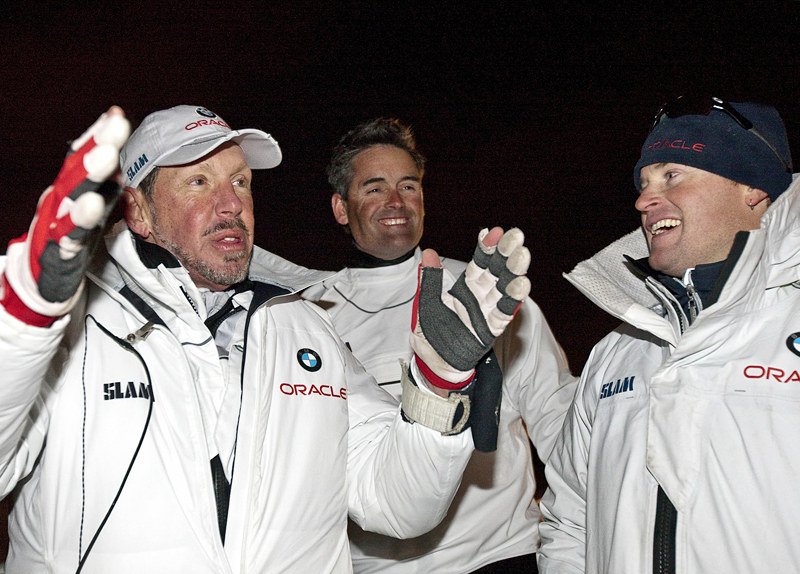 From there on out, it was all USA as the black trimaran tore off at speeds in the high-20s in the 6-knot breeze, and led Alinghi 5 by 2,000 meters at the reach mark. In the fading light, USA had stretched out to a lead of over five minutes, thus ending a brutal, but ultimately necessary, chapter in the history of the oldest trophy in sports.
So what's next? Vincenzo Onorato's two-time challenging team Mascalzone Latino was named as the Challenger of Record for AC 34, but at this point, that's about the extent of the news on what course the next Cup will take. Ellison is on record saying that he would like to bring the Cup to the Bay, but that the "City would have to work with us." We feel that if AC 34 was contested on the Bay, it would be a fantastic surprise. We'll have more on that in the March issue of Latitude 38. In the meantime, we thought we'd share some of the comments from Friday's query as to whether or not this Deed of Gift match in multihulls was better than a more traditional Mutual Consent challenge in monohulls.
Tom Perkins: "This is much better — state of the art, no holds barred!"
Eric Southmayd: "Interesting but worse, because these boats may only compete in super-circumscribed wind conditions which defies all notion of the term 'seaworthy'."
Chris Cox: "I expect the next race will have no sailors on board, just technology. Let's get back to the original rules and lock them down so this doesn't happen again."
Mike Knutson: "It's a pathetic joke . . . this is what it's like when your life is filled with lawyers."
Dan Haynes: "The 'race', if you want to call it one, was won in the courts and on the drawing board."
John Boye: "I'd be more impressed with the AC boats if they could sail when a) there's some wind, and b) there are waves."
David S.: "Friggin' Grand. I have been waiting for 22 years for the America's Cup to come to the Bay and now it's here."
G Tackles: "These cats are ridiculous exercises of penis-challenged billionaires."
David Fiorito: "Fantastic!! The good guys won! Ernesto got what he deserved."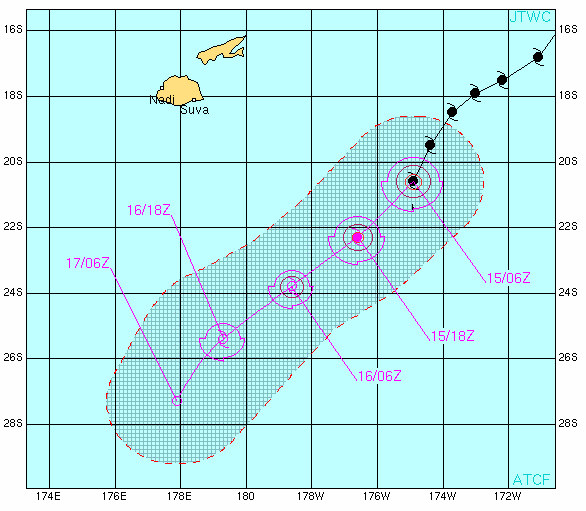 The "friendly kingdom" of Tonga was walloped yesterday by Cyclone Rene, the most powerful storm to strike this South Pacific cluster of 179 islands in the past 50 years. As Rene's eye passed right over Nuku-alofa, it lashed the region with sustained winds of 97 mph (84 knots) and gusts up to 144 (125 knots). To make matters worse, the Category 3 storm's arrival coincided with high tide.
Flood waters did much damage to lowland areas, while storm winds ripped many roofs from homes and commercial buildings. At this writing there is no official word on deaths and injuries, but early indications are that casualties will be minimal due to ample preparedness.
We have no word yet on damage to cruising boats or injuries to those who may have weathered the storm aboard. However, we expect a follow-up report soon from Leslie Linkkila and Philip DiNuovo of the Kingston, WA-based Mason 33 Carina. Two days ago, while anchored at Neiafu, they wrote, "Cruising to distant ports does have its allure, but sometimes paradise wants to bite you in the butt. We, and the other cruisers, have spent the last few days trying to prepare for Rene's arrival. Carina is as ready as she will ever be." Before wisely electing to seek shelter ashore, the couple secured their sloop to a deep mooring with "two 20mm polypropolene lines attached to a ship's anchor chain, which is attached to a ship's anchor, and also attached to two 3-ton concrete blocks."
Based on its current track, the eye of the storm is expected to pass well south of Fiji's main islands today.
We're proud to say that for many years — decades, actually — Latitude 38's Crew List functions have been matching skippers in need of crew with sailors in need of rides. The process is ongoing, as our now-online Crew List is constantly updated with new skippers and potential crew in a variety of categories, including daysailing, racing and offshore cruising.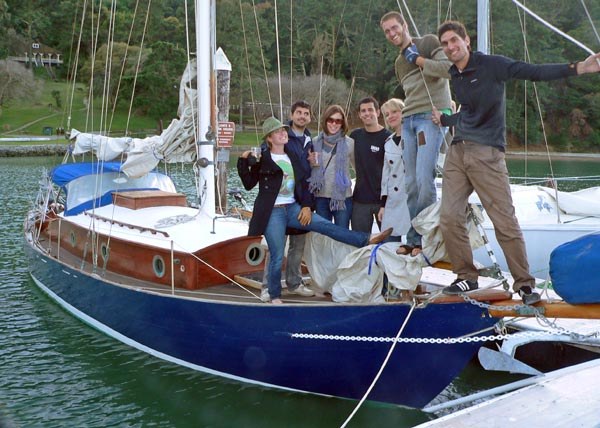 Looking ahead to our spring Crew List Party, March 10 at the Golden Gate YC (6-9 p.m.), we thought it would be fun to hear about the experiences of both skippers and crews who've used the Crew List in recent years. So please take a minute to write up a couple of paragraphs about your experiences — whether they were good, bad or a mix of both — and email your tales to us, along with a few related photos, if possible.
Also, if you have general tips on the do's and don'ts of obtaining a ride or crew, we'd love to hear those ideas also. We hope to weave all this input into a fun and informative article in an upcoming issue of Latitude 38 magazine. Thanks in advance for the help!
Receive emails when 'Lectronic Latitude is updated.
SUBSCRIBE