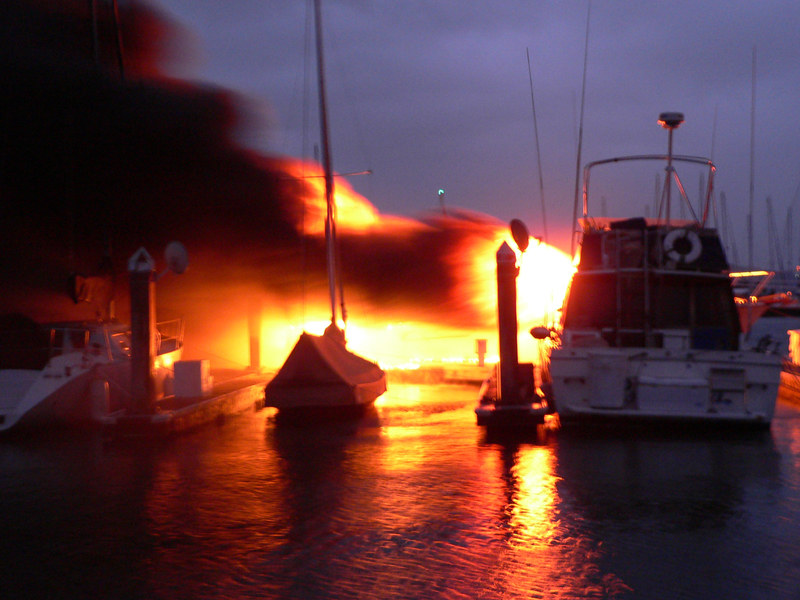 When someone calls to tell you that a boat in your marina is on fire, your heart immediately starts thumping. But when the caller then informs you that the blaze is just a few slips away from your boat, all thoughts other than getting to the marina as fast as possible flee your mind. Such was the case around 6 p.m. last night when the 48-ft Ocean Alexander Rubicon caught fire on C dock at Schoonmaker Point Marina in Sausalito . . . just four slips away from the Crealock 37 this writer calls home.
My husband and I were just two minutes from the marina when the call came in, so we beat feet down Bridgeway — no doubt breaking just about every traffic law in existence. As we rounded the corner onto Liberty Ship Way, clouds of roiling black smoke billowed into our sightline. Several fire trucks were on scene, and more were rolling up behind us. Had the fire reached our boat yet?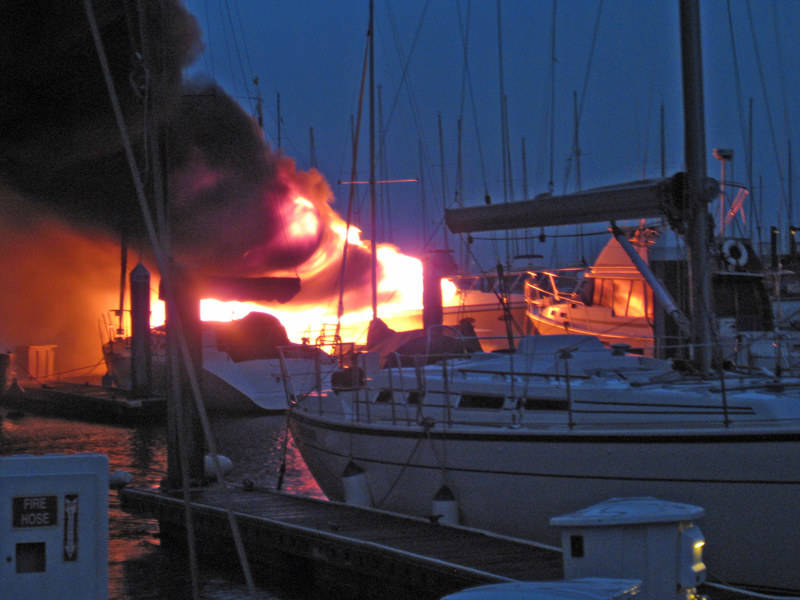 Our car had barely stopped moving before we were running down B dock to assess the situation. Adrenaline pumping, we watched flames shoot more than 20 feet into the evening sky. The southeast breeze — which thankfully hadn't freshened to the predicted 25-30 knots yet — was blowing the flames directly toward our boat, and though they weren't reaching it, we watched burning embers drop onto our deck. The two boats directly downwind of the blaze had yet to ignite, but they didn't appear to be faring well from our vantage point.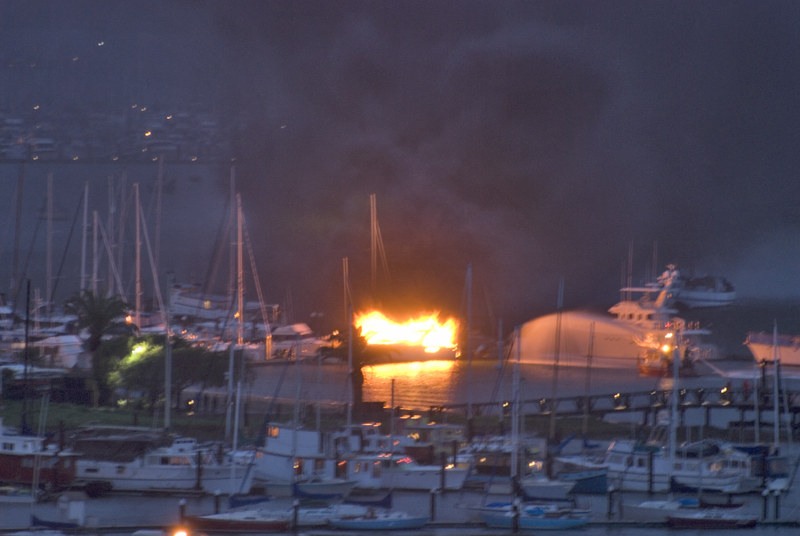 Within a couple minutes of our arrival, one fireboat and the onshore firefighters began dousing the blaze. The majority of the flames were extinguished almost immediately, though the fire was hot enough to warrant several more minutes of water application. In fact, it was so hot, that clean-up crews had to deal with two good-sized flare-ups during the night.
In the morning light, the worst our boat appears to have seen was some falling ash and a little smoke down below. The two boats in the direct path of the blaze — the Beneteau 35.5 Vitesse and a little daysailor — appear to have suffered surprisingly little damage; most of it confined to their roller furling jibs. The concrete docks have certainly seen better days — like yesterday — but other than a couple of melted dock boxes, little else seems to have been seriously damaged.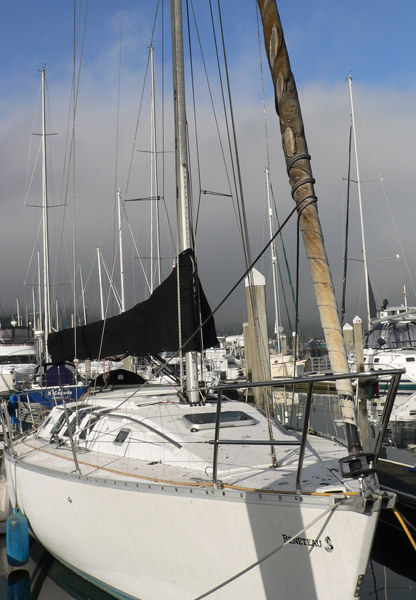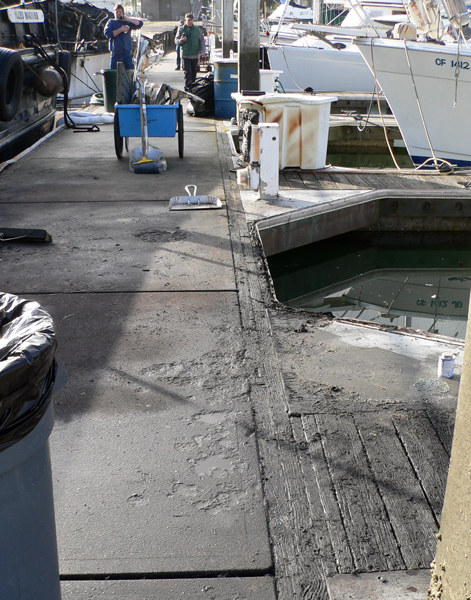 All told, two fire boats — Southern Marin and Tiburon — and six engines — from Sausalito, Marin City, Mill Valley and Corte Madera — arrived at the scene within 15 minutes of the initial call. A 47-ft Coast Guard lifeboat remained on scene well into the night as Parker Diving Service and Schoonmaker workers successfully pumped fuel off the smoking hulk before any spilled. Though Rubicon is a total loss, the professionalism of the emergency workers prevented a major disaster, and for that we are personally and eternally grateful.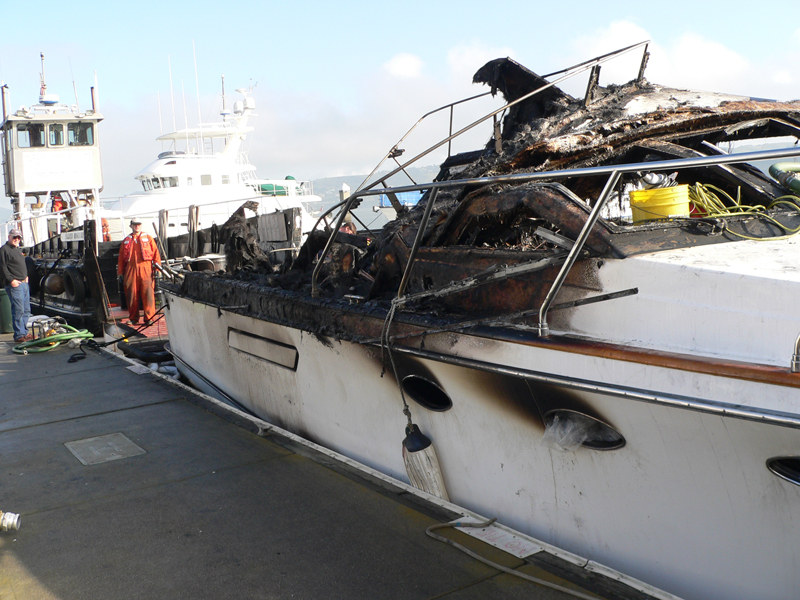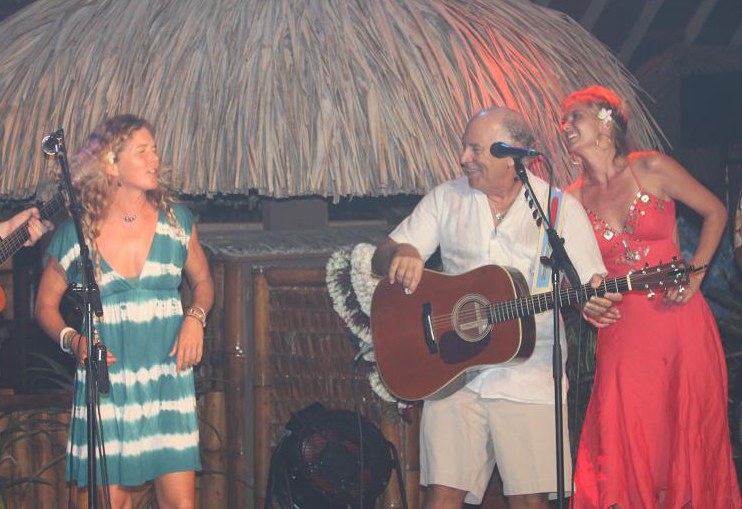 As we write this, Liz Clark is battling to save the life of her Santa Barbara-based Cal 40 Swell, which is on the hard in Raiatea. And she's not alone, as powerful tropical cyclone Oli is bearing down on French Polynesia, starting with Bora Bora, and Raiatea / Tahaa, home to many cruising yachts and two of the main boatyards in French Polynesia. The tropical cyclone is then expected to continue on toward Tahiti, which is already suffering from the effects of very heavy rains and big seas.
The fear Liz is now experiencing is in complete contrast to the unexpected fun time she recently had with none other than singer, writer and actor Jimmy Buffett. The photos tell the story. We'll have a more complete report on how it all happened in the March issue of Latitude.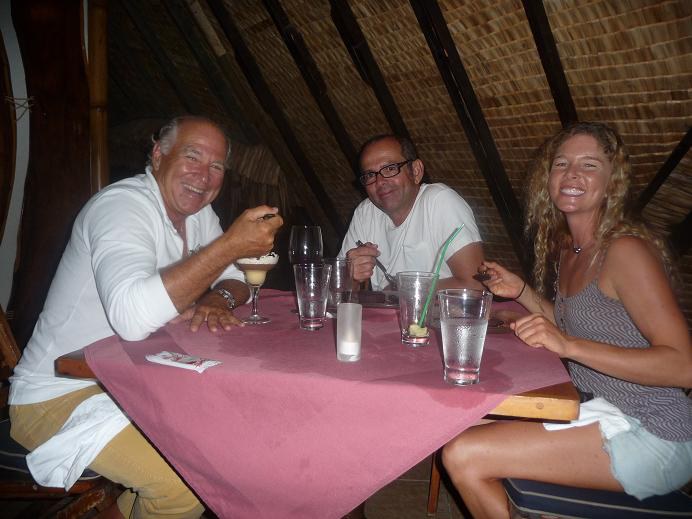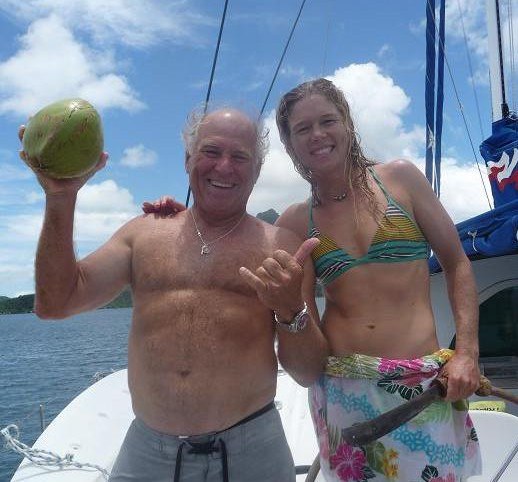 Before anybody reads any hanky-panky into the photos, Buffett is known for enjoying playing for free in small venues with pick-up musicians and having anyone sing backup. And he's as 'regular guy' as could be for someone who reportedly knocks down $100 million a year.
As the reports trickle in, it appears that the weather bomb that exploded over Central Mexico on Tuesday night wasn't limited to Banderas Bay.
"This storm hammered a lot more than P.V.," said expat David Eidell. "I'm getting reports of 10-inch 24-hr rainfall totals from Barra de Navidad, and similar figures from Z-town. Many overnight potholes, and much standing water on Mex 200, the coast highway. There were many rockfalls and very hazardous driving. Acapulco is also similarly affected. Elders say the event hasn't been seen here in 30 years. The good news is that the rain is easing a severe drought. The bad is that many Mexicans have died already and tens of thousands are homeless. Most of the city of Tuxpan, Michoacan, is under water and the feds have declared an emergency for the state of Michoacan."
"It was crazy down here too," said Sylvia Fox, formerly of the Sacramento-based Mapleleaf 48 Sabbatical. "We're in Arroyo Seco, a surf beach just north of Tenacatita Bay. We talked to people in the anchorage who moved over in front of La Manzanilla until the winds changed and by first light they'd moved again. I've never seen a storm like this one — tons of sheet lightning, big bolts of lightning, rolling thunder, and rain, rain, rain. La Manzanilla had almost four inches of rain in 24 hours. The mosquitoes will hatch when the rain stops; did you know there's an epidemic of dengue fever in Jalisco this year?"
"Imagine my surprise yesterday morning," said Corby White of the PV-based Yorktown 35 Laniack which ended up high and dry, but undamaged. "We were at home in P.V. when the blow came through but didn't really think that much about it. We had what we thought was a good mooring. We're still a bit frazzled, but no harm, no foul. The net this morning was interesting — lots of lost and found."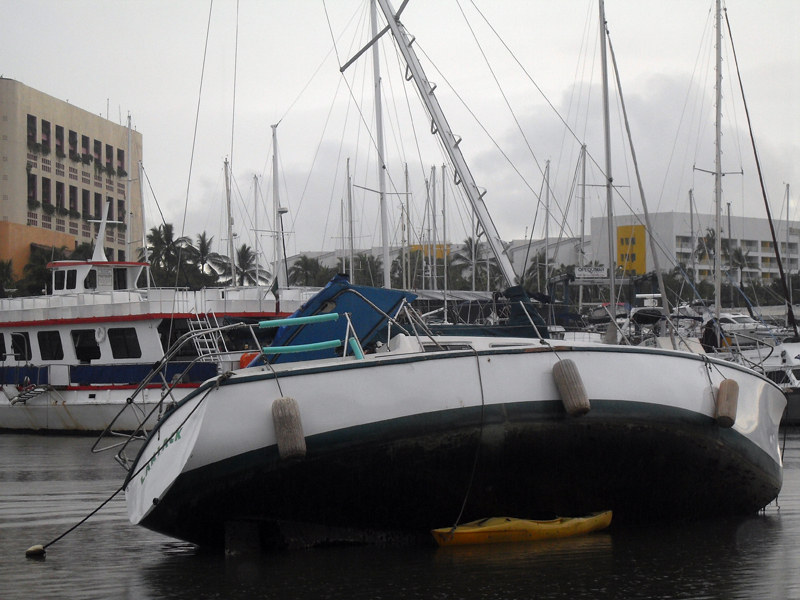 "Winds reached hurricane-force, clocked at up to 75 knots, off Playa Punta Mita Tuesday night," said Punta Mita resident Jim Casey. "At about 9:30 p.m., the heavens let loose a deluge and the Playa became blind chaos. It was frightening to see the sailboats jumping about like Mexican beans in the Punta Mita anchorage. Here in the 'safety' of the beach condos, I watched as my 8-ft teak table, weighted down with seven football-sized chunks of granite, flew over the rail and hurled five stories down to splinter on concrete. A neighbor's sliding glass doors exploded off the tracks and smacked her in the face. Floors flooded, as there was no stopping the virtual fire hose coming from the ocean. The tropical phenomenon was impossible to witness from outside, as lightning constantly flashed nearby, roof tiles flew around, and the sideways rain literally knocked your body backwards. According to the only source known to have predicted the event, Don Anderson of Summer Passage, yesterday there was a very narrow low-pressure trough running all the way from Mazatlan to Acapulco. Bands of rain clouds formed, and the steep pressure gradient air exchanges made life both wet and wild. Hard to tell if this is related to El Niño, generally rising ocean temperatures and water levels, or the price of beans in Chile."
Do you have any photos or reports from the frontlines of theis storm? Please send them here.
Receive emails when 'Lectronic Latitude is updated.
SUBSCRIBE