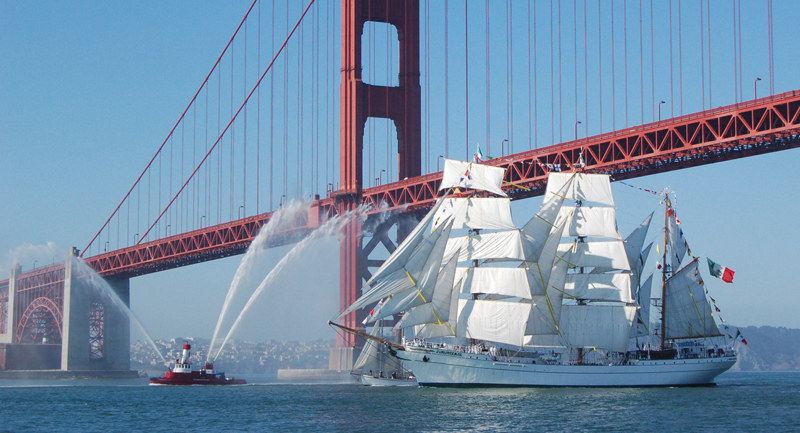 Mexico may not have the most powerful military in the world, but they seem to make up for their lack of firepower with style. Having a soft spot in our hearts for tall ships, we couldn't resist the temptation to witness the arrival of the magnificent 270-ft Cuauhtemoc as she entered the Bay this morning under sunny skies, with festive Mexican music blasting from her loudspeakers and nearly 100 cadets straddling her yardarms.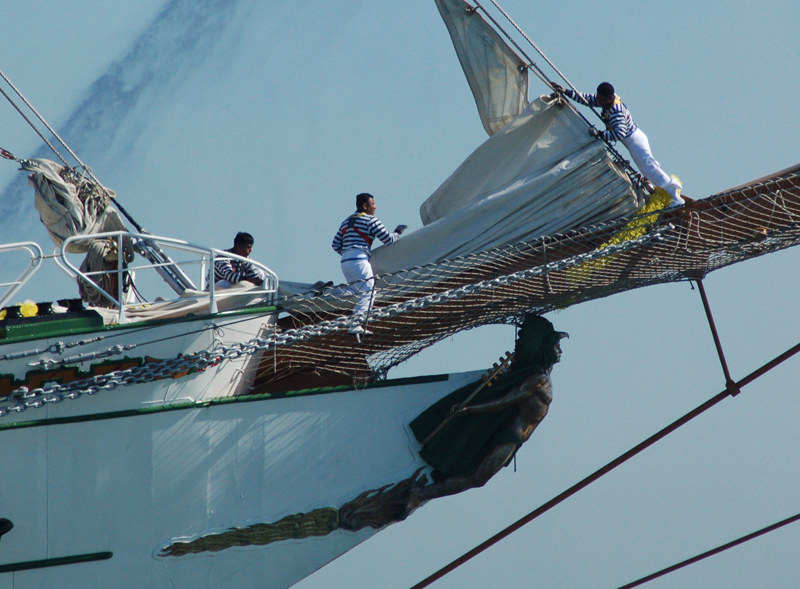 With a San Francisco fireboat ushering her in like a floating fountain, the globetrotting barque sailed in with her full complement of sails drawing on a light morning breeze. Prior to crossing the North Pacific to make her landfall here, Cuauhtemoc spent the past six months touring Asian ports in her dual mission as goodwill ambassador and Naval cadet training vessel.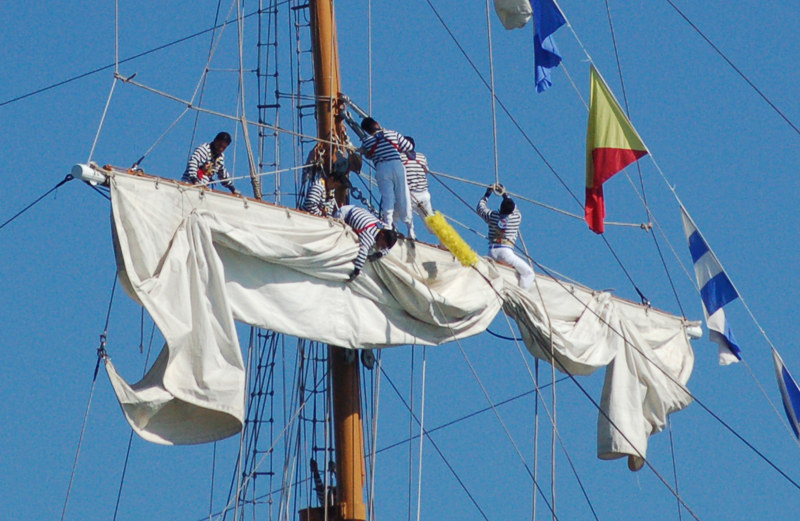 She'll be open for free public tours all week at San Francisco's Pier 27, and we'd highly encourage you to check her out. Who knows, one of those young cadets might come to your rescue someday if you ever have trouble in Mexican waters.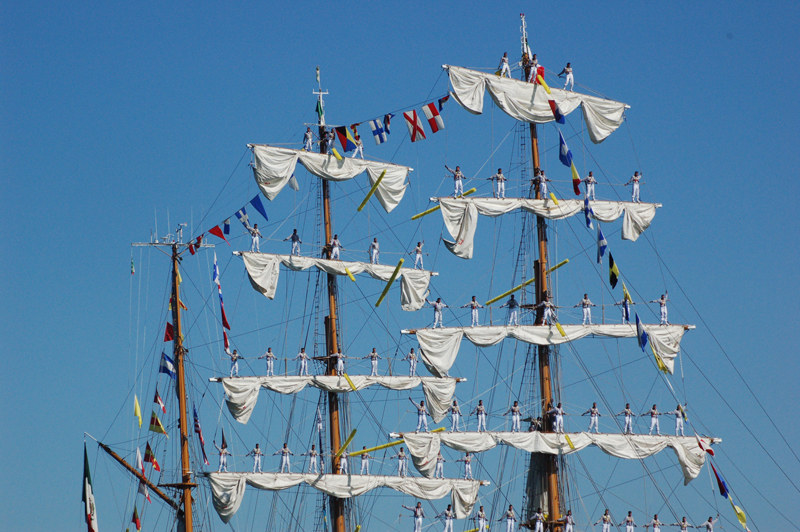 Cuauhtemoc was built in Bilbao, Spain, in 1982, the last of several sisterships, including Columbia'a Gloria, Ecuador's Guayas and Venezuela's Simon Bolivar. Since being commissioned, she has logged over 400,000 sea miles visiting ports throughout the world. The gleaming white ship was named for the last Aztec emperor, who was imprisoned and eventually executed by the conquistador Herman Cortes in 1525.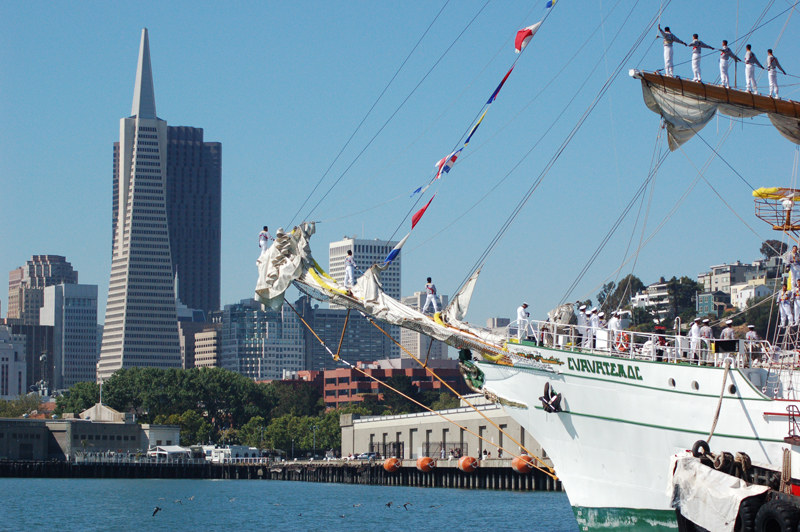 The 45th Annual Trans Tahoe Regatta was held on Saturday with 37 boats starting shortly after noon in seven classes under warm, sunny skies with a 10-knot breeze. The 35-mile route ran from Tahoe City to Sugar Pine Point on the west shore, over to Deadman's Point on the east shore, and back. Winds were forecast to rise two knots per hour and temperatures to remain steady. The Tahoe Yacht Club was well prepared for their summer classic, but it was not going to happen.
Wind speeds rose steadily throughout the hours of the race to a fresh 18 knots. Shortly after the leaders rounded the leeward mark at Deadman's Point, dark clouds appeared over Desolation Wilderness. The breeze piped up and temperatures suddenly dropped 20 degrees for the long beat to weather — the wind speed quickly doubled, suddenly gusting to over to over 40 knots. Then the rain arrived, going from sprinkles to a downpour to sleet. Visibililty diminished radically, and the lake swell rose to three feet, coming directly from the windward mark.
Smaller boats still running downwind randomly rounded up or were knocked over. Several spinnakers blew out and mainsails were shredded, leaving a number of vessels incapacitated, some to be rescued by the Coast Guard. Many sailors, prepared for mild temps and moderate breeze, found themselves very wet and extremely cold in their shorts and T-shirts. Fortunately, no one was lost overboard to the chilly Tahoe waters. The unexpectedly severe weather lasted about two hours, but by the end of it, most of the horses had headed back to the barn.
In the end, only nine of the 37 starters finished the course. John Corda and Richard Courcier's Farr 36 Wicked finished first overall, while our J/124 Pleiades took second place. By the time we reached the finish line around 5 p.m., we were ghosting through a near calm in bright sunshine and warm temperatures again. Welcome to Lake Tahoe!
Editor's Note: Full results can be found HERE.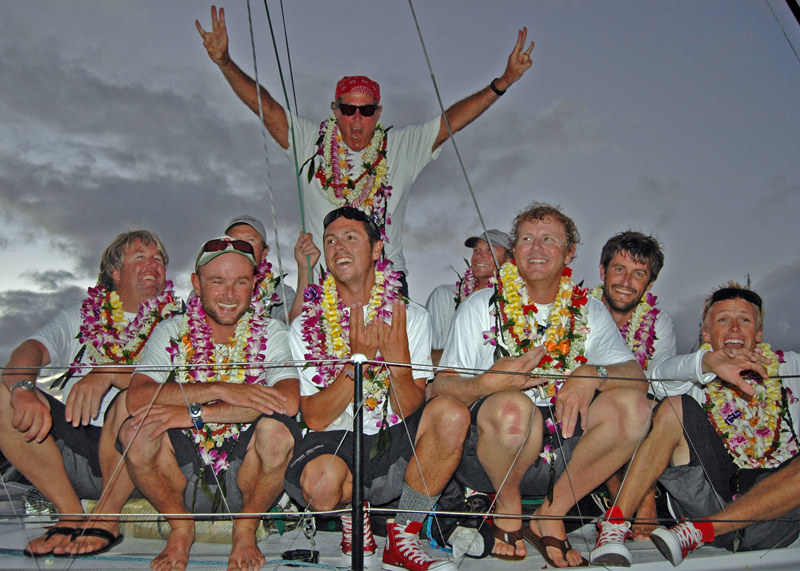 As awesome as is he is, Chip Megeath isn't capable of bending clouds. But his navigator Jeff Thorpe was able to read them well enough to lead Megeath's Tiburon-based R/P 45 Criminal Mischief to a convincing win in Division 3 in the 45th TransPac and a win for 'their day'. The Criminal crew was the second boat to Hawaii — and first Thursday-starter to finish — following Neville Crichton's record-setting, Stan Honey-navigated Alfa Romeo by some 15 hours.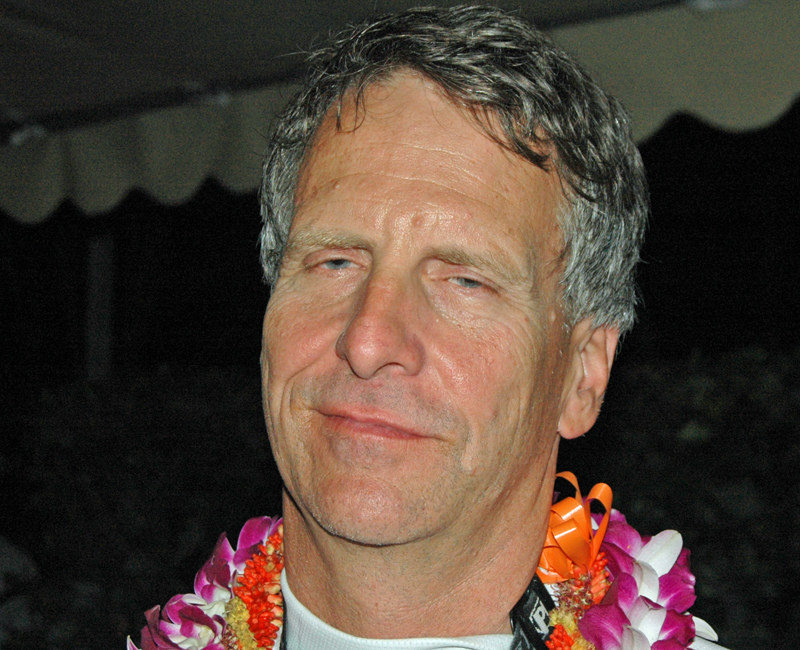 After navigating the R/P 100 to an amazing new record — where the crew was left without hotel rooms for their first night in Hawaii because they'd outrun their reservations for the 45th TransPac — Honey was as excited about some of the prominent parent/offspring crew combinations and watching his proteges from the 2007 Morning Light program get to the finish as he was about the record.
"The TransPac was always kind of a family deal," Honey said. "There are more boats that way now than there were a few years ago . . . the race has come around to being more supportive of smaller boats."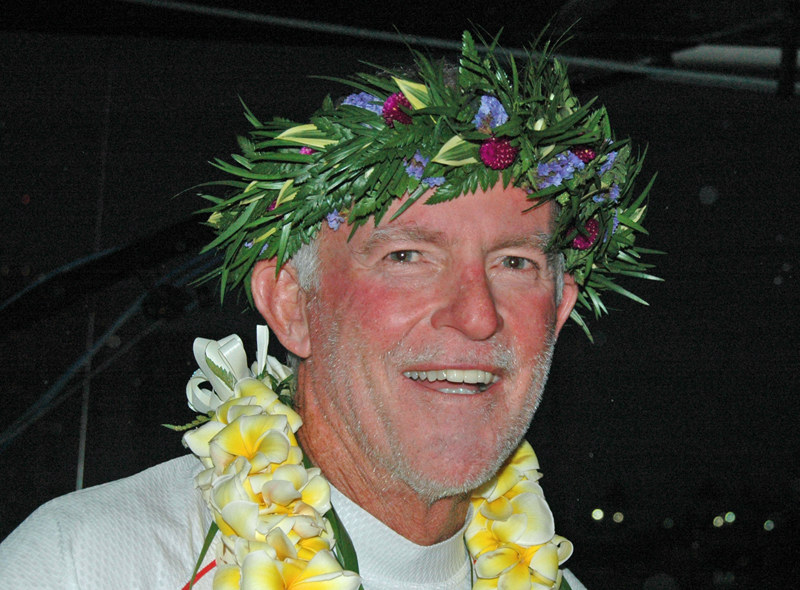 One person who had the advantage of the 'family ride' from way back was John Kilroy Jr. While he's the kept the logos and colors, the name change from the family Kialoas to his TP 52 Samba Pa Tí didn't seem to have a negative effect on his tally for the 2009 race: 1st in class, 1st overall, 1st elapsed time for the 'barn door.'
We'll be back with a more comprehensive report, including more on some the multiple generations who sailed the race, after the rest of the fleet arrives in next couple days, so stay tuned . . .
Receive emails when 'Lectronic Latitude is updated.
SUBSCRIBE