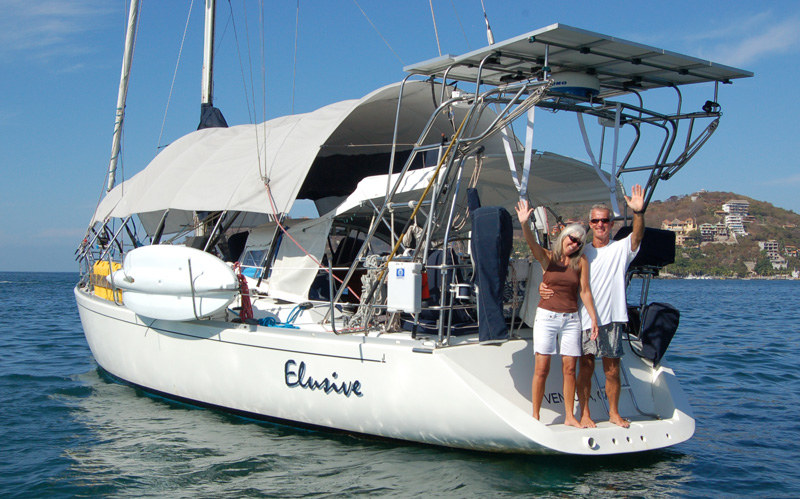 If you've ever shunned the idea of buddy-boating, this sad news may cause you to reassess your attitude. Steve and Wendy Bott and their son Allen were safely transferred to the San Diego-based Scarlett O'Hara shortly before sunset Saturday after their Ventura-based J/44 Elusive began sinking beneath them, roughly 500 miles north of Auckland. These boats and roughly 10 others had been buddy-boating between New Zealand and Fiji.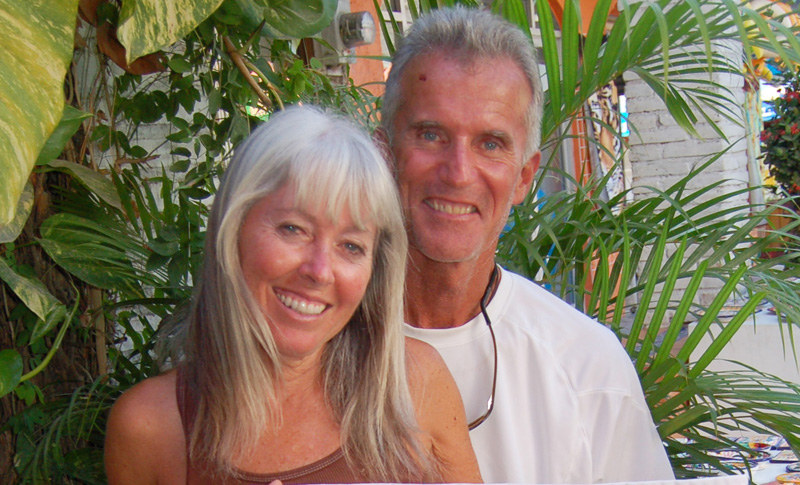 Renee Prentice of Scarlett O'Hara reports via HF radio email: "From what we can put together, their rudder jammed, causing the autopilot not to work and they immediately started taking on water, but it was not coming in around the rudder shaft or packing gland." Scarlett arrived on the scene approximately 30 minute after the leak began, and skipper John Prentice came aboard to help Steve search for the leak, while the rest of the Bott family evacuated to Scarlett. "They suspected the leak was in the middle of the boat, as aft was much drier." After a half hour of fruitless searching, the rapidly rising water forced the two men to abandon the vessel, which has been characterized by a fellow cruiser as 'impeccably maintained'."
The incident occurred during a regular session of the Pacific Seafarer's net, whose net controllers jumped into action coordinating communications with nearby vessels and emergency agencies. Elusive's EPIRB was activated, which brought U.S. SAR resources into play also.
At this writing, the Bott family is headed north to Fiji aboard Scarlett O'Hara digesting the impact of the sudden tragedy. Although Elusive was insured, the family lost virtually everything they owned, as the 44-ft sloop was their home.
Last Wednesday Lake County Deputy D.A. John Langan asked Judge J. Michael Byrne to delay the felony vehicular manslaughter trial of Bismarck Dinius, which was to start today. Langan made the request because he said he was uncovering new information related to central figures in the case.
You would think that more than three years after the incident and just five days before trial would be a little late to get around to doing a proper investigation. If it wasn't so tragic, it would be hilarious — like everything else law enforcement has done in this case. And it points to something we've maintained from day one — the wrong guy is on trial, and there's not a chance in the world a jury would convict Dinius as charged.
As most of you are aware, the felony vehicular manslaughter case against Dinius, 40, of Carmichael is a result of a tragic accident on Clear Lake in April of '06. A group of sailing buddies were aboard Mark Weber's Beats Workin' II, an O'Day 28 sailboat, which was drifting around the lake at about 9 p.m. It was pitch black out. Dinius just happened to be at the helm of the sailboat when it was struck by a boat going 40 to 50 mph driven by off duty Sheriff Chief Deputy Russell Perdock. Lynn Thornton, a passenger on the sailboat, died a few days later as a result of injuries caused by the impact.
In a move that has dumbfounded everyone with an I.Q. over 50, the Lake County District Attorney's Office then filed felony vehicular manslaughter charges against Dinius, the guy at the helm of the nearly motionless sailboat. No charges were filed against Perdock. Why not? The D.A. said he couldn't prove that the powerboat was being operated recklessly — even though Perdock testified he was traveling at that speed, and in so doing was breaking half of the rules of the road, state boating law and every concept of common sense.
While Langan told the judge he wants more time to investigate the case, Dinius — who everybody but the D.A. and Russell Perdock think is being made the scapegoat for what should be felony vehicular manslaugher charges against Perdock — wants the trial to begin right away. Why shouldn't Dinius want to get it on right now? It's already cost him a fortune, and he knows the prosecution doesn't have a legal leg to stand on.
What's new to Langan? It seems there are witnesses — including Perdock's ex-wife — who dispute Perdock's testimony about what he was doing in the hours before the crash. Perdock says he was at home until 7:30 or 8 p.m.. She says — as she's said all along — that he actually left home between 5:30 and 6 p.m. In addition, Langan has apparently been confronted with testimony by several witnesses who say Perdock was at Konocti Resort & Spa a short time before the crash. This is in direct conflict with Perdock's testimony, as he said he never went to the resort that day. Presumably there is suspicion that Perdock had been drinking at the Resort a short time before he slammed his powerboat into the sailboat.
But here's something even more juicy. Another witness has come forward to corroborate statements made by former Lake County Sgt. James Beland, who said that a superior officer, Boat Patrol Sgt. Dennis Ostini, ordered him not to give Perdock a breathalyzer test. Not to give him a test! The witness to this is another member of the Lake County Sheriff's Department who was at the accident scene. Gee whiz, can you think of any reason why a superior officer would instruct a member of his force not to give a breathalyzer test after such an accident on a Saturday night?
Langan says he needs time to fully investigate the matter. What he really needs to do is, for starters, charge Perdock with felony vehicular manslaughter and drop all charges against Dinius. Then he needs to bring in an outside agency to investigate this entire travesty of justice, and begin to figure out just how many members of the Lake County Sheriff's Department and District Attorney's Office need to reach deep into their pockets to make Dinius whole for all the damage they've caused him.
At least that's the way we see it.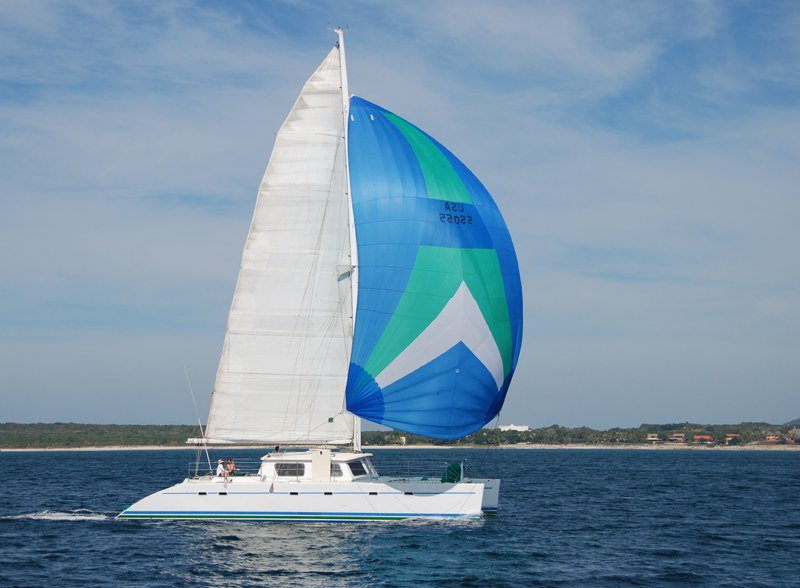 If you're got offshore experience but need sea time to get or maintain a certain class of license, Doña de Mallorca reports that she's looking for crew for Profligate to do the Baja Bash. While the 63-ft catamaran is currently in La Paz, she's scheduled to depart Cabo San Lucas this Friday or Saturday for San Diego.
The current crew consists of Vince Rubino, who has done two Ha-Ha's, and the Grand Poobah, who's done 14 Ha-Ha's. De Mallorca likes to do Bashes with four to five crew.
Mind you, this is strictly a delivery. And when de Mallorca does deliveries, it's pedal to the metal as long as the weather is halfway decent. The long range forecast calls for reasonably good conditions, but you never know what to expect that far out.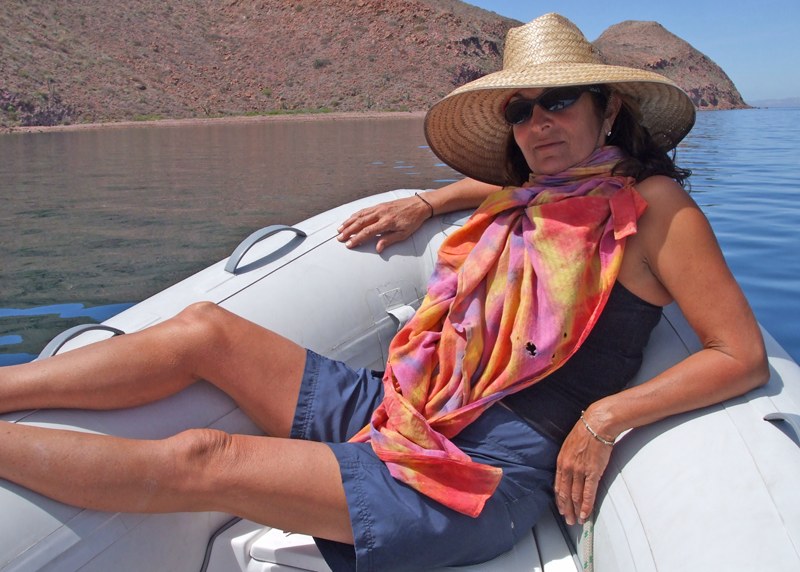 Last year de Mallorca made it from La Paz to San Diego in just under four days. Because you never know about the weather along the Baja coast, anyone thinking about making the trip should plan on at least six days.
For more information, email Doña de Mallorca or call her at (415) 599-5012.
Receive emails when 'Lectronic Latitude is updated.
SUBSCRIBE