We left San Francisco Bay on April 8 aboard our Flying Dutchman 37 Nataraja, bound for the Marquesas with a bundle of April Latitude 38s. The weather on the trip south ran the gamut from seriously snotty to completely becalmed. Our last 24 hours at sea turned out to be the best. The conditions were stellar with flat water, great wind, and a full moon. At sunrise on May 8, the island of Ua Huka was off our port side. We were anchored down at Taiohae, Nuku Hiva, by late morning.
Within half an hour of anchoring we handed the first Latitude over to Dave, Jill, and Rachel Heimke of the Pacific Seacraft 37 Amikuk out of Homer, AK. Later that afternoon, we spotted another Alaska-based Puddle Jump boat: Joan and Chuck Martin's Hans Christian 33 Tender Spirit from Sitka. Scanning the Puddle Jump roster, I saw that the Great Britain-based Pan Oceanic 46 Camelot was in the harbor. We headed over and gave one to Jackie and Neil Michell, and discovered they'd spent quite a bit of time in Richmond. We next met up with Tim and Ruth Henning on the Seawind 1160 catamaran Victory Cat from Anthem, AZ.
The next afternoon, the Catalina Morgan 440 La Palapa anchored next to us. Once they were settled, we dinghied over to make a delivery to Tobe and Roger Hayward of Redondo Beach. They were blown away by the special delivery and invited us aboard for cocktails. We left a few Latitudes with Motai at Nuka Hiva Yacht Services but still have a few left onboard and are actively seeking out other PPJ boats to pass them along to.
Since we spent almost three months in the Marquesas last year, we will be headed to the Tuamotus in a week or so. Not in too much of a hurry at the moment since the winds are pretty light. We will leave during a good window this time!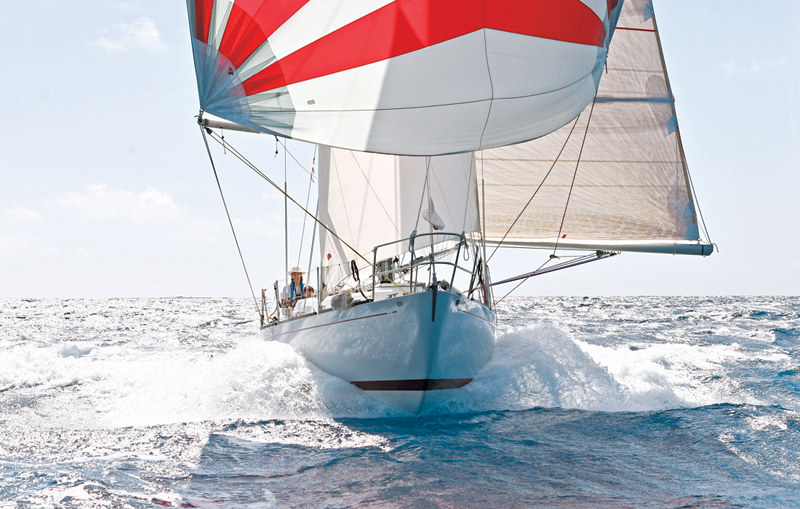 Stan Honey is one of the three most admired and respected sailors to ever come out of Northern California, and he and wife Sally Lindsay-Honey are also Cal 40 owners. So when he says he has good news for Liz Clark, who discovered a mysterious leak beneath the engine of her Cal 40 Swell, and all other Cal 40 owners, you can rest assured that he knows what he's talking about.
"Sally's and my Cal 40 Illusion, and many other Cal 40s, have had the same leaking problem that Liz is having with Swell. Fortunately, it's an easy repair that does not require removing the engine. Basically, when the Cal 40s were molded, it wasn't possible for the laminators to get much glass into the really skinny part of the trailing edge of the keel just below the hull and above the propeller shaft log. So the boats sometimes develop a weep there. The fix is pretty easy, but has to be done from outside the boat. For the same reason that the original laminators couldn't do a good job from the inside, it still isn't possible to do a good glass job from the inside. The solution is to haul the boat and, from the outside, grind away all of the dicey glass work that is on the trailing edge of the keel above the shaft log until you get to solid laminate. Then you get West System epoxy, roving, and mat, and laminate it back up to the original shape using plenty of roving. As I recall, it's only a two- or three-day job, but as it's structural, it would be good to have somebody do it who is good with glass. The fact that Cal 40s have solid, rather than cored, hulls makes it pretty easy."
As if AIS — Automatic Identification System — isn't already the coolest navigation/safety tool since the compass, we recently found a link that makes it the coolest 'video game' since Tetris. If you go to www.marinetraffic.com/ais, you will find that you can track every ship currently broadcasting on AIS in many of the world's busiest areas. (Oddly, some very busy areas, such as Panama, are not yet represented.) With an estimated 40,000 ships now using the system, that's a lot of tracking. If you're unfamiliar with AIS, the Class A transponders that ships are required to carry broadcast an amazing amount of information — name, flag, position, speed, course, type of cargo (some even include a photo of the ship) — in a signal that can be picked up and displayed on most electronic chart systems if you have a Class B AIS receiver, or, in this case, simply a computer with internet access. While it doesn't eliminate all danger of collision — its raison d'etre — AIS has been getting rave reviews from everyone we've talked to.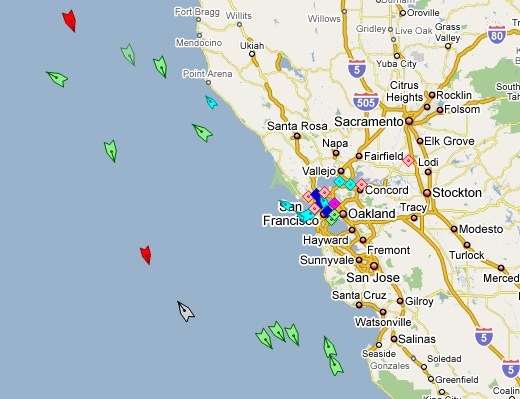 Class B transponders are 'lite' versions of the larger Class A units. They come in both receive-only and transmit-and-receive versions. The transmit function of Class B AIS units does not put out as much information, or transmit as far as a Class A unit, but it uses a lot less power and, most importantly, is more affordable. While transmit-and-receive Class B tranponders have been available to yachts the world over for several years, the 'transmit' feature was banned in the U.S. until late last year. The FCC finally gave their blessing in November, so now you can get both types here. Recieve-only Class B units for yachts can be had for as little as $200, while receive-and-transmit ones start around $800.
On the 'Live Ships Map', yachts are noted in magenta. There were even a few underway in the Bay as this was written.
For more on the techie end of how AIS works, visit www.navcen.uscg.gov/enav/ais.
Receive emails when 'Lectronic Latitude is updated.
SUBSCRIBE