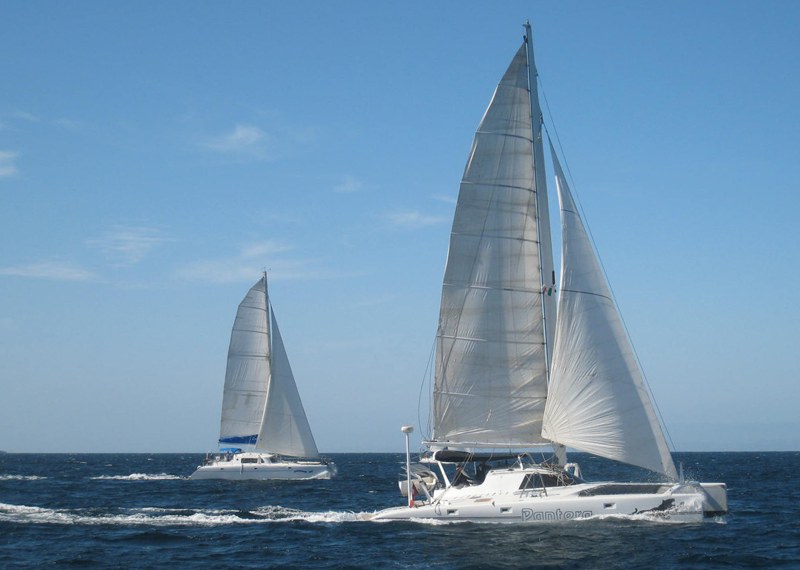 Given the fact that the Sea of Cortez is known for flukey winds, the skippers and crew of the 35 boats that participated in last week's Sea of Cortez Sailing Week couldn't have been more pleased with the sailing conditions. The first and fourth races were relatively typical of the Sea of Cortez, with somewhat light and spotty winds for the 11-mile courses from La Paz to Caleta Partida and from Partida back to La Paz. Nonetheless, all but one or two boats sailed the entire way. Conditions were surperb, however, for the second and third races, approximately 18 miles from Caleta Partida to Isla San Francisco, and from Isla San Francisco back to Caleta Partida. It was downwind on the way to San Francisco in 12 to 18 knots of wind, with spinnakers all over the horizon. Sailing back to Partida after a lay day was even better, with 13 to 22 knots, downwind once again.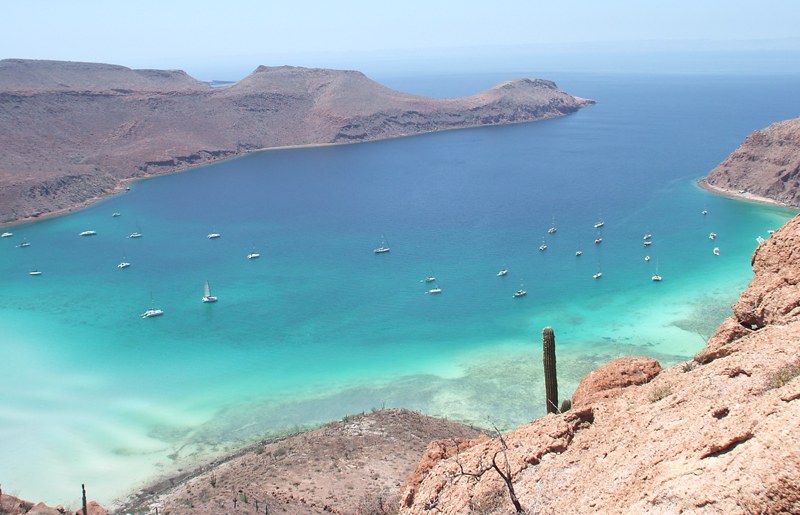 Three of the boats — Jim Milski's Berkeley-based Schionning 48 Sea Level, Bob Smith's Vancouver-based custom 44 Pantera, and Latitude's Surfin' 63 Profligate — all hit speeds over 18 knots. Even more impressive, Tom Wurfl got his San Diego-based Lagoon 43 Catatude up to 14 knots, Dean and Toast Conger got their Seattle-based Lagoon 38 Don Quixote to hit 13 knots, and John and Gilly Foy hit record speeds sailing their Alameda-based Catalina 42 Destiny wing-on-wing.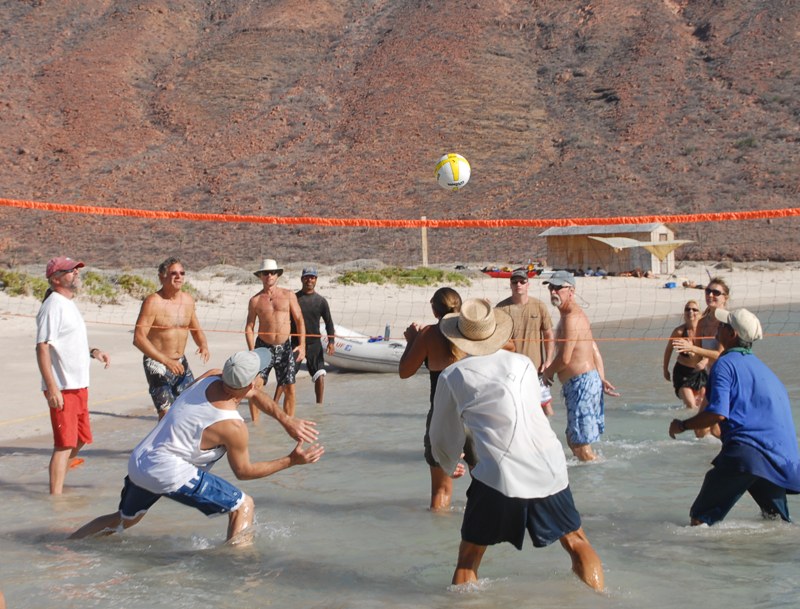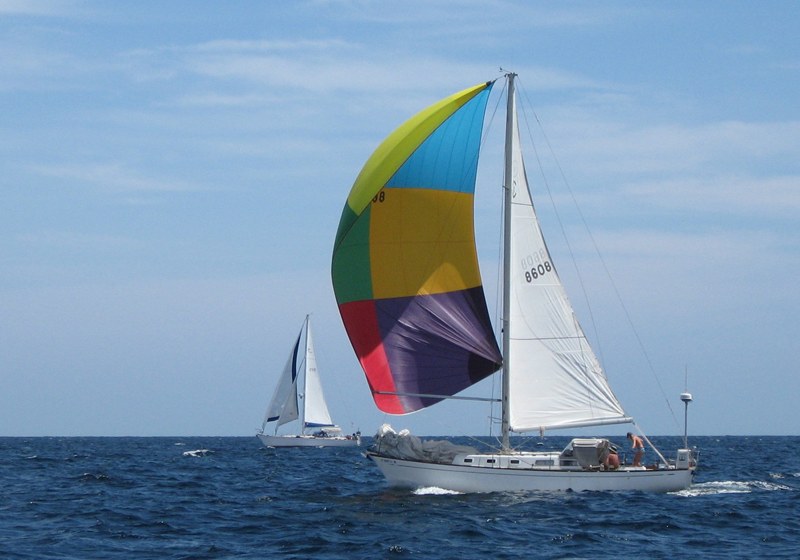 When you get a great spinnaker run up the Sea of Cortez one day, and then two days later get a great spinnaker run down the Sea of Cortez, you must be doing something right. In the case of the Sea of Cortez fleet, it was coming up with nearly $1,000 U.S. to support Fundación Ayuda Niños, A.C., a charity selected by Mary Schroyer of Marina de La Paz. Mary says the money will be enough to keep either three junior high or two senior high students in school for one year. A little money goes a long way in Mexico, something cruisers headed to Mexico this winter should remember.
Sea of Cortez Sailing Week is all about making friends with folks who are passionate about sailing their cruising boats. And there were many opportunities to cement these friendships during various potlucks, volleyball games, pre- and post-event parties, hikes in the hills and the beach clean-ups. As for who won the sailing events, everyone did — and received first-place plaques to prove it.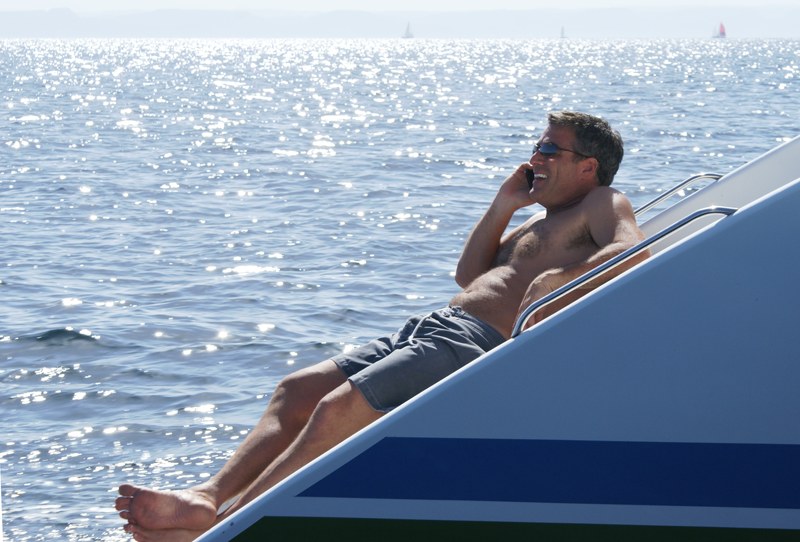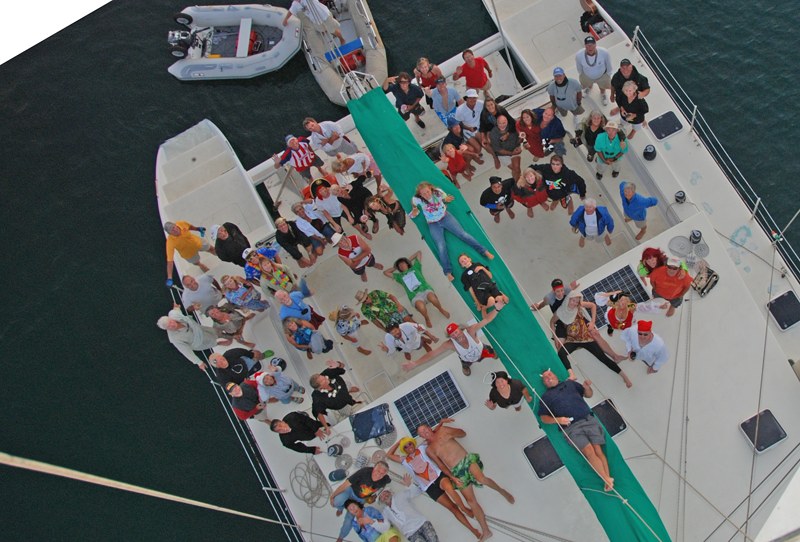 There were other surprise guests in addition to George Clooney. Oprah, for example, showed up on a phantom motoryacht during Oprah Fool's Day, the first day of the event. In addition, the space station streaked overhead on four consecutive nights. "Flush! Flush! Flush!" the Sea of Cortez fleet members shouted, hoping for the cosmic display that accompanies the space station 'relieving' itself. That it didn't was about the only disappointment during the week.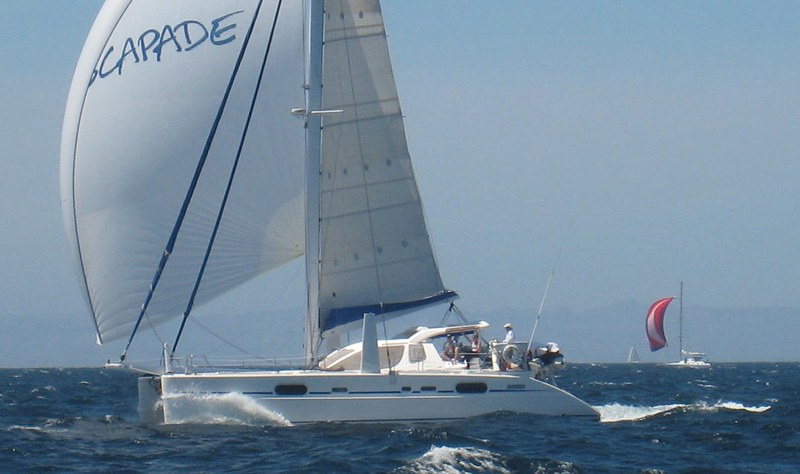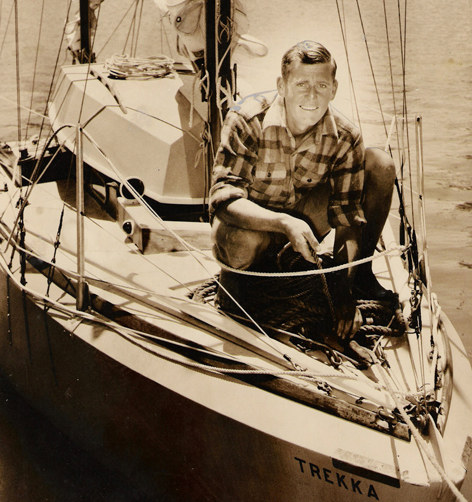 Whether you are a singlehander, a circumnavigator or an 'armchair voyager', we'd like to invite you to attend a special gathering next Thursday evening, April 16, at the Oakland YC, honoring the 50th anniversary of British Columbia sailor John Guzzwell's historic homecoming.
Why 'historic'? Because the singlehanded circumnavigation he completed in 1959 was aboard his self-built 21-ft woodie named Trekka. At the time it was the smallest boat to have gone around, and the book he penned about his travels, Trekka Round the World, became a cult classic among would-be voyagers.
In a sport often dominated by massive egos, John Guzzwell is a refreshingly humble hero who normally shuns the spotlight. So we are thrilled that he has graciously offered to share insights from his lifetime of voyaging and custom boatbuilding. He'll show vintage Southern Ocean film footage shot while accompanying Miles and Beryl Smeeton on their ill-fated Cape Horn attempt aboard Tzu Hang in 1957 — chronicled in another sailors' classic, Once is Enough.
The event will also serve as a gathering of members of Latitude's 'official' West Coast Circumnavigator's List. So there will be no shortage of tall tales being spun. We hope to see you there: No host bar at 6:30 p.m., presentation at 7:00 p.m., followed by a Q & A session and book-signing opportunity. The event is free, although donations toward expenses will be happily accepted. Click here for directions to the club. Click here for more on John Guzzwell and other West Coast Circumnavigators.
In the 'good old days', if you wanted to place a Classy Classified, you sent in your ad and payment by the 18th of the month and it would magically appear in the next month's issue. Thanks to Al Gore, the internet has changed the way folks look for stuff to buy and sell. We may be 'old skool', but we do our best to change with the times, so we added Classies to our website, and even implemented — hold on to your seat — online ordering. But things change quickly in this 'Lectronic Age, so we've updated the entire Classy Classified advertising system.
"I want to compliment you on the extremely easy process to place an ad — it was much simpler than I'd expected," said Gary Noland, the first person to use the new system. Not only is the new system much more user friendly but now you don't have to wait for the next issue of the magazine for your ad to get exposure. Within a day or two of placing your Classy online, your ad — including a color photo, if you choose that option — will be added to our site. So if, for example, you placed your ad today, it would be live on our site by Friday. It would then appear in the May issue of the magazine and stay online all the way through May. That's great exposure to our boat-friendly audience!
And don't forget our free ad option. If you have a boat or gear that totals under $1,000, you can place a 40-word online-only ad at no charge. Keep in mind that this offer only applies to boats and gear for sale — regular rates apply to all other categories, as well as photos.
Receive emails when 'Lectronic Latitude is updated.
SUBSCRIBE