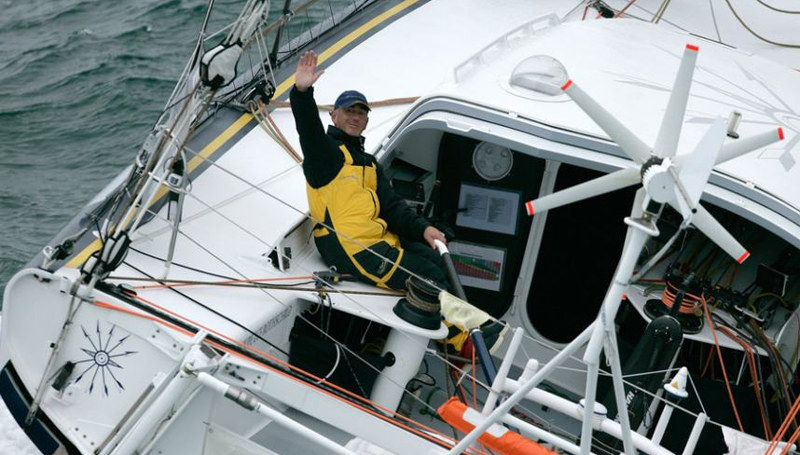 Ten days into the singlehanded 2008 Vendée Globe Race, the leaders are running into the doldrums with Loïck Peyron and his Farr-designed Gitana 80 leading the charge. Nipping at Peyron's heels is a pack of seven boats led by Volvo Ocean Race veteran Sébastien Josse's near-sistership BT, which trails Gitana 80 by a deficit of just under 40 miles as of this writing. The lead pack in this non-stop race will probably pile up together pretty soon, as they experience an accordian effect in the ITCZ.
"Unfortunately it was a calm night with less wind than forecast on the GRIB files," Peyron said. "A lot less wind! There were some massive variations, which required me to be on deck a great deal. I'm not getting too agitated as regards all that! If it's about switching to another sail immediately afterwards then the appeal of the gains in terms of the effort required aren't attractive enough."
Pre-race favorite Michel Desjoyeaux and his Farr-designed Foncia are making tracks in the tradewinds some 450 miles to the north after returning to the start port of Les Sables d'Olonnes when a leaky water ballast tank flooded his engine, knocking out his ability to charge his batteries. Foncia is one of 10 boats forced to return to port due to damage suffered in the thrashing the fleet received at the hands of a depression packing 50-knot winds in the Bay of Biscay shortly after the start. Four have retired on account of three dismastings and a major structural failure.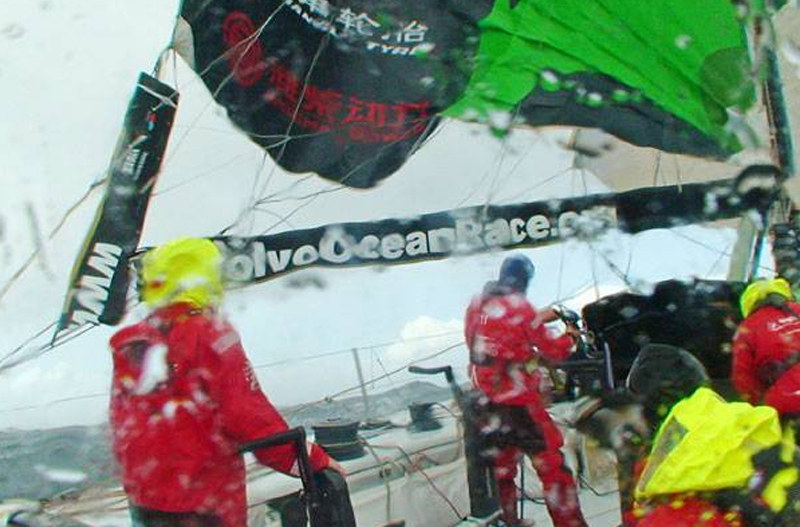 The Volvo Ocean Race fleet departed Cape Town on Saturday, and is in the thick of the all the best the Southern Ocean has to offer after sitting in a brief calm in the lee of Table Mountain. Ian Walker's Irish-Chinese entry Green Dragon reports the first major breakage in the fleet, snapping their boom in two. The flu broke out aboard American Ken Read's Puma. Then a pair of "trips down the mine" resulted in a ripped kite and cracks in the the longitudinal stringers, both of which have since been repaired. The race is on for first at the leg's scoring gate located at 58° E. And then it's onward and upward toward the leg finish in Cochin, India, some 3,300 miles to the northeast.
Both the double- and singlehanded division wins have been accounted for in Leg 1 of the Portimão Global Ocean Race — sailed in both "open" and "class" 40-footers. After 35 days at sea, Germans Boris Herrmann and Felix Oehme aboard Beluga Racer were able to hold off a late charge from the Chilean entry of Felipe Cubillos and José Muñoz aboard Desafío Cabo de Hornos, which finished just three hours in arrears. Belgian Michel Kleinjans' Roaring Forty took the Leg 1 win in the singlehanded division.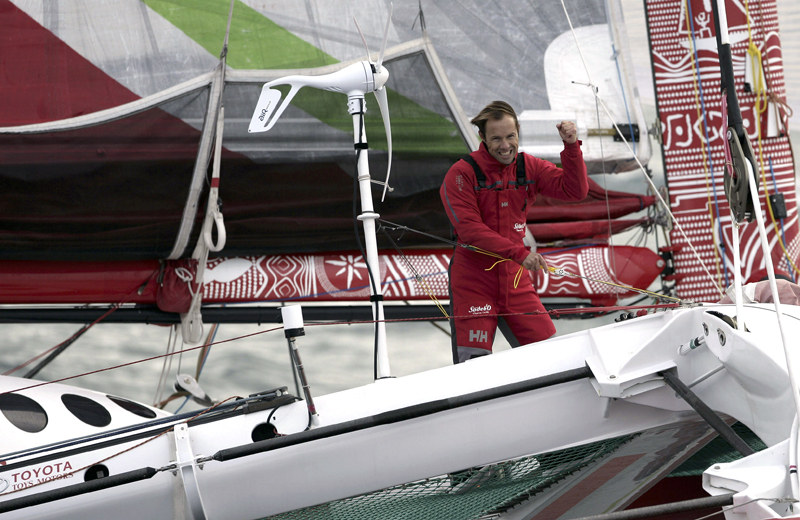 And finally, west-east solo transatlantic record holder Thomas Coville set sail yesterday in his Irens/Cabaret designed 105-ft trimaran on an attempt at Francis Joyon's 57d, 13h 'round the world singlehanded record. Coville's Sodeb'O is reckoned by her designers to be about 3% faster than Joyon's near-sistership IDEC 2. But theoretical speed predictions have little to do with breaking a record like Joyon's, a fact well known to Coville. Starting two weeks after Joyon earlier this year in an attempt on the same record, Coville was knocked out of his pursuit when Sodeb'O collided with an unidentified object just shortly after setting a new singlehanded 24-hour record of 619 miles.
Receive emails when 'Lectronic Latitude is updated.
SUBSCRIBE