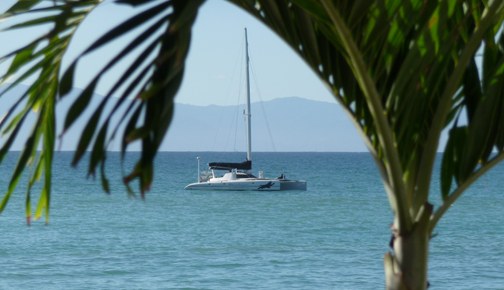 After the Ha-Ha, boats generally head off to one of three main destinations: La Paz, Mazatlan or Puerto Vallarta. We on Profligate joined about six other boats last Sunday morning in fleeing the tourist chaos that is Cabo to make the 270-mile passage to Puerto Vallarta. Although we didn't see any of our fellow travellers, we could sometimes hear them over the radio. Curiously, this was because a number of them — Bruce Anderson's Alaska-based Perry 59 Free Range Chicken, Bob Smith's Victoria-based 44-ft custom cat Pantera, and Barritt Neal and Renee Blaul's San Diego-based Peterson 44 Serendipity — were buzzed and inspected by a French military helicopter. Exactly what a French military chopper was doing flying around on the layline between Cabo and P.V. remains a mystery to all of us.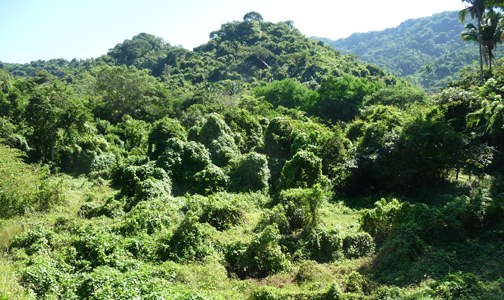 We made the passage in 36 hours, often motoring economically with one engine, but also getting three or four nice hours under the chute on the first day. A small cat that arrived in Banderas Bay just last night was luckier, having been able to sail all but the last two hours of the passage. But don't feel too badly for us, as things are quite nice in the Punta Mita, La Cruz, Nuevo Vallarta, and Puerto Vallarta areas. For one thing, the incredible humidity of summer suddenly 'broke' on Tuesday. Even hardened locals had been suffering. But in just that one day, people started to pull out sheets instead of sleeping naked, naked, naked. On our crossing, for example, it was well over 80° even in the middle of the night. Nonetheless, we've had nothing but cloudless blue skies ever since.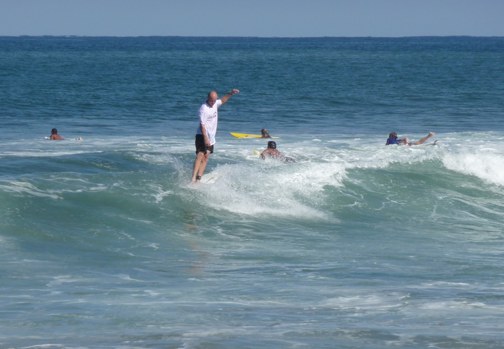 Another nice thing about hitting the mainland in mid-November is that the jungle is in full bloom. We took a 10-mile ride from Punta Mita up to Sayulita, and were blown away by how the vegetation had seemingly run riot over the summer and fall wet season. The vegetation was vivid green — except for the red, yellow, blue and other colored flowers — and thick. In fact, if the vegetation was any thicker, it would have been a solid. And there were butterflies everywhere, most noticeable among them being the 747-sized white ones. The jungle in full bloom is excuse enough to get to the mainland in a hurry. In a matter of weeks, it will no longer be in peak form.
As if the warm weather and jungle weren't enough, there's been decent surf, both at Sayulita on the coast and on the north shore of Banderas Bay. Of course, there's nothing that makes surfing more pleasurable than warm water. Here in the bay, the water had been in the low 80s. Last night we dinghied down to La Lancha to catch a few sundowner waves. Even at the end of the warm day the ocean felt like bathtub water. We surfed for 40 minutes after sundown — until a monster full moon came up over the mountains — and never felt a chill.
To top off a great day, we stopped by ex-cruiser Philo's Bar and Restaurant in La Cruz for a taste of his live music. It still a little early in the season, so the crowd was still a little thin, but there were lots of old friends to say hello to. And Philo vets will be delighted to learn that Leon, well into his seventh decade, is still knocking it out of the park with his washboard, bells, horn and slide whistle. Some of you probably think the last line was a joke. Once you see Leon do his thing, you'll know it's the truth. So the cruising season on the mainland is getting off to a ding-dong start. We'd love to hear how it's going for those of you who opted to sail up to La Paz.
Receive emails when 'Lectronic Latitude is updated.
SUBSCRIBE