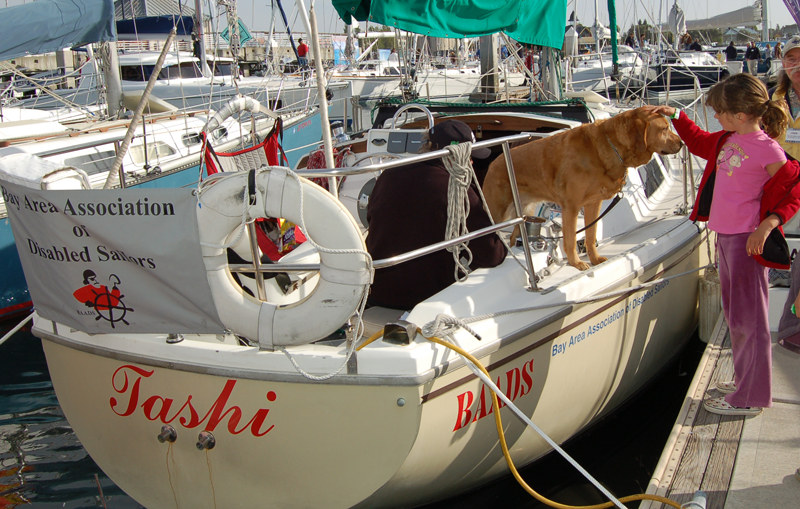 If you didn't make it to Strictly Sail Pacific this year, you missed a good one. Construction at Jack London Square in Oakland meant smaller tents and a 'cozier' setting. "It's wonderful," Lin Pardey told us. "It feels more like a festival than a boat show."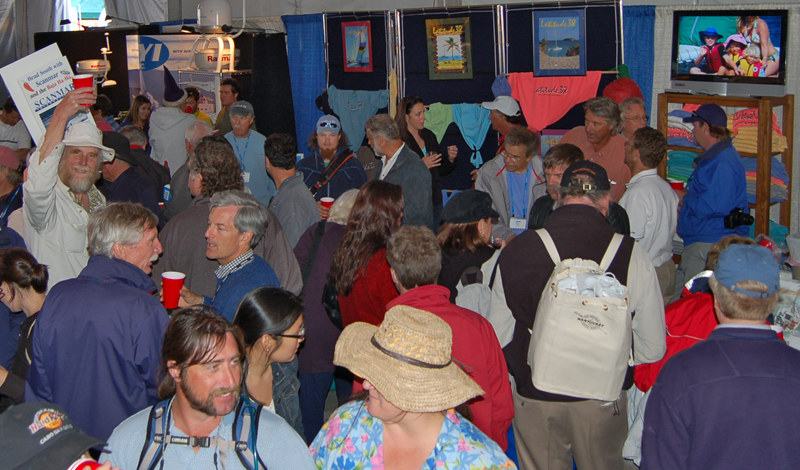 And that festival turned into one heck of a party outside the Latitude booth on Friday night. Ostensibly the "Baja Ha-Ha Reunion Party," our bash is really for anyone and everyone — and they all came! Trying to maneuver through the crush was not for the faint of heart but you just never knew who you'd literally be brushing elbow with — Randy Repass, Lin Pardey, Jim Antrim, Olaf Harken, and the kid from one of our most popular covers ever.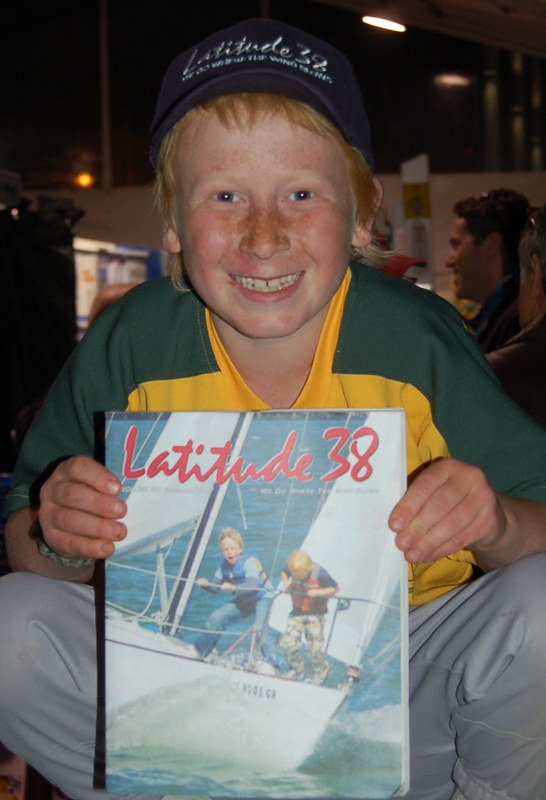 And standing sentry in the middle of the crowd was the 'Hall Monitor', provided by Hans Bernwall of Scanmar, the offiical windvane sponsor of this fall's 'Fabulous Fifteen' Baja Ha-Ha.
So if you didn't make it down for the show, you missed a good time — but there's always next year!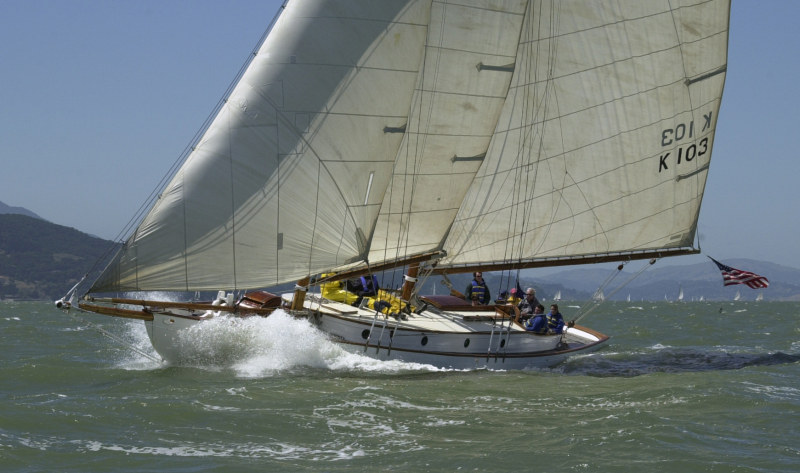 San Francisco Bay is home to one of the largest, coolest and most active fleets of classic yachts anywhere in the world — the Master Mariners Benevolent Association. And one of the oldest, coolest and most active among them is 53-ft Stone schooner Yankee. Undoubtedly the best-known story of this famous local boat took place before she was even launched from Stone Boat Yard (then located adjacent to the present-day site of the St. Francis YC): she was knocked off her building cradle by the 1906 earthquake! She suffered only minor damage and was later jacked back into place, finished and 'properly' launched later that year.
Yankee is still around, still sailing, and still under the ownership of the Ford family and their in-laws. (Brothers Sydney and Arthur Ford bought the boat in 1925.) She was hauled out at KKMI earlier this month for routine maintenance, and on April 18 — the 102nd anniversary of her 'accidental' launch during the Great Earthquake — she was launched once again, ready for another year of making memories. Look for her out and about in the next few weekends, warming up for the MMBA's big event, the Master Mariners Regatta, whose roots go back even farther than Yankee's. As always, it's scheduled for Memorial Day Saturday, which this year falls on May 24.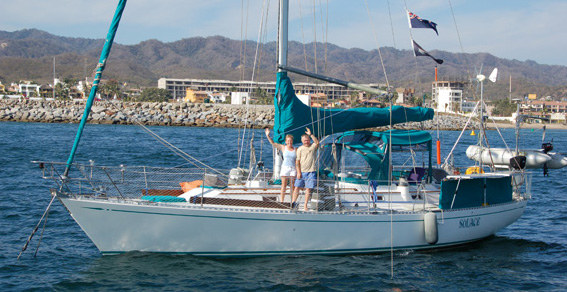 Among the Pacific Puddle Jumpers we met in Puerto Vallarta this year were two gregarious Kiwis, Gina and Paul Rae, who'd recently bought their Hylas 44 Solace on the West Coast, and are currently sailing her home to New Zealand.
Having safely completed the 3,000-mile crossing to the Marquesas, they, like many other Puddle Jumpers, are now sharing their impressions and tips from the crossing. (Look for a complete recap report in an upcoming edition of Latitude 38.) The following are excerpts from Gina's report:
"We have made it across the Pacific Ocean, having no major issues with ourselves or the boat . . . We eventually hit the NE trades and the wind was 15- 20, which made for great sailing. But what made it uncomfortable was a 12- to 15-ft swell. We made reasonable time though . . . We arrived at the ITCZ expecting this big black hole that we would fall into and then, with any luck, pop out the other side. It was really nothing more than a lot of variable winds and confused seas. And we didn't get sucked up by any celestial force!
"We were very fortunate in that we had a friend who was able to send us regular weather updates and informed us of where the thunder storms were. This was a lot quicker and easier than downloading the maps, which are all subject to propagation. He would send us the short version via text to our Iriduim phone (this was free over the internet) and then the long version via email. One thing we found with SSB email is that it has some issues. When there is good propagation, it may be hard to get a connection as most other boats were probably doing what we are doing, and the frequencies were, at times, all being used.
"After making the ICTZ, we cruised on down to the equator . . . at times we were moving backwards with the current . . . but we got to sail across the equator two times forwards and once backwards. Once we got to 2° S, the wind finally kicked in and we were able to move . . . We were also subjected to more squalls, consisting mainly of a little increased breeze and a bucketing downpour. The rain eventually became quite refreshing and we welcomed it.
"We caught sight of Hiva Oa, but we were barely moving . . . As we approached, we noticed that it was a large swell with breakers against the rocks causing magnificent water displays as the water hit the cliff faces and came up the blow holes. Some of the water went so high, it was watering the coconut trees from the top!"
Receive emails when 'Lectronic Latitude is updated.
SUBSCRIBE