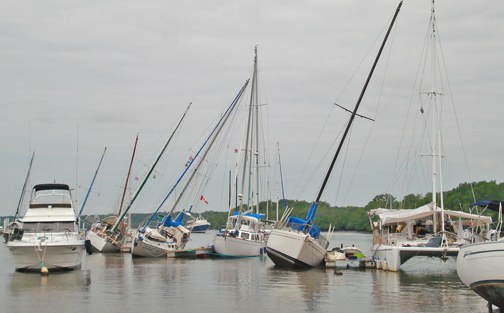 Rob and Linda Jones, Ha-Ha vets with their Gemini 3000 catamaran Cat'n About from Whibey Island, Washington, sent us the accompanying photo of what looks to be sailboats in Costa Rica knocked askew by hurricane force winds. But, in fact, the sailboats ended up the way they did because of another force of nature — a spring tide.
You could be excused for assuming that spring tides only occur during the spring, but they have nothing to do with the seasons. The correct explanation is that during new and full moons, the sun, the moon, and the earth form a line — a state known as syzygy — at which time the sun reinforces the moon's effects on the tides, resulting in maximum tides. The opposite of this is a neap tide, during which time the moon is in the first or third quarter, and and sun and moon are separated by 90 degrees. When this happens, the pull of the sun partially cancels the pull of the moon, and the tides are at their least extreme.
The only thing more extreme than a spring tide is a perigean tide. The closer the moon is to the earth, the greater effect it has on the tides. Every 7.5 lunations, the perigee of the moon coincides with either a new or full moon, causing a perigean tide, which has the greatest range of all. When those occur, you want to have plenty of water beneath your keel.
Receive emails when 'Lectronic Latitude is updated.
SUBSCRIBE