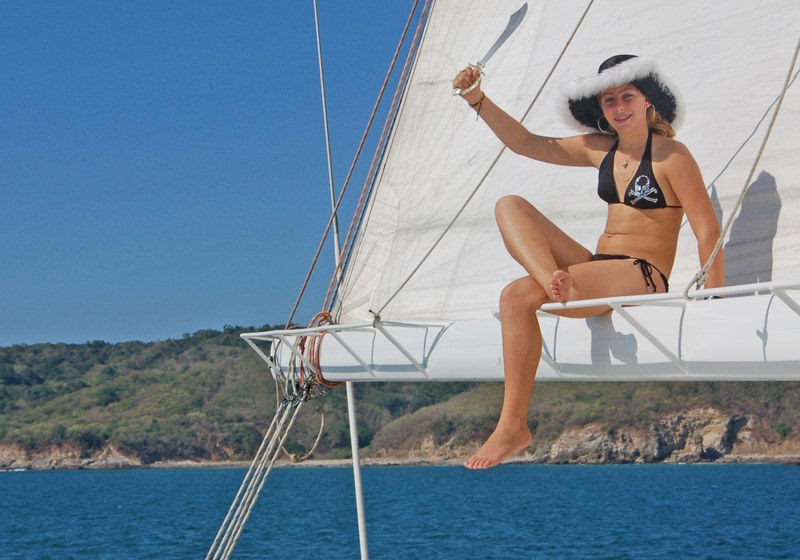 The crews of the 30 boats that participated in this year's first ever three-day Pirates for Pupils Banderas Bay Blast for Charity couldn't have hoped for better weather or sailing conditions. The cooperative effort of the Punta Mita Yacht and Surf Club and the Vallarta YC featured three fun races — Paradise Marina to La Cruz, La Cruz to Punta Mita, and Punta Mita to Paradise — and was dominated by a large fleet of big cats plus many boats from the last two Ha-Ha's.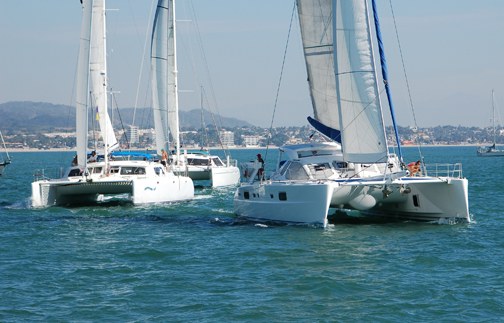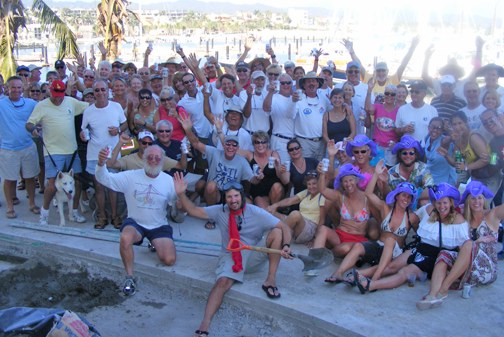 The first race was a light air reach, the second was a 10-mile flat water beat with winds to 20 knots, and the finale was a 12-mile spinnaker run that had the fastest boats sailing in the 11s. With air temperatures in the high 70s shortly after sun-up, being cold was never an issue. In fact, being too hot was the excuse the large crew of one boat made for sailing naked most of the time.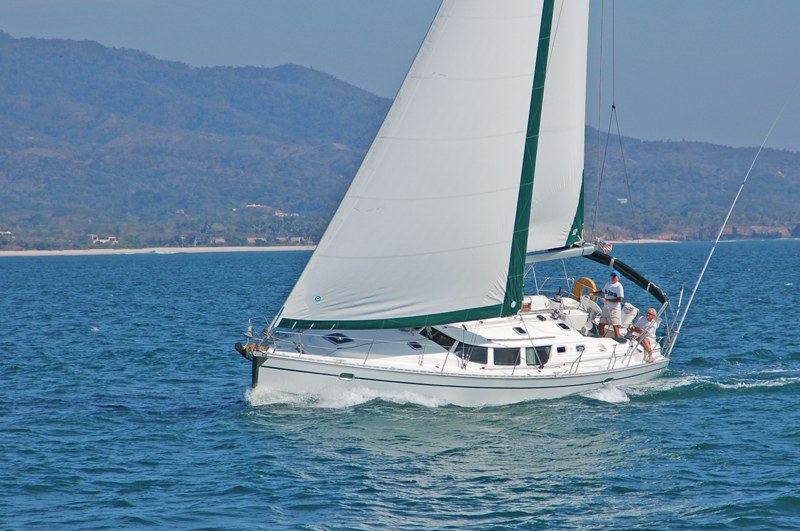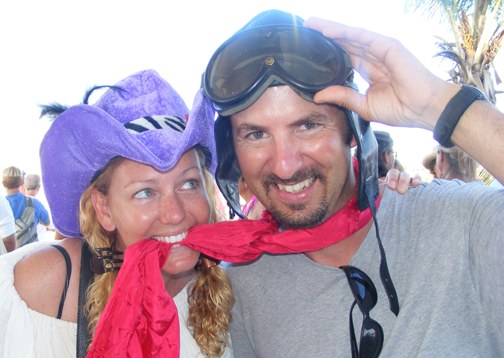 A highlight of the event was the new Marina Riviera Nayarit in La Cruz being opened several weeks early to accommodate all the boats. True, it was still a full-on construction site, but there was no charge, and Manager Christian Mancebo even threw a post-race party for the fleet. A short time later, the fleet marched up to Philo's Bar and Restaurant for a rockin' good time in the lovely and authentic town of La Cruz.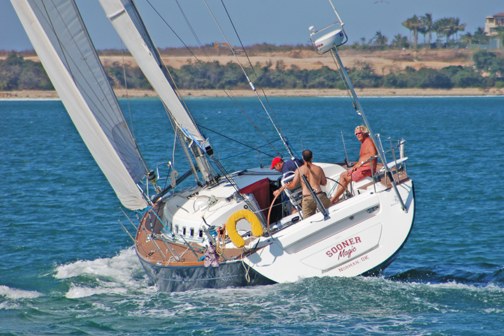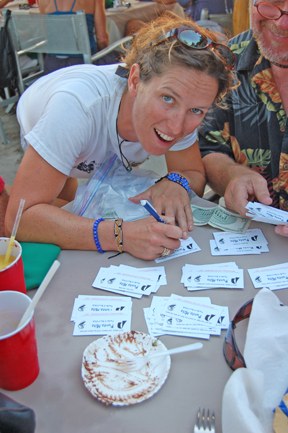 After a fabulous second race, the fleet was taken ashore in pangas to the Punta Mita Yacht and Surf Club — aka Margarita Restaurant — for a festive afternoon and early evening. New members, who are required to have sailed there and pay a $1 lifetime membership fee, were signed up, at which point Commodore Eugenie Russell used her winning personality to get new members signed up for the event's charities. Before it was all over, Commodore Eugenie and others had raised somewhere in the range of $2,500. By the way, this is a week after the Vallarta YC raised $3,400 for charity via their Chili Cook-Off.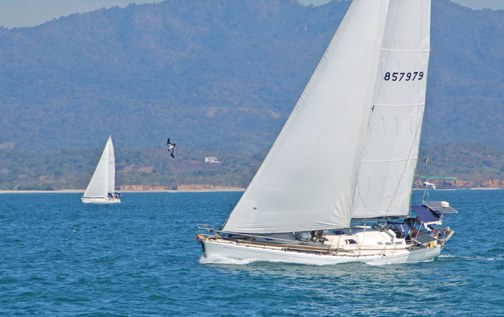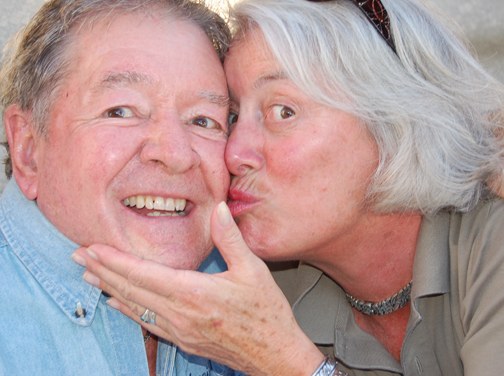 The final race was a lovely spinnaker run on the traditional Pirates for Pupil's course. It doesn't get much better than 10 to 15 knots of wind from aft, whales and turtles, dolphins and rays, and bright sunshine. Who won? Everybody who participated and the respective charities.
I'm glad that you consider me "your man in Brittany." I hope to honour that title and send you good, accurate and first-hand news from the sailing scene in this part of Europe.

As Francis Joyon and IDEC sailed past the Cape of Good Hope yesterday, I had a lengthy talk with Fabrice Thomazeau, a member of IDEC's ground team and the coordinator of all IDEC communication issues. He speaks daily with Francis Joyon and this is what he told me:

"The entire ground team is more than amazed with Joyon and IDEC's performance. Before the start, Joyon's target was not to fall behind MacArthur's time, first to the equator and then from the equator to the Cape of Good Hope. Joyon considered both times excellent and difficult to beat. Joyon's time from Brest to the Cape was 15 days 18 hours and 21 minutes, four days and more than 1500 miles ahead of MacArthur's time. He's also made the second fastest time ever from Brest to the Cape, crewed or singlehanded: only 26 hours behind Bruno Peyron's fully-crewed, 121-ft catamaran Orange II, but also 24 hours ahead of Olivier de Kersuasson's 112-ft, fully-crewed trimaran Geronimo.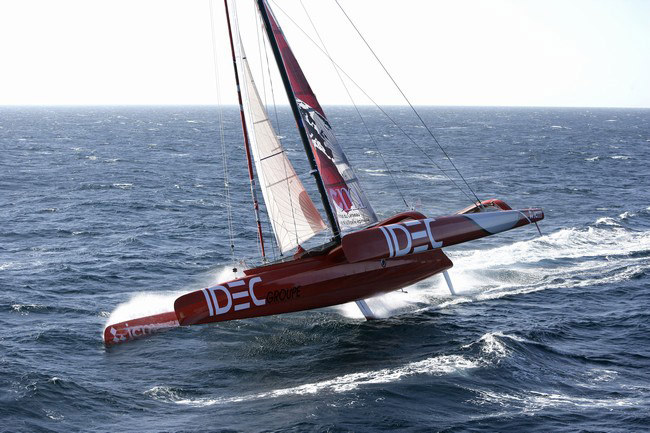 Since Joyon didn't do much sailing after IDEC's launch, the data accumulated concerning the boat's speed at different wind speed and wind angles was scarce. To Joyon's — and the designers' — surprise, IDEC has been performing 10% above the theoretical speed and wind curves estimated by the designers.

Joyon says that IDEC sails nicely at all wind angles and, contrary to his former trimaran, it doesn't stop when coming down the wave and hitting the next. This explains the high mileage made daily by IDEC, and he thinks it's due to the sharp bow that allows the boat to pierce through waves without losing much speed.

Another remarkable feature of Joyon's record attempt is that, for the first time, the boat does not have any engine or generator. Electricity is produced by means of a wind generator and solar panels. There is an emergency fuel cell battery on board in case of lack of wind and sun. Joyon reports that, up to now, the wind generator has worked flawlessly and he hasn't even needed the solar panels.

The reason for the above is twofold. First, it was Joyon's will — an ecologically-conscious sailor, as most of Brittany's racing sailors are — to make a "clean" record attempt. In order to achieve that goal, Joyon stripped IDEC of complex systems with a high energy consumption such as rotating mast, hydraulic systems, and communication equipment. Joyon believes that for a record you need a well-balanced, easy-to-maneuver boat with simple and minimal systems so fast repairs can be made if they fail while still being able to sail.

The second reason is that this sailing approach allows him to leave at the dock weighing around one ton in diesel, generator, hydraulic and communications systems.

IDEC has an automatic system that triggers the release of the main and jib sheets if the boat reaches a predetermined heel angle. This allows Joyon to sleep without the risk of capsizing.

Two hours after passing the Cape yesterday at 1700 GMT, IDEC gybed and now is heading true east. They're sailing before a low moving slower than anticipated, and Joyon does not expect to be caught by it, with 40 knots of wind inside, for another 36 hours. At 2000 GMT and already in the southern seas, IDEC was sailing at 25 knots with 25-knot northwesterly winds.

IDEC's team thinks that Joyon can still gain one more day on MacArthur's record (10 days, 5 hours and 41 minutes) from the Cape of Good Hope to Cape Leeuwin. Even if they don't want to openly admit it, they keep an eye on the record path of Orange II and Geronimo, and due to IDEC's speed, they have upgraded their expectations, believing Joyon could be now competing for the Jules Verne record.

But they also think that, in a race like this, everything can be lost very quickly. Yesterday we learnt that PRB — the 60-ft open monohull skippered by Vicent Riou (winner of the last Vendée Globe) and Sebastian Josse, currently in second place in the Barcelona World Race — had lost 10 feet of its upper mast after surfing down a wave and being stopped by the next one. The crew are fine and they are now heading to Cape Town to probably abandon the race. IDEC was just a few miles away when it happened. Yesterday, Joyon also got ahead of the lead boat of that race, Paprec-Virbac II, skippered by Jean-Pierre Dick and Damian Foxall, who started the race from Barcelona 10 days ahead of IDEC.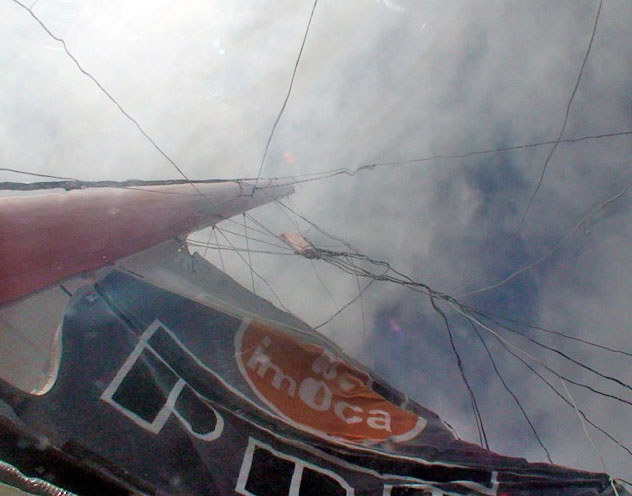 As for the team's opinions about their opponent, Thomas Coville on Sodebo, they think that theoretically Sodebo should be faster due to its longer LOA, but this may be compensated by the difference in weight, estimated to be closer to two tons after Joyons' weight savings.

The team realize that, due to IDEC's performance so far, Thomas Coville will be under heavy pressure when he starts his record attempt. This implies the risk of Coville going over the limit, which they are worried about — they all wish Sodebo good sailing.

As you can see, things are getting quite interesting in this year's multihull racing season.
Receive emails when 'Lectronic Latitude is updated.
SUBSCRIBE